When calculating the qualifying income for a self-employed borrower, it is important to note that business income reported on an individual IRS 1040 may not necessarily represent income that the borrower receives. No Tax return bank statement Florida mortgage lenders use bank statements along with a questionnaire to determine the amount of income that can be relied on by the borrower in qualifying for their mortgage obligation. When underwriting these self-employed borrowers, it is important to review business distributions on the bank statements to determine the profitability of the business in the future. This bank statement income analysis includes assessing the stability of business income and the ability of the business to continue generating income.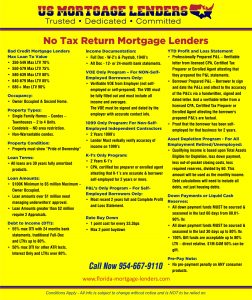 Bank Statement Mortgage Lenders in Florida Personal or Business Bank Statement mortgage Lenders Average 12 or 24 months! If you are self-employed in Florida or Read More »
Self-Employed Florida Mortgage Lenders  As the economy for self-employed and other small-business economies more, business owners are in need of self-employed financing but are often Read More »
Allowable Properties Include:
Single-family homes /Townhomes / Villas

Condos / Condominiums

Condotels

Multifamily Up To 8 Units

Manufactured homes
No Tax Return Florida Mortgage Options
Use Personal Bank Statements: You can qualify using 12 or 24 months bank statements and use Up To 100 percent of deposits if they came from a Business Bank Account.
Use Business Bank Statements: You can qualify with 12 or 24 months of bank statements and count up to 90% percent of the deposits. A self-employment questionnaire is usually required to determine your income. For example, if you are a 1099 realtor with no money rent, or cost you can use up to 90% of your income to qualify. 
Use 1099s For Income: Some lenders will allow 2 years 1099s and 2 months of recent bank statements along with a bank statement questionnaire to understand your expenses.
Use Lease Agreements: As long as the lease agreements are enough to cover the mortgage payments lenders will lend up to 80% loan to value with no income verification needed.
Who Qualifies For A Bank Statement Mortgage?
Our bank statement mortgage lenders provide funding for business owners throughout Florida. You must have a good payment history and good deposits but don't have traditional income and wouldn't qualify for standard bank loan financing. To qualify for our No Tax return bank statement mortgage you'll need the following:
Minimum of 1-2 years same line of work- case by case approvals with minimum 1 year.
Minimum 10% down payment+ Closing Cost + Reserves. reserves are defined as the total mortgage payment PITI in your account after closing.
Minimum 3-6 Months Reserves.
Minimum 12 months since any housing events ( Foreclosure, Bankruptcy Discharge, Short Sale )
Maximum DTI 55% Bank statement only mortgage lenders will allow the self-employed to qualify up to 55% of their total income for housing and all other monthly payments on their credit report.
Like any mortgage loan, we'll evaluate your qualifying factors to determine if you're a good candidate for the bank statement loan before you go searching for a home! And because we don't ask for tax returns, you don't have to worry about skipping certain deductions you're entitled to as a business owner and increasing your tax liability just to get approved for a Florida mortgage.
What is a Florida Bank Statement Lender?

 

A Bank Statement loan is often a great mortgage option for eligible self-employed Florida mortgage applicants that doNot show their true income on their tax returns to qualify for the mortgage they want. This program uses the mortgage applicants' average bank statement deposits business or personal to calculate their income without requiring tax returns or w-2's. Bank statement mortgage lenders are relatively new. The most common borrower that benefits from the bank statement loan is the self-employed that does not show enough income to purchase the home of their choice.
What is a Bank Statement Mortgage?
The name should explain it – Florida no tax return mortgage lenders can use bank statement deposits to estimate your income instead of tax returns. Bank lenders and lenders that sell your loan to Fannie mae or Freddie mac all want to see your income after expenses. If your tax returns show less than enough income you will Not qualify for the mortgage of your choice.  Fannie Mae Freddie mac lenders can only use the income after all expenses claimed on your tax returns for qualifying.  This Fanniemae 1084 self employed worksheet may be used to prepare a written evaluation of the analysis of income related to self-employment. The purpose of this written analysis is to determine the amount of stable and continuous income after expenses that will be available for you to purchase a home. 
How Do Bank Statement Mortgage Lenders Work?

 
Bank statement mortgage lenders will request your last 12 – 24 months of bank statements to prove your income. We look for regular monthly deposits that equal to the income you state you make running your business. We use the deposits as proof of your income and to come up with the figures used to determine your debt-to-income ratio, and how much you can afford.  For bank statement lenders the percentage the lender will allow you to use to qualify will depend on the industry you're in and the regularity of your deposits.  Our bank statement loan works on almost any property type including owner-occupied, second homes, and investment homes. 
Why Choose a Bank Statement Loan? 
Like everything else, bank statement loans have pros and cons. And the face is If you're self-employed in Florida and have no other options for financing this might be your only route to getting the home of  your dreams
You can get mortgage financing without using your tax returns and/or you've been denied by your bank or credit union.

You can continue to claim your business write-offs without losing your mortgage eligibility.

You don't need perfect credit

You can buy a home with just 10% down

Sellers can help you with up to 6% of the sales price in closing costs.
What Are the Downsides Of Using Bank Statements For Income?
If you don't make your mortgage payments you can lose your home

You'll need at least 10 Down + Closing costs + 4-6 Months of Reserves.

You need 3-6 months of reserves in your account at closing. 
Bank statement loans have flexible guidelines and let you qualify without typical tax returns. It's a nice reprieve for self-employed borrowers who already face so many different regulations and expenses since they don't work for someone else. 
Are These Different from Conventional Loans?
Here are a few ways our bank statement loans are more flexible than a conventional loan:
NO PMI with Bank Statement Loans – We only require a 10% down payment yet you don't pay PMI. Conventional loans require PMI with a down payment of less than 20%. This saves you money on your mortgage payment and makes it easier to afford a home.
30-year Fixed repayment terms – but with a variety of options. You can choose a 30-year fixed-rate loan, 5/1 ARM, or 7/1 ARM. 
No prepayment penalty on primary owner-occupied or second homes – This means you can make extra payments as often as you want, pay the loan off early, or sell the home whenever you want. 
No Tax Return Bank Statement Mortgage Coverage Areas
View Map

Alachua

Florida

Alachua

32615

View Map

Alachua

Florida

Alachua

32616

View Map

Alford

Florida

Jackson

32420

View Map

Altamonte Springs

Florida

Seminole

32701

View Map

Altamonte Springs

Florida

Seminole

32714

View Map

Altamonte Springs

Florida

Seminole

32715

View Map

Altamonte Springs

Florida

Seminole

32716

View Map

Altha

Florida

Calhoun

32421

View Map

Altoona

Florida

Lake

32702

View Map

Alturas

Florida

Polk

33820

View Map

Alva

Florida

Lee

33920

View Map

Anna Maria

Florida

Manatee

34216

View Map

Anthony

Florida

Marion

32617

View Map

Apalachicola

Florida

Franklin

32320

View Map

Apalachicola

Florida

Franklin

32329

View Map

Apollo Beach

Florida

Hillsborough

33572

View Map

Apopka

Florida

Orange

32703

View Map

Apopka

Florida

Orange

32704

View Map

Apopka

Florida

Orange

32712

View Map

Arcadia

Florida

De Soto

34265

View Map

Arcadia

Florida

De Soto

34266

View Map

Arcadia

Florida

De Soto

34269

View Map

Archer

Florida

Alachua

32618

View Map

Argyle

Florida

Walton

32422

View Map

Aripeka

Florida

Pasco

34679

View Map

Astatula

Florida

Lake

34705

View Map

Astor

Florida

Lake

32102

View Map

Atlantic Beach

Florida

Duval

32233

View Map

Auburndale

Florida

Polk

33823

View Map

Avon Park

Florida

Highlands

33825

View Map

Avon Park

Florida

Highlands

33826

View Map

Babson Park

Florida

Polk

33827

View Map

Bagdad

Florida

Santa Rosa

32530

View Map

Baker

Florida

Okaloosa

32531

View Map

Balm

Florida

Hillsborough

33503

View Map

Barberville

Florida

Volusia

32105

View Map

Bartow

Florida

Polk

33830

View Map

Bartow

Florida

Polk

33831

View Map

Bascom

Florida

Jackson

32423

View Map

Bay Pines

Florida

Pinellas

33744

View Map

Bell

Florida

Gilchrist

32619

View Map

Belle Glade

Florida

Palm Beach

33430

View Map

Belleair Beach

Florida

Pinellas

33786

View Map

Belleview

Florida

Marion

34420

View Map

Belleview

Florida

Marion

34421

View Map

Beverly Hills

Florida

Citrus

34464

View Map

Beverly Hills

Florida

Citrus

34465

View Map

Big Pine Key

Florida

Monroe

33043

View Map

Blountstown

Florida

Calhoun

32424

View Map

Boca Grande

Florida

Lee

33921

View Map

Boca Raton

Florida

Palm Beach

33427

View Map

Boca Raton

Florida

Palm Beach

33428

View Map

Boca Raton

Florida

Palm Beach

33429

View Map

Boca Raton

Florida

Palm Beach

33431

View Map

Boca Raton

Florida

Palm Beach

33432

View Map

Boca Raton

Florida

Palm Beach

33433

View Map

Boca Raton

Florida

Palm Beach

33434

View Map

Boca Raton

Florida

Palm Beach

33464

View Map

Boca Raton

Florida

Palm Beach

33481

View Map

Boca Raton

Florida

Palm Beach

33486

View Map

Boca Raton

Florida

Palm Beach

33487

View Map

Boca Raton

Florida

Palm Beach

33488

View Map

Boca Raton

Florida

Palm Beach

33496

View Map

Boca Raton

Florida

Palm Beach

33497

View Map

Boca Raton

Florida

Palm Beach

33498

View Map

Boca Raton

Florida

Palm Beach

33499

View Map

Bokeelia

Florida

Lee

33922

View Map

Bonifay

Florida

Holmes

32425

View Map

Bonita Springs

Florida

Lee

34133

View Map

Bonita Springs

Florida

Lee

34134

View Map

Bonita Springs

Florida

Lee

34135

View Map

Bonita Springs

Florida

Lee

34136

View Map

Bostwick

Florida

Putnam

32007

View Map

Bowling Green

Florida

Hardee

33834

View Map

Boynton Beach

Florida

Palm Beach

33424

View Map

Boynton Beach

Florida

Palm Beach

33425

View Map

Boynton Beach

Florida

Palm Beach

33426

View Map

Boynton Beach

Florida

Palm Beach

33435

View Map

Boynton Beach

Florida

Palm Beach

33436

View Map

Boynton Beach

Florida

Palm Beach

33437

View Map

Boynton Beach

Florida

Palm Beach

33474

View Map

Bradenton

Florida

Manatee

34201

View Map

Bradenton

Florida

Manatee

34202

View Map

Bradenton

Florida

Manatee

34203

View Map

Bradenton

Florida

Manatee

34204

View Map

Bradenton

Florida

Manatee

34205

View Map

Bradenton

Florida

Manatee

34206

View Map

Bradenton

Florida

Manatee

34207

View Map

Bradenton

Florida

Manatee

34208

View Map

Bradenton

Florida

Manatee

34209

View Map

Bradenton

Florida

Manatee

34210

View Map

Bradenton

Florida

Manatee

34211

View Map

Bradenton

Florida

Manatee

34212

View Map

Bradenton

Florida

Manatee

34280

View Map

Bradenton

Florida

Manatee

34281

View Map

Bradenton

Florida

Manatee

34282

View Map

Bradenton Beach

Florida

Manatee

34217

View Map

Bradley

Florida

Polk

33835

View Map

Brandon

Florida

Hillsborough

33508

View Map

Brandon

Florida

Hillsborough

33509

View Map

Brandon

Florida

Hillsborough

33510

View Map

Brandon

Florida

Hillsborough

33511

View Map

Branford

Florida

Suwannee

32008

View Map

Bristol

Florida

Liberty

32321

View Map

Bronson

Florida

Levy

32621

View Map

Brooker

Florida

Bradford

32622

View Map

Brooksville

Florida

Hernando

34601

View Map

Brooksville

Florida

Hernando

34602

View Map

Brooksville

Florida

Hernando

34603

View Map

Brooksville

Florida

Hernando

34604

View Map

Brooksville

Florida

Hernando

34605

View Map

Brooksville

Florida

Hernando

34613

View Map

Brooksville

Florida

Hernando

34614

View Map

Bryant

Florida

Palm Beach

33439

View Map

Bryceville

Florida

Nassau

32009

View Map

Bunnell

Florida

Flagler

32110

View Map

Bushnell

Florida

Sumter

33513

View Map

Callahan

Florida

Nassau

32011

View Map

Campbellton

Florida

Jackson

32426

View Map

Canal Point

Florida

Palm Beach

33438

View Map

Candler

Florida

Marion

32111

View Map

Cantonment

Florida

Escambia

32533

View Map

Cape Canaveral

Florida

Brevard

32920

View Map

Cape Coral

Florida

Lee

33904

View Map

Cape Coral

Florida

Lee

33909

View Map

Cape Coral

Florida

Lee

33910

View Map

Cape Coral

Florida

Lee

33914

View Map

Cape Coral

Florida

Lee

33915

View Map

Cape Coral

Florida

Lee

33990

View Map

Cape Coral

Florida

Lee

33991

View Map

Cape Coral

Florida

Lee

33993

View Map

Captiva

Florida

Lee

33924

View Map

Carrabelle

Florida

Franklin

32322

View Map

Caryville

Florida

Washington

32427

View Map

Cassadaga

Florida

Volusia

32706

View Map

Casselberry

Florida

Seminole

32707

View Map

Casselberry

Florida

Seminole

32718

View Map

Casselberry

Florida

Seminole

32730

View Map

Cedar Key

Florida

Levy

32625

View Map

Center Hill

Florida

Sumter

33514

View Map

Century

Florida

Escambia

32535

View Map

Chattahoochee

Florida

Gadsden

32324

View Map

Chiefland

Florida

Levy

32626

View Map

Chiefland

Florida

Levy

32644

View Map

Chipley

Florida

Washington

32428

View Map

Chokoloskee

Florida

Collier

34138

View Map

Christmas

Florida

Orange

32709

View Map

Citra

Florida

Marion

32113

Zip

City

State

County

Zip Code

View Map

Clarcona

Florida

Orange

32710

View Map

Clarksville

Florida

Calhoun

32430

View Map

Clearwater

Florida

Pinellas

33755

View Map

Clearwater

Florida

Pinellas

33756

View Map

Clearwater

Florida

Pinellas

33757

View Map

Clearwater

Florida

Pinellas

33758

View Map

Clearwater

Florida

Pinellas

33759

View Map

Clearwater

Florida

Pinellas

33760

View Map

Clearwater

Florida

Pinellas

33761

View Map

Clearwater

Florida

Pinellas

33762

View Map

Clearwater

Florida

Pinellas

33763

View Map

Clearwater

Florida

Pinellas

33764

View Map

Clearwater

Florida

Pinellas

33765

View Map

Clearwater

Florida

Pinellas

33766

View Map

Clearwater

Florida

Pinellas

33769

View Map

Clearwater Beach

Florida

Pinellas

33767

View Map

Clermont

Florida

Lake

34711

View Map

Clermont

Florida

Lake

34712

View Map

Clermont

Florida

Lake

34713

View Map

Clermont

Florida

Lake

34714

View Map

Clermont

Florida

Lake

34715

View Map

Clewiston

Florida

Hendry

33440

View Map

Cocoa

Florida

Brevard

32922

View Map

Cocoa

Florida

Brevard

32923

View Map

Cocoa

Florida

Brevard

32924

View Map

Cocoa

Florida

Brevard

32926

View Map

Cocoa

Florida

Brevard

32927

View Map

Cocoa Beach

Florida

Brevard

32931

View Map

Cocoa Beach

Florida

Brevard

32932

View Map

Coconut Creek

Florida

Broward

33093

View Map

Coleman

Florida

Sumter

33521

View Map

Copeland

Florida

Collier

34137

View Map

Cortez

Florida

Manatee

34215

View Map

Cottondale

Florida

Jackson

32431

View Map

Crawfordville

Florida

Wakulla

32326

View Map

Crawfordville

Florida

Wakulla

32327

View Map

Crescent City

Florida

Putnam

32112

View Map

Crestview

Florida

Okaloosa

32536

View Map

Crestview

Florida

Okaloosa

32539

View Map

Cross City

Florida

Dixie

32628

View Map

Crystal Beach

Florida

Pinellas

34681

View Map

Crystal River

Florida

Citrus

34423

View Map

Crystal River

Florida

Citrus

34428

View Map

Crystal River

Florida

Citrus

34429

View Map

Crystal Springs

Florida

Pasco

33524

View Map

Cypress

Florida

Jackson

32432

View Map

Dade City

Florida

Pasco

33523

View Map

Dade City

Florida

Pasco

33525

View Map

Dade City

Florida

Pasco

33526

View Map

Dania

Florida

Broward

33004

View Map

Davenport

Florida

Polk

33836

View Map

Davenport

Florida

Polk

33837

View Map

Davenport

Florida

Polk

33896

View Map

Davenport

Florida

Polk

33897

View Map

Day

Florida

Lafayette

32013

View Map

Daytona Beach

Florida

Volusia

32114

View Map

Daytona Beach

Florida

Volusia

32115

View Map

Daytona Beach

Florida

Volusia

32116

View Map

Daytona Beach

Florida

Volusia

32117

View Map

Daytona Beach

Florida

Volusia

32118

View Map

Daytona Beach

Florida

Volusia

32119

View Map

Daytona Beach

Florida

Volusia

32120

View Map

Daytona Beach

Florida

Volusia

32121

View Map

Daytona Beach

Florida

Volusia

32122

View Map

Daytona Beach

Florida

Volusia

32124

View Map

Daytona Beach

Florida

Volusia

32125

View Map

Daytona Beach

Florida

Volusia

32126

View Map

Daytona Beach

Florida

Volusia

32198

View Map

De Leon Springs

Florida

Volusia

32130

View Map

Debary

Florida

Volusia

32713

View Map

Debary

Florida

Volusia

32753

View Map

Deerfield Beach

Florida

Broward

33441

View Map

Deerfield Beach

Florida

Broward

33442

View Map

Deerfield Beach

Florida

Broward

33443

View Map

Defuniak Springs

Florida

Walton

32433

View Map

Defuniak Springs

Florida

Walton

32435

View Map

Deland

Florida

Volusia

32720

View Map

Deland

Florida

Volusia

32721

View Map

Deland

Florida

Volusia

32723

View Map

Deland

Florida

Volusia

32724

View Map

Delray Beach

Florida

Palm Beach

33444

View Map

Delray Beach

Florida

Palm Beach

33445

View Map

Delray Beach

Florida

Palm Beach

33446

View Map

Delray Beach

Florida

Palm Beach

33447

View Map

Delray Beach

Florida

Palm Beach

33448

View Map

Delray Beach

Florida

Palm Beach

33482

View Map

Delray Beach

Florida

Palm Beach

33483

View Map

Delray Beach

Florida

Palm Beach

33484

View Map

Deltona

Florida

Volusia

32725

View Map

Deltona

Florida

Volusia

32728

View Map

Deltona

Florida

Volusia

32738

View Map

Deltona

Florida

Volusia

32739

View Map

Des

Florida

Okaloosa

32540

View Map

Des

Florida

Okaloosa

32541

View Map

Doctors Inlet

Florida

Clay

32030

View Map

Dover

Florida

Hillsborough

33527

View Map

Dundee

Florida

Polk

33838

View Map

Dunedin

Florida

Pinellas

34697

View Map

Dunedin

Florida

Pinellas

34698

View Map

Dunnellon

Florida

Marion

34430

View Map

Dunnellon

Florida

Marion

34431

View Map

Dunnellon

Florida

Marion

34432

View Map

Dunnellon

Florida

Citrus

34433

View Map

Dunnellon

Florida

Citrus

34434

View Map

Durant

Florida

Hillsborough

33530

View Map

Eagle Lake

Florida

Polk

33839

View Map

Earleton

Florida

Alachua

32631

View Map

East Palatka

Florida

Putnam

32131

View Map

Eastlake Weir

Florida

Marion

32133

View Map

Eastpoint

Florida

Franklin

32328

View Map

Eaton Park

Florida

Polk

33840

View Map

Ebro

Florida

Washington

32437

View Map

Edgar

Florida

Putnam

32149

View Map

Edgewater

Florida

Volusia

32132

View Map

Edgewater

Florida

Volusia

32141

View Map

Eglin Afb

Florida

Okaloosa

32542

View Map

El Jobean

Florida

Charlotte

33927

View Map

Elfers

Florida

Pasco

34680

View Map

Elkton

Florida

Saint Johns

32033

View Map

Ellenton

Florida

Manatee

34222

View Map

Englewood

Florida

Sarasota

34223

View Map

Englewood

Florida

Charlotte

34224

View Map

Englewood

Florida

Sarasota

34295

View Map

Estero

Florida

Lee

33928

View Map

Eustis

Florida

Lake

32726

View Map

Eustis

Florida

Lake

32727

View Map

Eustis

Florida

Lake

32736

View Map

Everglades City

Florida

Collier

34139

View Map

Evinston

Florida

Alachua

32633

View Map

Fairfield

Florida

Marion

32634

View Map

Fedhaven

Florida

Polk

33854

View Map

Felda

Florida

Hendry

33930

View Map

Fellsmere

Florida

Indian River

32948

View Map

Fernandina Beach

Florida

Nassau

32034

View Map

Fernandina Beach

Florida

Nassau

32035

View Map

Ferndale

Florida

Lake

34729

View Map

Flagler Beach

Florida

Flagler

32136

View Map

Fleming Island

Florida

Clay

32006

View Map

Florahome

Florida

Putnam

32140

View Map

Floral City

Florida

Citrus

34436

View Map

Fort Lauderdale

Florida

Broward

33301

View Map

Fort Lauderdale

Florida

Broward

33302

View Map

Fort Lauderdale

Florida

Broward

33303

View Map

Fort Lauderdale

Florida

Broward

33304

View Map

Fort Lauderdale

Florida

Broward

33305

View Map

Fort Lauderdale

Florida

Broward

33306

View Map

Fort Lauderdale

Florida

Broward

33307

View Map

Fort Lauderdale

Florida

Broward

33308

View Map

Fort Lauderdale

Florida

Broward

33309

View Map

Fort Lauderdale

Florida

Broward

33310

View Map

Fort Lauderdale

Florida

Broward

33311

View Map

Fort Lauderdale

Florida

Broward

33312

View Map

Fort Lauderdale

Florida

Broward

33313

View Map

Fort Lauderdale

Florida

Broward

33314

View Map

Fort Lauderdale

Florida

Broward

33315

View Map

Fort Lauderdale

Florida

Broward

33316

View Map

Fort Lauderdale

Florida

Broward

33317

View Map

Fort Lauderdale

Florida

Broward

33318

View Map

Fort Lauderdale

Florida

Broward

33319

View Map

Fort Lauderdale

Florida

Broward

33320

View Map

Fort Lauderdale

Florida

Broward

33321

View Map

Fort Lauderdale

Florida

Broward

33322

View Map

Fort Lauderdale

Florida

Broward

33323

View Map

Fort Lauderdale

Florida

Broward

33324

View Map

Fort Lauderdale

Florida

Broward

33325

View Map

Fort Lauderdale

Florida

Broward

33326

View Map

Fort Lauderdale

Florida

Broward

33327

View Map

Fort Lauderdale

Florida

Broward

33328

View Map

Fort Lauderdale

Florida

Broward

33329

View Map

Fort Lauderdale

Florida

Broward

33330

View Map

Fort Lauderdale

Florida

Broward

33331

View Map

Fort Lauderdale

Florida

Broward

33332

View Map

Fort Lauderdale

Florida

Broward

33334

View Map

Fort Lauderdale

Florida

Broward

33335

View Map

Fort Lauderdale

Florida

Broward

33336

View Map

Fort Lauderdale

Florida

Broward

33337

View Map

Fort Lauderdale

Florida

Broward

33338

View Map

Fort Lauderdale

Florida

Broward

33339

View Map

Fort Lauderdale

Florida

Broward

33340

View Map

Fort Lauderdale

Florida

Broward

33345

View Map

Fort Lauderdale

Florida

Broward

33346

View Map

Fort Lauderdale

Florida

Broward

33348

View Map

Fort Lauderdale

Florida

Broward

33349

View Map

Fort Lauderdale

Florida

Broward

33351

View Map

Fort Lauderdale

Florida

Broward

33355

View Map

Fort Lauderdale

Florida

Broward

33359

View Map

Fort Lauderdale

Florida

Broward

33388

View Map

Fort Lauderdale

Florida

Broward

33394

View Map

Fort Mc Coy

Florida

Marion

32134

View Map

Fort Meade

Florida

Polk

33841

View Map

Fort Myers

Florida

Lee

33901

View Map

Fort Myers

Florida

Lee

33902

View Map

Fort Myers

Florida

Lee

33905

View Map

Fort Myers

Florida

Lee

33906

View Map

Fort Myers

Florida

Lee

33907

View Map

Fort Myers

Florida

Lee

33908

View Map

Fort Myers

Florida

Lee

33911

View Map

Fort Myers

Florida

Lee

33912

View Map

Fort Myers

Florida

Lee

33913

View Map

Fort Myers

Florida

Lee

33916

View Map

Fort Myers

Florida

Lee

33919

View Map

Fort Myers

Florida

Lee

33965

View Map

Fort Myers

Florida

Lee

33966

View Map

Fort Myers

Florida

Lee

33967

View Map

Fort Myers

Florida

Lee

33994

View Map

Fort Myers Beach

Florida

Lee

33931

View Map

Fort Myers Beach

Florida

Lee

33932

View Map

Fort Ogden

Florida

De Soto

34267

View Map

Fort Pierce

Florida

Saint Lucie

34945

View Map

Fort Pierce

Florida

Saint Lucie

34946

View Map

Fort Pierce

Florida

Saint Lucie

34947

View Map

Fort Pierce

Florida

Saint Lucie

34948

View Map

Fort Pierce

Florida

Saint Lucie

34949

View Map

Fort Pierce

Florida

Saint Lucie

34950

View Map

Fort Pierce

Florida

Saint Lucie

34951

View Map

Fort Pierce

Florida

Saint Lucie

34954

View Map

Fort Pierce

Florida

Saint Lucie

34979

View Map

Fort Pierce

Florida

Saint Lucie

34981

View Map

Fort Pierce

Florida

Saint Lucie

34982

View Map

Fort Walton Beach

Florida

Okaloosa

32547

View Map

Fort Walton Beach

Florida

Okaloosa

32548

View Map

Fort Walton Beach

Florida

Okaloosa

32549

View Map

Fort White

Florida

Columbia

32038

View Map

Fountain

Florida

Bay

32438

View Map

Freeport

Florida

Walton

32439

View Map

Frostproof

Florida

Polk

33843

View Map

Fruitland Park

Florida

Lake

34731

View Map

Gainesville

Florida

Alachua

32601

View Map

Gainesville

Florida

Alachua

32602

View Map

Gainesville

Florida

Alachua

32603

View Map

Gainesville

Florida

Alachua

32604

View Map

Gainesville

Florida

Alachua

32605

View Map

Gainesville

Florida

Alachua

32606

View Map

Gainesville

Florida

Alachua

32607

View Map

Gainesville

Florida

Alachua

32608

View Map

Gainesville

Florida

Alachua

32609

View Map

Gainesville

Florida

Alachua

32610

View Map

Gainesville

Florida

Alachua

32611

View Map

Gainesville

Florida

Alachua

32612

View Map

Gainesville

Florida

Alachua

32613

View Map

Gainesville

Florida

Alachua

32614

View Map

Gainesville

Florida

Alachua

32627

View Map

Gainesville

Florida

Alachua

32635

View Map

Gainesville

Florida

Alachua

32641

View Map

Gainesville

Florida

Alachua

32653

View Map

Geneva

Florida

Seminole

32732

View Map

Georgetown

Florida

Putnam

32139

View Map

Gibsonton

Florida

Hillsborough

33534

View Map

Glen Saint Mary

Florida

Baker

32040

View Map

Glenwood

Florida

Volusia

32722

View Map

Goldenrod

Florida

Seminole

32733

View Map

Gonzalez

Florida

Escambia

32560

View Map

Goodland

Florida

Collier

34140

View Map

Gotha

Florida

Orange

34734

View Map

Graceville

Florida

Jackson

32440

View Map

Graham

Florida

Bradford

32042

View Map

Grand Island

Florida

Lake

32735

View Map

Grand Ridge

Florida

Jackson

32442

View Map

Grandin

Florida

Putnam

32138

View Map

Grant

Florida

Brevard

32949

View Map

Green Cove Springs

Florida

Clay

32043

View Map

Greensboro

Florida

Gadsden

32330

View Map

Greenville

Florida

Madison

32331

View Map

Greenwood

Florida

Jackson

32443

View Map

Gretna

Florida

Gadsden

32332

View Map

Groveland

Florida

Lake

34736

View Map

Gulf Breeze

Florida

Santa Rosa

32561

View Map

Gulf Breeze

Florida

Santa Rosa

32562

View Map

Gulf Breeze

Florida

Santa Rosa

32563

View Map

Gulf Hammock

Florida

Levy

32639

View Map

Haines City

Florida

Polk

33844

View Map

Haines City

Florida

Polk

33845

View Map

Hallandale

Florida

Broward

33008

View Map

Hallandale

Florida

Broward

33009

View Map

Hampton

Florida

Bradford

32044

View Map

Hasgs

Florida

Saint Johns

32145

View Map

Havana

Florida

Gadsden

32333

View Map

Hawthorne

Florida

Alachua

32640

View Map

Hernando

Florida

Citrus

34442

View Map

Hialeah

Florida

Miami-dade

33002

View Map

Hialeah

Florida

Miami-dade

33010

View Map

Hialeah

Florida

Miami-dade

33011

View Map

Hialeah

Florida

Miami-dade

33012

View Map

Hialeah

Florida

Miami-dade

33013

View Map

Hialeah

Florida

Miami-dade

33014

View Map

Hialeah

Florida

Miami-dade

33015

View Map

Hialeah

Florida

Miami-dade

33016

View Map

Hialeah

Florida

Miami-dade

33017

View Map

Hialeah

Florida

Miami-dade

33018

View Map

High Springs

Florida

Alachua

32643

View Map

High Springs

Florida

Alachua

32655

View Map

Highland City

Florida

Polk

33846

View Map

Hilliard

Florida

Nassau

32046

View Map

Hobe Sound

Florida

Martin

33455

View Map

Hobe Sound

Florida

Martin

33475

View Map

Holder

Florida

Citrus

34445

View Map

Holiday

Florida

Pasco

34690

View Map

Holiday

Florida

Pasco

34691

View Map

Holiday

Florida

Pasco

34692

View Map

Hollister

Florida

Putnam

32147

View Map

Hollywood

Florida

Broward

33019

View Map

Hollywood

Florida

Broward

33020

View Map

Hollywood

Florida

Broward

33021

View Map

Hollywood

Florida

Broward

33022

View Map

Hollywood

Florida

Broward

33023

View Map

Hollywood

Florida

Broward

33024

View Map

Hollywood

Florida

Broward

33025

View Map

Hollywood

Florida

Broward

33026

View Map

Hollywood

Florida

Broward

33027

View Map

Hollywood

Florida

Broward

33028

View Map

Hollywood

Florida

Broward

33029

View Map

Hollywood

Florida

Broward

33081

View Map

Hollywood

Florida

Broward

33083

View Map

Hollywood

Florida

Broward

33084

View Map

Holmes Beach

Florida

Manatee

34218

View Map

Holt

Florida

Okaloosa

32564

View Map

Homeland

Florida

Polk

33847

View Map

Homestead

Florida

Miami-dade

33030

View Map

Homestead

Florida

Miami-dade

33031

View Map

Homestead

Florida

Miami-dade

33032

View Map

Homestead

Florida

Miami-dade

33033

View Map

Homestead

Florida

Miami-dade

33034

View Map

Homestead

Florida

Miami-dade

33035

View Map

Homestead

Florida

Miami-dade

33039

View Map

Homestead

Florida

Miami-dade

33090

View Map

Homestead

Florida

Miami-dade

33092

View Map

Homosassa

Florida

Citrus

34446

View Map

Homosassa

Florida

Citrus

34448

View Map

Homosassa

Florida

Citrus

34487

View Map

Homosassa Springs

Florida

Citrus

34447

View Map

Horseshoe Beach

Florida

Dixie

32648

View Map

Hosford

Florida

Liberty

32334

View Map

Howey In The Hills

Florida

Lake

34737

View Map

Hudson

Florida

Pasco

34667

View Map

Hudson

Florida

Pasco

34669

View Map

Hudson

Florida

Pasco

34674

View Map

Hurlburt Field

Florida

Okaloosa

32544

View Map

Immokalee

Florida

Collier

34142

View Map

Immokalee

Florida

Collier

34143

View Map

Indialantic

Florida

Brevard

32903

View Map

Indian Lake Estates

Florida

Polk

33855

View Map

Indian Rocks Beach

Florida

Pinellas

33785

View Map

Indiantown

Florida

Martin

34956

View Map

Inglis

Florida

Levy

34449

View Map

Intercession City

Florida

Osceola

33848

View Map

Interlachen

Florida

Putnam

32148

View Map

Inverness

Florida

Citrus

34450

View Map

Inverness

Florida

Citrus

34451

View Map

Inverness

Florida

Citrus

34452

View Map

Inverness

Florida

Citrus

34453

View Map

Islamorada

Florida

Monroe

33036

View Map

Island Grove

Florida

Alachua

32654

View Map

Istachatta

Florida

Hernando

34636

View Map

Jacksonville

Florida

Duval

32099

View Map

Jacksonville

Florida

Duval

32201

View Map

Jacksonville

Florida

Duval

32202

View Map

Jacksonville

Florida

Duval

32203

View Map

Jacksonville

Florida

Duval

32204

View Map

Jacksonville

Florida

Duval

32205

View Map

Jacksonville

Florida

Duval

32206

View Map

Jacksonville

Florida

Duval

32207

View Map

Jacksonville

Florida

Duval

32208

View Map

Jacksonville

Florida

Duval

32209

View Map

Jacksonville

Florida

Duval

32210

View Map

Jacksonville

Florida

Duval

32211

View Map

Jacksonville

Florida

Duval

32212

View Map

Jacksonville

Florida

Duval

32214

View Map

Jacksonville

Florida

Duval

32215

View Map

Jacksonville

Florida

Duval

32216

View Map

Jacksonville

Florida

Duval

32217

View Map

Jacksonville

Florida

Duval

32218

View Map

Jacksonville

Florida

Duval

32219

View Map

Jacksonville

Florida

Duval

32220

View Map

Jacksonville

Florida

Duval

32221

View Map

Jacksonville

Florida

Duval

32222

View Map

Jacksonville

Florida

Duval

32223

View Map

Jacksonville

Florida

Duval

32224

View Map

Jacksonville

Florida

Duval

32225

View Map

Jacksonville

Florida

Duval

32226

View Map

Jacksonville

Florida

Duval

32227

View Map

Jacksonville

Florida

Duval

32228

View Map

Jacksonville

Florida

Duval

32229

View Map

Jacksonville

Florida

Duval

32230

View Map

Jacksonville

Florida

Duval

32231

View Map

Jacksonville

Florida

Duval

32232

View Map

Jacksonville

Florida

Duval

32234

View Map

Jacksonville

Florida

Duval

32235

View Map

Jacksonville

Florida

Duval

32236

View Map

Jacksonville

Florida

Duval

32237

View Map

Jacksonville

Florida

Duval

32238

View Map

Jacksonville

Florida

Duval

32239

View Map

Jacksonville

Florida

Duval

32241

View Map

Jacksonville

Florida

Duval

32244

View Map

Jacksonville

Florida

Duval

32245

View Map

Jacksonville

Florida

Duval

32246

View Map

Jacksonville

Florida

Duval

32247

View Map

Jacksonville

Florida

Duval

32254

View Map

Jacksonville

Florida

Duval

32255

View Map

Jacksonville

Florida

Duval

32256

View Map

Jacksonville

Florida

Duval

32257

View Map

Jacksonville

Florida

Duval

32258

View Map

Jacksonville

Florida

Saint Johns

32260

View Map

Jacksonville

Florida

Duval

32267

View Map

Jacksonville

Florida

Duval

32277

View Map

Jacksonville

Florida

Duval

32290

View Map

Jacksonville Beach

Florida

Duval

32240

View Map

Jacksonville Beach

Florida

Duval

32250

View Map

Jasper

Florida

Hamilton

32052

View Map

Jay

Florida

Santa Rosa

32565

View Map

Jennings

Florida

Hamilton

32053

View Map

Jensen Beach

Florida

Martin

34957

View Map

Jensen Beach

Florida

Martin

34958

View Map

Jupiter

Florida

Palm Beach

33458

View Map

Jupiter

Florida

Palm Beach

33468

View Map

Jupiter

Florida

Palm Beach

33469

View Map

Jupiter

Florida

Palm Beach

33477

View Map

Jupiter

Florida

Palm Beach

33478

View Map

Kathleen

Florida

Polk

33849

View Map

Kenansville

Florida

Osceola

34739

View Map

Key Biscayne

Florida

Miami-dade

33149

View Map

Key Colony Beach

Florida

Monroe

33051

View Map

Key Largo

Florida

Monroe

33037

View Map

Key West

Florida

Monroe

33040

View Map

Key West

Florida

Monroe

33041

View Map

Key West

Florida

Monroe

33045

View Map

Keystone Heights

Florida

Clay

32656

View Map

Killarney

Florida

Orange

34740

View Map

Kissimmee

Florida

Osceola

34741

View Map

Kissimmee

Florida

Osceola

34742

View Map

Kissimmee

Florida

Osceola

34743

View Map

Kissimmee

Florida

Osceola

34744

View Map

Kissimmee

Florida

Osceola

34745

View Map

Kissimmee

Florida

Osceola

34746

View Map

Kissimmee

Florida

Osceola

34747

View Map

Kissimmee

Florida

Osceola

34758

View Map

Kissimmee

Florida

Polk

34759

View Map

La Crosse

Florida

Alachua

32658

View Map

Labelle

Florida

Hendry

33935

View Map

Labelle

Florida

Hendry

33975

View Map

Lacoochee

Florida

Pasco

33537

View Map

Lady Lake

Florida

Lake

32158

View Map

Lady Lake

Florida

Lake

32159

View Map

Lady Lake

Florida

Sumter

32162

View Map

Lake Alfred

Florida

Polk

33850

View Map

Lake Butler

Florida

Union

32054

View Map

Lake City

Florida

Columbia

32024

View Map

Lake City

Florida

Columbia

32025

View Map

Lake City

Florida

Columbia

32055

View Map

Lake City

Florida

Columbia

32056

View Map

Lake Como

Florida

Putnam

32157

View Map

Lake Geneva

Florida

Clay

32160

View Map

Lake Hamilton

Florida

Polk

33851

View Map

Lake Harbor

Florida

Palm Beach

33459

View Map

Lake Helen

Florida

Volusia

32744

View Map

Lake Mary

Florida

Seminole

32746

View Map

Lake Mary

Florida

Seminole

32795

View Map

Lake Monroe

Florida

Seminole

32747

View Map

Lake Panasoffkee

Florida

Sumter

33538

View Map

Lake Placid

Florida

Highlands

33852

View Map

Lake Placid

Florida

Highlands

33862

View Map

Lake Wales

Florida

Polk

33853

View Map

Lake Wales

Florida

Polk

33859

View Map

Lake Wales

Florida

Polk

33898

View Map

Lake Worth

Florida

Palm Beach

33454

View Map

Lake Worth

Florida

Palm Beach

33460

View Map

Lake Worth

Florida

Palm Beach

33461

View Map

Lake Worth

Florida

Palm Beach

33462

View Map

Lake Worth

Florida

Palm Beach

33463

View Map

Lake Worth

Florida

Palm Beach

33465

View Map

Lake Worth

Florida

Palm Beach

33466

View Map

Lake Worth

Florida

Palm Beach

33467

View Map

Lakeland

Florida

Polk

33801

View Map

Lakeland

Florida

Polk

33802

View Map

Lakeland

Florida

Polk

33803

View Map

Lakeland

Florida

Polk

33804

View Map

Lakeland

Florida

Polk

33805

View Map

Lakeland

Florida

Polk

33806

View Map

Lakeland

Florida

Polk

33807

View Map

Lakeland

Florida

Polk

33809

View Map

Lakeland

Florida

Polk

33810

View Map

Lakeland

Florida

Polk

33811

View Map

Lakeland

Florida

Polk

33812

View Map

Lakeland

Florida

Polk

33813

View Map

Lakeland

Florida

Polk

33815

View Map

Lamont

Florida

Jefferson

32336

View Map

Lanark Village

Florida

Franklin

32323

View Map

Land O Lakes

Florida

Pasco

34637

View Map

Land O Lakes

Florida

Pasco

34638

View Map

Land O Lakes

Florida

Pasco

34639

View Map

Largo

Florida

Pinellas

33770

View Map

Largo

Florida

Pinellas

33771

View Map

Largo

Florida

Pinellas

33773

View Map

Largo

Florida

Pinellas

33774

View Map

Largo

Florida

Pinellas

33778

View Map

Largo

Florida

Pinellas

33779

View Map

Laurel

Florida

Sarasota

34272

View Map

Laurel Hill

Florida

Okaloosa

32567

View Map

Lawtey

Florida

Bradford

32058

View Map

Lecanto

Florida

Citrus

34460

View Map

Lecanto

Florida

Citrus

34461

View Map

Lee

Florida

Madison

32059

View Map

Leesburg

Florida

Lake

34748

View Map

Leesburg

Florida

Lake

34749

View Map

Leesburg

Florida

Lake

34788

View Map

Leesburg

Florida

Lake

34789

View Map

Lehigh Acres

Florida

Lee

33936

View Map

Lehigh Acres

Florida

Lee

33970

View Map

Lehigh Acres

Florida

Lee

33971

View Map

Lehigh Acres

Florida

Lee

33972

View Map

Lithia

Florida

Hillsborough

33547

View Map

Live Oak

Florida

Suwannee

32060

View Map

Live Oak

Florida

Suwannee

32064

View Map

Lloyd

Florida

Jefferson

32337

View Map

Lochloosa

Florida

Alachua

32662

View Map

Long Key

Florida

Monroe

33001

View Map

Longboat Key

Florida

Manatee

34228

View Map

Longwood

Florida

Seminole

32750

View Map

Longwood

Florida

Seminole

32752

View Map

Longwood

Florida

Seminole

32779

View Map

Longwood

Florida

Seminole

32791

View Map

Lorida

Florida

Highlands

33857

View Map

Loughman

Florida

Polk

33858

View Map

Lowell

Florida

Marion

32663

View Map

Loxahatchee

Florida

Palm Beach

33470

View Map

Lulu

Florida

Columbia

32061

View Map

Lutz

Florida

Hillsborough

33548

View Map

Lutz

Florida

Hillsborough

33549

View Map

Lutz

Florida

Hillsborough

33558

View Map

Lutz

Florida

Hillsborough

33559

View Map

Lynn Haven

Florida

Bay

32444

View Map

Macclenny

Florida

Baker

32063

View Map

Madison

Florida

Madison

32340

View Map

Madison

Florida

Madison

32341

View Map

Maitland

Florida

Orange

32751

View Map

Maitland

Florida

Orange

32794

View Map

Malabar

Florida

Brevard

32950

View Map

Malone

Florida

Jackson

32445

View Map

Mango

Florida

Hillsborough

33550

View Map

Marathon

Florida

Monroe

33050

View Map

Marathon Shores

Florida

Monroe

33052

View Map

Marco Island

Florida

Collier

34145

View Map

Marco Island

Florida

Collier

34146

View Map

Marianna

Florida

Jackson

32446

View Map

Marianna

Florida

Jackson

32447

View Map

Marianna

Florida

Jackson

32448

View Map

Mary Esther

Florida

Okaloosa

32569

View Map

Mascotte

Florida

Lake

34753

View Map

Mayo

Florida

Lafayette

32066

View Map

Mc Alpin

Florida

Suwannee

32062

View Map

Mc David

Florida

Escambia

32568

View Map

Mc Intosh

Florida

Marion

32664

View Map

Melbourne

Florida

Brevard

32901

View Map

Melbourne

Florida

Brevard

32902

View Map

Melbourne

Florida

Brevard

32904

View Map

Melbourne

Florida

Brevard

32912

View Map

Melbourne

Florida

Brevard

32919

View Map

Melbourne

Florida

Brevard

32934

View Map

Melbourne

Florida

Brevard

32935

View Map

Melbourne

Florida

Brevard

32936

View Map

Melbourne

Florida

Brevard

32940

View Map

Melbourne

Florida

Brevard

32941

View Map

Melbourne Beach

Florida

Brevard

32951

View Map

Melrose

Florida

Putnam

32666

View Map

Merritt Island

Florida

Brevard

32952

View Map

Merritt Island

Florida

Brevard

32953

View Map

Merritt Island

Florida

Brevard

32954

View Map

Mexico Beach

Florida

Bay

32410

View Map

Miami

Florida

Miami-dade

33101

View Map

Miami

Florida

Miami-dade

33102

View Map

Miami

Florida

Miami-dade

33107

View Map

Miami

Florida

Miami-dade

33110

View Map

Miami

Florida

Miami-dade

33111

View Map

Miami

Florida

Miami-dade

33112

View Map

Miami

Florida

Miami-dade

33114

View Map

Miami

Florida

Miami-dade

33116

View Map

Miami

Florida

Miami-dade

33121

View Map

Miami

Florida

Miami-dade

33122

View Map

Miami

Florida

Miami-dade

33124

View Map

Miami

Florida

Miami-dade

33125

View Map