About No Tax Return Bad Credit Mortgage Lenders
Bad credit Florida Bank statement mortgage lenders were created for self-employed borrowers that write off all of their income.  Bank statement Florida mortgage lenders use 12 or 24 months of bank statements and average a borrower's income for mortgage qualifying. These alt doc mortgage loans allow bad credit to self-employed business owners and bad credit to independent contractors who take too many deductions to qualify for a Florida mortgage.
Bad Credit No Tax Return Mortgage Lenders
Bad Credit Mortgage Lenders Max Loan To Value
•350-549 Max LTV 70% •550-579 Max LTV 75% •580-639 Max LTV 80% •640-679 Max LTV 85% •680+ Max LTV 90%
Occupancy:
• Owner Occupied & Second Home.
Property Types:
• Single Family Homes – Condos – Townhouses – 2 to 4 Units.
• Condotels – NO area restriction.
• Non-Warrantable condos.
Property Condition:
• Property must show "Pride of Ownership".
Loan Terms:
• All loans are 30 years fully amortized products.
Loan Amounts:
• $100K Minimum to $5 million Maximum – Owner Occupied.
• Loan amounts over $1 million need managing underwriters' approval.
• Loan Amounts greater than $2 million require 2 Appraisals.
Debt to Income (DTI):
• 55% max DTI with 24 months bank statements, traditional Full-Doc and LTVs up to 80%.
• 50% max DTI for other ATR tests, Interest Only and LTVs over 80%.
Income Documentation:
Full Doc – W-2's & Paystub, 1040's
Alt Doc – 12- or 24-month bank statements.
VOE Only Program – For NON-Self-Employed Borrowers Only:
• Verifiable VOE from Employer (not self-employed or self-prepared). The VOE must be fully filled out and must include all income and averages.
The VOE must be signed and dated by the employer with accurate contact info.
1099 Only Program: For Non-Self-Employed Independent Contractors
• 2 Years 1099's
• Lender Must verbally verify accuracy of income on 1099's
K-1's Only Program:
• 2 Years K-1's
• CPA, certified tax preparer or enrolled agent attesting that K-1's are accurate & borrower self-employed for 2 years or more.
P&L's Only Program – For Self-Employed Borrowers Only:
•Most recent 2 years full and Complete Profit and Loss Statement.
YTD Profit and Loss Statement
• Professionally Prepared P&L – Verifiable letter from licensed CPA, Certified Tax Preparer or Enrolled Agent attesting that they prepared the
P&L statements.
• Borrower Prepared P&L – Borrower to sign and date the P&Ls and attest to the accuracy of the P&L's via a handwritten, signed and dated
letter. And a verifiable letter from a licensed CPA, Certified Tax Preparer or Enrolled Agent attesting the borrower prepared P&L's are factual.
• Proof that the borrower has been self-employed for that business for 2
years.
Asset Depletion Program – For All Employment Retired/Unemployed:
• Qualifying income is based upon Total Assets Eligible for Depletion, less down payment, less out of pocket closing costs, less required reserves,
divided by 60. This amount will be used as the monthly income. Debt calculations will need to include all debts, not just housing debts.
Down Payments or Liquid Cash Reserves:
• All down payment funds MUST be sourced & seasoned in the last 60 days from 80.01-90% ltv.
• All down payment funds MUST be sourced & seasoned in the last 30 days up to 80% ltv.
• 100% Gift funds are acceptable up to 80% LTV – direct relative. $1M-$4M 50% can be gift.
Pre-Pay Note:
• No pre-payment penalty on ANY consumer products. Rate Buy Down – 1 point cost for every 33.3bps – Max 2 point buydown. Conditions Apply – All info is subject to change without notice and is NOT to be relied on.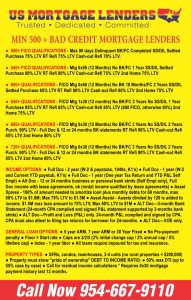 Florida Bank Statement Mortgage Lenders Purchase or Refinance!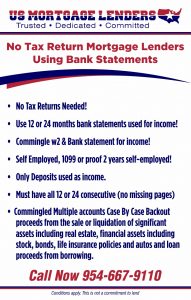 Use Average 12 Months Bank Statement Deposits To Purchase Or Refinance A Florida Home!
 Bank Statement mortgage loans are the best option for eligible self-employed borrowers to purchase or refinance a home. This program allows mortgage lenders to use personal or business bank statements to calculate income with NO tax returns.
Loans from $100,000 to $3 million.

Single-family, townhomes, or condos.

Primary, second home, or investment properties.

Available for purchase, cash-out or rate-term refinance.

2 years seasoning for foreclosure, short sale, bankruptcy, or deed-in-lieu.

Primary, second home, or investment properties.

12 or 24 months of business or personal bank statement.

1099 income option available.

Non-warrantable condos allowed

40-year fixed interest-only available.
12 Months Bad Credit Florida Bank Statement Mortgage Checklist
 Bad Credit Bank Statement Florida Mortgage Lenders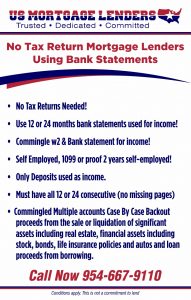 Bad Credit No Tax Return Florida Mortgage Coverage Areas
| | | | | |
| --- | --- | --- | --- | --- |
| View Map | Alachua | Florida | Alachua | 32615 |
| View Map | Alachua | Florida | Alachua | 32616 |
| View Map | Alford | Florida | Jackson | 32420 |
| View Map | Altamonte Springs | Florida | Seminole | 32701 |
| View Map | Altamonte Springs | Florida | Seminole | 32714 |
| View Map | Altamonte Springs | Florida | Seminole | 32715 |
| View Map | Altamonte Springs | Florida | Seminole | 32716 |
| View Map | Altha | Florida | Calhoun | 32421 |
| View Map | Altoona | Florida | Lake | 32702 |
| View Map | Alturas | Florida | Polk | 33820 |
| View Map | Alva | Florida | Lee | 33920 |
| View Map | Anna Maria | Florida | Manatee | 34216 |
| View Map | Anthony | Florida | Marion | 32617 |
| View Map | Apalachicola | Florida | Franklin | 32320 |
| View Map | Apalachicola | Florida | Franklin | 32329 |
| View Map | Apollo Beach | Florida | Hillsborough | 33572 |
| View Map | Apopka | Florida | Orange | 32703 |
| View Map | Apopka | Florida | Orange | 32704 |
| View Map | Apopka | Florida | Orange | 32712 |
| View Map | Arcadia | Florida | De Soto | 34265 |
| View Map | Arcadia | Florida | De Soto | 34266 |
| View Map | Arcadia | Florida | De Soto | 34269 |
| View Map | Archer | Florida | Alachua | 32618 |
| View Map | Argyle | Florida | Walton | 32422 |
| View Map | Aripeka | Florida | Pasco | 34679 |
| View Map | Astatula | Florida | Lake | 34705 |
| View Map | Astor | Florida | Lake | 32102 |
| View Map | Atlantic Beach | Florida | Duval | 32233 |
| View Map | Auburndale | Florida | Polk | 33823 |
| View Map | Avon Park | Florida | Highlands | 33825 |
| View Map | Avon Park | Florida | Highlands | 33826 |
| View Map | Babson Park | Florida | Polk | 33827 |
| View Map | Bagdad | Florida | Santa Rosa | 32530 |
| View Map | Baker | Florida | Okaloosa | 32531 |
| View Map | Balm | Florida | Hillsborough | 33503 |
| View Map | Barberville | Florida | Volusia | 32105 |
| View Map | Bartow | Florida | Polk | 33830 |
| View Map | Bartow | Florida | Polk | 33831 |
| View Map | Bascom | Florida | Jackson | 32423 |
| View Map | Bay Pines | Florida | Pinellas | 33744 |
| View Map | Bell | Florida | Gilchrist | 32619 |
| View Map | Belle Glade | Florida | Palm Beach | 33430 |
| View Map | Belleair Beach | Florida | Pinellas | 33786 |
| View Map | Belleview | Florida | Marion | 34420 |
| View Map | Belleview | Florida | Marion | 34421 |
| View Map | Beverly Hills | Florida | Citrus | 34464 |
| View Map | Beverly Hills | Florida | Citrus | 34465 |
| View Map | Big Pine Key | Florida | Monroe | 33043 |
| View Map | Blountstown | Florida | Calhoun | 32424 |
| View Map | Boca Grande | Florida | Lee | 33921 |
| View Map | Boca Raton | Florida | Palm Beach | 33427 |
| View Map | Boca Raton | Florida | Palm Beach | 33428 |
| View Map | Boca Raton | Florida | Palm Beach | 33429 |
| View Map | Boca Raton | Florida | Palm Beach | 33431 |
| View Map | Boca Raton | Florida | Palm Beach | 33432 |
| View Map | Boca Raton | Florida | Palm Beach | 33433 |
| View Map | Boca Raton | Florida | Palm Beach | 33434 |
| View Map | Boca Raton | Florida | Palm Beach | 33464 |
| View Map | Boca Raton | Florida | Palm Beach | 33481 |
| View Map | Boca Raton | Florida | Palm Beach | 33486 |
| View Map | Boca Raton | Florida | Palm Beach | 33487 |
| View Map | Boca Raton | Florida | Palm Beach | 33488 |
| View Map | Boca Raton | Florida | Palm Beach | 33496 |
| View Map | Boca Raton | Florida | Palm Beach | 33497 |
| View Map | Boca Raton | Florida | Palm Beach | 33498 |
| View Map | Boca Raton | Florida | Palm Beach | 33499 |
| View Map | Bokeelia | Florida | Lee | 33922 |
| View Map | Bonifay | Florida | Holmes | 32425 |
| View Map | Bonita Springs | Florida | Lee | 34133 |
| View Map | Bonita Springs | Florida | Lee | 34134 |
| View Map | Bonita Springs | Florida | Lee | 34135 |
| View Map | Bonita Springs | Florida | Lee | 34136 |
| View Map | Bostwick | Florida | Putnam | 32007 |
| View Map | Bowling Green | Florida | Hardee | 33834 |
| View Map | Boynton Beach | Florida | Palm Beach | 33424 |
| View Map | Boynton Beach | Florida | Palm Beach | 33425 |
| View Map | Boynton Beach | Florida | Palm Beach | 33426 |
| View Map | Boynton Beach | Florida | Palm Beach | 33435 |
| View Map | Boynton Beach | Florida | Palm Beach | 33436 |
| View Map | Boynton Beach | Florida | Palm Beach | 33437 |
| View Map | Boynton Beach | Florida | Palm Beach | 33474 |
| View Map | Bradenton | Florida | Manatee | 34201 |
| View Map | Bradenton | Florida | Manatee | 34202 |
| View Map | Bradenton | Florida | Manatee | 34203 |
| View Map | Bradenton | Florida | Manatee | 34204 |
| View Map | Bradenton | Florida | Manatee | 34205 |
| View Map | Bradenton | Florida | Manatee | 34206 |
| View Map | Bradenton | Florida | Manatee | 34207 |
| View Map | Bradenton | Florida | Manatee | 34208 |
| View Map | Bradenton | Florida | Manatee | 34209 |
| View Map | Bradenton | Florida | Manatee | 34210 |
| View Map | Bradenton | Florida | Manatee | 34211 |
| View Map | Bradenton | Florida | Manatee | 34212 |
| View Map | Bradenton | Florida | Manatee | 34280 |
| View Map | Bradenton | Florida | Manatee | 34281 |
| View Map | Bradenton | Florida | Manatee | 34282 |
| View Map | Bradenton Beach | Florida | Manatee | 34217 |
| View Map | Bradley | Florida | Polk | 33835 |
| View Map | Brandon | Florida | Hillsborough | 33508 |
| View Map | Brandon | Florida | Hillsborough | 33509 |
| View Map | Brandon | Florida | Hillsborough | 33510 |
| View Map | Brandon | Florida | Hillsborough | 33511 |
| View Map | Branford | Florida | Suwannee | 32008 |
| View Map | Bristol | Florida | Liberty | 32321 |
| View Map | Bronson | Florida | Levy | 32621 |
| View Map | Brooker | Florida | Bradford | 32622 |
| View Map | Brooksville | Florida | Hernando | 34601 |
| View Map | Brooksville | Florida | Hernando | 34602 |
| View Map | Brooksville | Florida | Hernando | 34603 |
| View Map | Brooksville | Florida | Hernando | 34604 |
| View Map | Brooksville | Florida | Hernando | 34605 |
| View Map | Brooksville | Florida | Hernando | 34613 |
| View Map | Brooksville | Florida | Hernando | 34614 |
| View Map | Bryant | Florida | Palm Beach | 33439 |
| View Map | Bryceville | Florida | Nassau | 32009 |
| View Map | Bunnell | Florida | Flagler | 32110 |
| View Map | Bushnell | Florida | Sumter | 33513 |
| View Map | Callahan | Florida | Nassau | 32011 |
| View Map | Campbellton | Florida | Jackson | 32426 |
| View Map | Canal Point | Florida | Palm Beach | 33438 |
| View Map | Candler | Florida | Marion | 32111 |
| View Map | Cantonment | Florida | Escambia | 32533 |
| View Map | Cape Canaveral | Florida | Brevard | 32920 |
| View Map | Cape Coral | Florida | Lee | 33904 |
| View Map | Cape Coral | Florida | Lee | 33909 |
| View Map | Cape Coral | Florida | Lee | 33910 |
| View Map | Cape Coral | Florida | Lee | 33914 |
| View Map | Cape Coral | Florida | Lee | 33915 |
| View Map | Cape Coral | Florida | Lee | 33990 |
| View Map | Cape Coral | Florida | Lee | 33991 |
| View Map | Cape Coral | Florida | Lee | 33993 |
| View Map | Captiva | Florida | Lee | 33924 |
| View Map | Carrabelle | Florida | Franklin | 32322 |
| View Map | Caryville | Florida | Washington | 32427 |
| View Map | Cassadaga | Florida | Volusia | 32706 |
| View Map | Casselberry | Florida | Seminole | 32707 |
| View Map | Casselberry | Florida | Seminole | 32718 |
| View Map | Casselberry | Florida | Seminole | 32730 |
| View Map | Cedar Key | Florida | Levy | 32625 |
| View Map | Center Hill | Florida | Sumter | 33514 |
| View Map | Century | Florida | Escambia | 32535 |
| View Map | Chattahoochee | Florida | Gadsden | 32324 |
| View Map | Chiefland | Florida | Levy | 32626 |
| View Map | Chiefland | Florida | Levy | 32644 |
| View Map | Chipley | Florida | Washington | 32428 |
| View Map | Chokoloskee | Florida | Collier | 34138 |
| View Map | Christmas | Florida | Orange | 32709 |
| View Map | Citra | Florida | Marion | 32113 |
| Zip | City | State | County | Zip Code |
| View Map | Clarcona | Florida | Orange | 32710 |
| View Map | Clarksville | Florida | Calhoun | 32430 |
| View Map | Clearwater | Florida | Pinellas | 33755 |
| View Map | Clearwater | Florida | Pinellas | 33756 |
| View Map | Clearwater | Florida | Pinellas | 33757 |
| View Map | Clearwater | Florida | Pinellas | 33758 |
| View Map | Clearwater | Florida | Pinellas | 33759 |
| View Map | Clearwater | Florida | Pinellas | 33760 |
| View Map | Clearwater | Florida | Pinellas | 33761 |
| View Map | Clearwater | Florida | Pinellas | 33762 |
| View Map | Clearwater | Florida | Pinellas | 33763 |
| View Map | Clearwater | Florida | Pinellas | 33764 |
| View Map | Clearwater | Florida | Pinellas | 33765 |
| View Map | Clearwater | Florida | Pinellas | 33766 |
| View Map | Clearwater | Florida | Pinellas | 33769 |
| View Map | Clearwater Beach | Florida | Pinellas | 33767 |
| View Map | Clermont | Florida | Lake | 34711 |
| View Map | Clermont | Florida | Lake | 34712 |
| View Map | Clermont | Florida | Lake | 34713 |
| View Map | Clermont | Florida | Lake | 34714 |
| View Map | Clermont | Florida | Lake | 34715 |
| View Map | Clewiston | Florida | Hendry | 33440 |
| View Map | Cocoa | Florida | Brevard | 32922 |
| View Map | Cocoa | Florida | Brevard | 32923 |
| View Map | Cocoa | Florida | Brevard | 32924 |
| View Map | Cocoa | Florida | Brevard | 32926 |
| View Map | Cocoa | Florida | Brevard | 32927 |
| View Map | Cocoa Beach | Florida | Brevard | 32931 |
| View Map | Cocoa Beach | Florida | Brevard | 32932 |
| View Map | Coconut Creek | Florida | Broward | 33093 |
| View Map | Coleman | Florida | Sumter | 33521 |
| View Map | Copeland | Florida | Collier | 34137 |
| View Map | Cortez | Florida | Manatee | 34215 |
| View Map | Cottondale | Florida | Jackson | 32431 |
| View Map | Crawfordville | Florida | Wakulla | 32326 |
| View Map | Crawfordville | Florida | Wakulla | 32327 |
| View Map | Crescent City | Florida | Putnam | 32112 |
| View Map | Crestview | Florida | Okaloosa | 32536 |
| View Map | Crestview | Florida | Okaloosa | 32539 |
| View Map | Cross City | Florida | Dixie | 32628 |
| View Map | Crystal Beach | Florida | Pinellas | 34681 |
| View Map | Crystal River | Florida | Citrus | 34423 |
| View Map | Crystal River | Florida | Citrus | 34428 |
| View Map | Crystal River | Florida | Citrus | 34429 |
| View Map | Crystal Springs | Florida | Pasco | 33524 |
| View Map | Cypress | Florida | Jackson | 32432 |
| View Map | Dade City | Florida | Pasco | 33523 |
| View Map | Dade City | Florida | Pasco | 33525 |
| View Map | Dade City | Florida | Pasco | 33526 |
| View Map | Dania | Florida | Broward | 33004 |
| View Map | Davenport | Florida | Polk | 33836 |
| View Map | Davenport | Florida | Polk | 33837 |
| View Map | Davenport | Florida | Polk | 33896 |
| View Map | Davenport | Florida | Polk | 33897 |
| View Map | Day | Florida | Lafayette | 32013 |
| View Map | Daytona Beach | Florida | Volusia | 32114 |
| View Map | Daytona Beach | Florida | Volusia | 32115 |
| View Map | Daytona Beach | Florida | Volusia | 32116 |
| View Map | Daytona Beach | Florida | Volusia | 32117 |
| View Map | Daytona Beach | Florida | Volusia | 32118 |
| View Map | Daytona Beach | Florida | Volusia | 32119 |
| View Map | Daytona Beach | Florida | Volusia | 32120 |
| View Map | Daytona Beach | Florida | Volusia | 32121 |
| View Map | Daytona Beach | Florida | Volusia | 32122 |
| View Map | Daytona Beach | Florida | Volusia | 32124 |
| View Map | Daytona Beach | Florida | Volusia | 32125 |
| View Map | Daytona Beach | Florida | Volusia | 32126 |
| View Map | Daytona Beach | Florida | Volusia | 32198 |
| View Map | De Leon Springs | Florida | Volusia | 32130 |
| View Map | Debary | Florida | Volusia | 32713 |
| View Map | Debary | Florida | Volusia | 32753 |
| View Map | Deerfield Beach | Florida | Broward | 33441 |
| View Map | Deerfield Beach | Florida | Broward | 33442 |
| View Map | Deerfield Beach | Florida | Broward | 33443 |
| View Map | Defuniak Springs | Florida | Walton | 32433 |
| View Map | Defuniak Springs | Florida | Walton | 32435 |
| View Map | Deland | Florida | Volusia | 32720 |
| View Map | Deland | Florida | Volusia | 32721 |
| View Map | Deland | Florida | Volusia | 32723 |
| View Map | Deland | Florida | Volusia | 32724 |
| View Map | Delray Beach | Florida | Palm Beach | 33444 |
| View Map | Delray Beach | Florida | Palm Beach | 33445 |
| View Map | Delray Beach | Florida | Palm Beach | 33446 |
| View Map | Delray Beach | Florida | Palm Beach | 33447 |
| View Map | Delray Beach | Florida | Palm Beach | 33448 |
| View Map | Delray Beach | Florida | Palm Beach | 33482 |
| View Map | Delray Beach | Florida | Palm Beach | 33483 |
| View Map | Delray Beach | Florida | Palm Beach | 33484 |
| View Map | Deltona | Florida | Volusia | 32725 |
| View Map | Deltona | Florida | Volusia | 32728 |
| View Map | Deltona | Florida | Volusia | 32738 |
| View Map | Deltona | Florida | Volusia | 32739 |
| View Map | Des | Florida | Okaloosa | 32540 |
| View Map | Des | Florida | Okaloosa | 32541 |
| View Map | Doctors Inlet | Florida | Clay | 32030 |
| View Map | Dover | Florida | Hillsborough | 33527 |
| View Map | Dundee | Florida | Polk | 33838 |
| View Map | Dunedin | Florida | Pinellas | 34697 |
| View Map | Dunedin | Florida | Pinellas | 34698 |
| View Map | Dunnellon | Florida | Marion | 34430 |
| View Map | Dunnellon | Florida | Marion | 34431 |
| View Map | Dunnellon | Florida | Marion | 34432 |
| View Map | Dunnellon | Florida | Citrus | 34433 |
| View Map | Dunnellon | Florida | Citrus | 34434 |
| View Map | Durant | Florida | Hillsborough | 33530 |
| View Map | Eagle Lake | Florida | Polk | 33839 |
| View Map | Earleton | Florida | Alachua | 32631 |
| View Map | East Palatka | Florida | Putnam | 32131 |
| View Map | Eastlake Weir | Florida | Marion | 32133 |
| View Map | Eastpoint | Florida | Franklin | 32328 |
| View Map | Eaton Park | Florida | Polk | 33840 |
| View Map | Ebro | Florida | Washington | 32437 |
| View Map | Edgar | Florida | Putnam | 32149 |
| View Map | Edgewater | Florida | Volusia | 32132 |
| View Map | Edgewater | Florida | Volusia | 32141 |
| View Map | Eglin Afb | Florida | Okaloosa | 32542 |
| View Map | El Jobean | Florida | Charlotte | 33927 |
| View Map | Elfers | Florida | Pasco | 34680 |
| View Map | Elkton | Florida | Saint Johns | 32033 |
| View Map | Ellenton | Florida | Manatee | 34222 |
| View Map | Englewood | Florida | Sarasota | 34223 |
| View Map | Englewood | Florida | Charlotte | 34224 |
| View Map | Englewood | Florida | Sarasota | 34295 |
| View Map | Estero | Florida | Lee | 33928 |
| View Map | Eustis | Florida | Lake | 32726 |
| View Map | Eustis | Florida | Lake | 32727 |
| View Map | Eustis | Florida | Lake | 32736 |
| View Map | Everglades City | Florida | Collier | 34139 |
| View Map | Evinston | Florida | Alachua | 32633 |
| View Map | Fairfield | Florida | Marion | 32634 |
| View Map | Fedhaven | Florida | Polk | 33854 |
| View Map | Felda | Florida | Hendry | 33930 |
| View Map | Fellsmere | Florida | Indian River | 32948 |
| View Map | Fernandina Beach | Florida | Nassau | 32034 |
| View Map | Fernandina Beach | Florida | Nassau | 32035 |
| View Map | Ferndale | Florida | Lake | 34729 |
| View Map | Flagler Beach | Florida | Flagler | 32136 |
| View Map | Fleming Island | Florida | Clay | 32006 |
| View Map | Florahome | Florida | Putnam | 32140 |
| View Map | Floral City | Florida | Citrus | 34436 |
| View Map | Fort Lauderdale | Florida | Broward | 33301 |
| View Map | Fort Lauderdale | Florida | Broward | 33302 |
| View Map | Fort Lauderdale | Florida | Broward | 33303 |
| View Map | Fort Lauderdale | Florida | Broward | 33304 |
| View Map | Fort Lauderdale | Florida | Broward | 33305 |
| View Map | Fort Lauderdale | Florida | Broward | 33306 |
| View Map | Fort Lauderdale | Florida | Broward | 33307 |
| View Map | Fort Lauderdale | Florida | Broward | 33308 |
| View Map | Fort Lauderdale | Florida | Broward | 33309 |
| View Map | Fort Lauderdale | Florida | Broward | 33310 |
| View Map | Fort Lauderdale | Florida | Broward | 33311 |
| View Map | Fort Lauderdale | Florida | Broward | 33312 |
| View Map | Fort Lauderdale | Florida | Broward | 33313 |
| View Map | Fort Lauderdale | Florida | Broward | 33314 |
| View Map | Fort Lauderdale | Florida | Broward | 33315 |
| View Map | Fort Lauderdale | Florida | Broward | 33316 |
| View Map | Fort Lauderdale | Florida | Broward | 33317 |
| View Map | Fort Lauderdale | Florida | Broward | 33318 |
| View Map | Fort Lauderdale | Florida | Broward | 33319 |
| View Map | Fort Lauderdale | Florida | Broward | 33320 |
| View Map | Fort Lauderdale | Florida | Broward | 33321 |
| View Map | Fort Lauderdale | Florida | Broward | 33322 |
| View Map | Fort Lauderdale | Florida | Broward | 33323 |
| View Map | Fort Lauderdale | Florida | Broward | 33324 |
| View Map | Fort Lauderdale | Florida | Broward | 33325 |
| View Map | Fort Lauderdale | Florida | Broward | 33326 |
| View Map | Fort Lauderdale | Florida | Broward | 33327 |
| View Map | Fort Lauderdale | Florida | Broward | 33328 |
| View Map | Fort Lauderdale | Florida | Broward | 33329 |
| View Map | Fort Lauderdale | Florida | Broward | 33330 |
| View Map | Fort Lauderdale | Florida | Broward | 33331 |
| View Map | Fort Lauderdale | Florida | Broward | 33332 |
| View Map | Fort Lauderdale | Florida | Broward | 33334 |
| View Map | Fort Lauderdale | Florida | Broward | 33335 |
| View Map | Fort Lauderdale | Florida | Broward | 33336 |
| View Map | Fort Lauderdale | Florida | Broward | 33337 |
| View Map | Fort Lauderdale | Florida | Broward | 33338 |
| View Map | Fort Lauderdale | Florida | Broward | 33339 |
| View Map | Fort Lauderdale | Florida | Broward | 33340 |
| View Map | Fort Lauderdale | Florida | Broward | 33345 |
| View Map | Fort Lauderdale | Florida | Broward | 33346 |
| View Map | Fort Lauderdale | Florida | Broward | 33348 |
| View Map | Fort Lauderdale | Florida | Broward | 33349 |
| View Map | Fort Lauderdale | Florida | Broward | 33351 |
| View Map | Fort Lauderdale | Florida | Broward | 33355 |
| View Map | Fort Lauderdale | Florida | Broward | 33359 |
| View Map | Fort Lauderdale | Florida | Broward | 33388 |
| View Map | Fort Lauderdale | Florida | Broward | 33394 |
| View Map | Fort Mc Coy | Florida | Marion | 32134 |
| View Map | Fort Meade | Florida | Polk | 33841 |
| View Map | Fort Myers | Florida | Lee | 33901 |
| View Map | Fort Myers | Florida | Lee | 33902 |
| View Map | Fort Myers | Florida | Lee | 33905 |
| View Map | Fort Myers | Florida | Lee | 33906 |
| View Map | Fort Myers | Florida | Lee | 33907 |
| View Map | Fort Myers | Florida | Lee | 33908 |
| View Map | Fort Myers | Florida | Lee | 33911 |
| View Map | Fort Myers | Florida | Lee | 33912 |
| View Map | Fort Myers | Florida | Lee | 33913 |
| View Map | Fort Myers | Florida | Lee | 33916 |
| View Map | Fort Myers | Florida | Lee | 33919 |
| View Map | Fort Myers | Florida | Lee | 33965 |
| View Map | Fort Myers | Florida | Lee | 33966 |
| View Map | Fort Myers | Florida | Lee | 33967 |
| View Map | Fort Myers | Florida | Lee | 33994 |
| View Map | Fort Myers Beach | Florida | Lee | 33931 |
| View Map | Fort Myers Beach | Florida | Lee | 33932 |
| View Map | Fort Ogden | Florida | De Soto | 34267 |
| View Map | Fort Pierce | Florida | Saint Lucie | 34945 |
| View Map | Fort Pierce | Florida | Saint Lucie | 34946 |
| View Map | Fort Pierce | Florida | Saint Lucie | 34947 |
| View Map | Fort Pierce | Florida | Saint Lucie | 34948 |
| View Map | Fort Pierce | Florida | Saint Lucie | 34949 |
| View Map | Fort Pierce | Florida | Saint Lucie | 34950 |
| View Map | Fort Pierce | Florida | Saint Lucie | 34951 |
| View Map | Fort Pierce | Florida | Saint Lucie | 34954 |
| View Map | Fort Pierce | Florida | Saint Lucie | 34979 |
| View Map | Fort Pierce | Florida | Saint Lucie | 34981 |
| View Map | Fort Pierce | Florida | Saint Lucie | 34982 |
| View Map | Fort Walton Beach | Florida | Okaloosa | 32547 |
| View Map | Fort Walton Beach | Florida | Okaloosa | 32548 |
| View Map | Fort Walton Beach | Florida | Okaloosa | 32549 |
| View Map | Fort White | Florida | Columbia | 32038 |
| View Map | Fountain | Florida | Bay | 32438 |
| View Map | Freeport | Florida | Walton | 32439 |
| View Map | Frostproof | Florida | Polk | 33843 |
| View Map | Fruitland Park | Florida | Lake | 34731 |
| View Map | Gainesville | Florida | Alachua | 32601 |
| View Map | Gainesville | Florida | Alachua | 32602 |
| View Map | Gainesville | Florida | Alachua | 32603 |
| View Map | Gainesville | Florida | Alachua | 32604 |
| View Map | Gainesville | Florida | Alachua | 32605 |
| View Map | Gainesville | Florida | Alachua | 32606 |
| View Map | Gainesville | Florida | Alachua | 32607 |
| View Map | Gainesville | Florida | Alachua | 32608 |
| View Map | Gainesville | Florida | Alachua | 32609 |
| View Map | Gainesville | Florida | Alachua | 32610 |
| View Map | Gainesville | Florida | Alachua | 32611 |
| View Map | Gainesville | Florida | Alachua | 32612 |
| View Map | Gainesville | Florida | Alachua | 32613 |
| View Map | Gainesville | Florida | Alachua | 32614 |
| View Map | Gainesville | Florida | Alachua | 32627 |
| View Map | Gainesville | Florida | Alachua | 32635 |
| View Map | Gainesville | Florida | Alachua | 32641 |
| View Map | Gainesville | Florida | Alachua | 32653 |
| View Map | Geneva | Florida | Seminole | 32732 |
| View Map | Georgetown | Florida | Putnam | 32139 |
| View Map | Gibsonton | Florida | Hillsborough | 33534 |
| View Map | Glen Saint Mary | Florida | Baker | 32040 |
| View Map | Glenwood | Florida | Volusia | 32722 |
| View Map | Goldenrod | Florida | Seminole | 32733 |
| View Map | Gonzalez | Florida | Escambia | 32560 |
| View Map | Goodland | Florida | Collier | 34140 |
| View Map | Gotha | Florida | Orange | 34734 |
| View Map | Graceville | Florida | Jackson | 32440 |
| View Map | Graham | Florida | Bradford | 32042 |
| View Map | Grand Island | Florida | Lake | 32735 |
| View Map | Grand Ridge | Florida | Jackson | 32442 |
| View Map | Grandin | Florida | Putnam | 32138 |
| View Map | Grant | Florida | Brevard | 32949 |
| View Map | Green Cove Springs | Florida | Clay | 32043 |
| View Map | Greensboro | Florida | Gadsden | 32330 |
| View Map | Greenville | Florida | Madison | 32331 |
| View Map | Greenwood | Florida | Jackson | 32443 |
| View Map | Gretna | Florida | Gadsden | 32332 |
| View Map | Groveland | Florida | Lake | 34736 |
| View Map | Gulf Breeze | Florida | Santa Rosa | 32561 |
| View Map | Gulf Breeze | Florida | Santa Rosa | 32562 |
| View Map | Gulf Breeze | Florida | Santa Rosa | 32563 |
| View Map | Gulf Hammock | Florida | Levy | 32639 |
| View Map | Haines City | Florida | Polk | 33844 |
| View Map | Haines City | Florida | Polk | 33845 |
| View Map | Hallandale | Florida | Broward | 33008 |
| View Map | Hallandale | Florida | Broward | 33009 |
| View Map | Hampton | Florida | Bradford | 32044 |
| View Map | Hasgs | Florida | Saint Johns | 32145 |
| View Map | Havana | Florida | Gadsden | 32333 |
| View Map | Hawthorne | Florida | Alachua | 32640 |
| View Map | Hernando | Florida | Citrus | 34442 |
| View Map | Hialeah | Florida | Miami-dade | 33002 |
| View Map | Hialeah | Florida | Miami-dade | 33010 |
| View Map | Hialeah | Florida | Miami-dade | 33011 |
| View Map | Hialeah | Florida | Miami-dade | 33012 |
| View Map | Hialeah | Florida | Miami-dade | 33013 |
| View Map | Hialeah | Florida | Miami-dade | 33014 |
| View Map | Hialeah | Florida | Miami-dade | 33015 |
| View Map | Hialeah | Florida | Miami-dade | 33016 |
| View Map | Hialeah | Florida | Miami-dade | 33017 |
| View Map | Hialeah | Florida | Miami-dade | 33018 |
| View Map | High Springs | Florida | Alachua | 32643 |
| View Map | High Springs | Florida | Alachua | 32655 |
| View Map | Highland City | Florida | Polk | 33846 |
| View Map | Hilliard | Florida | Nassau | 32046 |
| View Map | Hobe Sound | Florida | Martin | 33455 |
| View Map | Hobe Sound | Florida | Martin | 33475 |
| View Map | Holder | Florida | Citrus | 34445 |
| View Map | Holiday | Florida | Pasco | 34690 |
| View Map | Holiday | Florida | Pasco | 34691 |
| View Map | Holiday | Florida | Pasco | 34692 |
| View Map | Hollister | Florida | Putnam | 32147 |
| View Map | Hollywood | Florida | Broward | 33019 |
| View Map | Hollywood | Florida | Broward | 33020 |
| View Map | Hollywood | Florida | Broward | 33021 |
| View Map | Hollywood | Florida | Broward | 33022 |
| View Map | Hollywood | Florida | Broward | 33023 |
| View Map | Hollywood | Florida | Broward | 33024 |
| View Map | Hollywood | Florida | Broward | 33025 |