Florida No Income verification mortgage programs.
No No Doc, Florida No income verification mortgage program used to purchase a primary residence home or refinance your current primary residence mortgage. No employment, no tax returns, no W2s, no 1099's, no bank statements for income.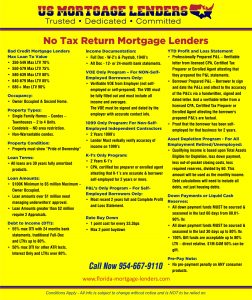 How and Who do No-Doc Florida mortgages work for?
Most self-employed Florida mortgage applicants have difficulty qualifying for a mortgage unless they provide the standard income documentation for the last (2) two years. However, there are mortgage options for people who cannot provide tax returns or if their tax returns do not show enough income to qualify for a mortgage. For Primary homes, No doc is not an option. in  2010 The Ability-to-Repay (ATR) / Qualified Mortgage (QM) rule, which is part of the post-crisis mortgage reforms created by the Dodd-Frank Wall Street Reform and Consumer Protection Act (Dodd-Frank Act), requires lenders to consider a borrower's ability to repay the mortgage.  No-document Florida mortgage lenders offer a variety of different types of no-doc or low-doc mortgages, depending on your particular needs. Most time low and no doc loans require much better credit and a much higher downpayment, closing cost, and reserves. Reserves are defined as the amount of future monthly mortgage payments the lender requires in your bank account after your downpayment and closing cost are paid.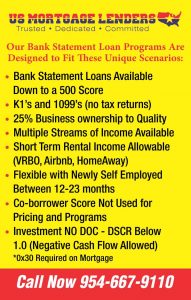 Can you get a Florida mortgage without providing tax returns?
There are private Florida mortgage lenders who have loan programs for self-employed individuals who cannot provide tax returns. They are designed for business owners who have not filed tax returns or show a very low net income.
Self-Employed No Doc Florida Mortgage Lenders 
Excessive tax deductions combined with tough documentation requirements make conventional mortgage loan approval difficult to obtain for some Florida self-employed mortgage applicants. Today, self-employed mortgage applicants are using alternative documentation to qualify for what in the past was called stated income mortgage loans. These new bank statement-only loans are taking the place of stated income loans because self-employed Florida mortgage applicants do not have to show their tax returns.
Bank statement-only loans are loans where self-employed self-employed self-employed lenders use bank statement deposits to verify the self-employed mortgage applicant's ability instead of tax returns, to determine the self-employed mortgage applicant's ability to repay the mortgage loan. Florida bank statement-only mortgage lenders work with self-employed mortgage applicants to calculate bank statement deposits for 12 to 24 months to determine a self-employed mortgage applicant's net income. Each self-employed mortgage lender uses a slightly different formula to determine a self-employed applicant's qualifying income. In most cases, in qualifying with personal bank statements mortgage lenders will use 100% of deposits in a personal bank account. For this reason, the net qualifying income reflects on the personal bank statements after paying business-related expenses.
Self-Employed Florida Bank Statement Mortgage Lenders Document Checklist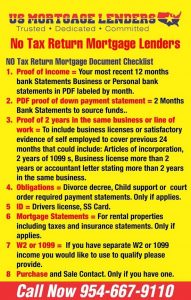 Requirements for Florida Mortgage Applicants With No Tax Returns
Mortgage Applicants are typically Self-Employed – The no-tax return lender will need to verify the business has been in existence for at least 2 years, a letter from your accountant is required to show that you are 100% owner.  
Down Payment Requirments– Mostly all Florida no-tax return mortgage lenders will need at least a 10% down payment with exceptions case by case.  The down payment may be higher based on your credit score and property type and debt-to-income ratios. 
Credit Scores – We have mortgage lenders that claim to go down to a 350 credit score. But the truth is no matter what your credit score if you have a bad credit payment history you will not get approved for a no tax return, stated income, or No doc mortgage. 
No Tax Return Requirements – Most of our lenders will ask for your last 12-24 months' bank statements. The bank statements will be used as income verification. They will use the average monthly deposits and will treat them as income. They typically use 100% of the deposits from your personal bank accounts and a portion of your business accounts.
Assets/Reserves – Assets play a major role in your approval. The more money you have invested in the property and the more money you have in reserves the better your odds of no doc mortgage approval.
Property Types – Single-family, Townhomes, villas, Condos, Multifamily up to 4 units, second homes, and investments are all welcome!  
Questions About Florida Mortgage Applicants With No Tax Returns
How do you prove your income and employment?
Under the No Income verification mortgage program, you do not have to submit any proof of income or employment at all. No doc Florida mortgage lenders will use your assets, credit and reserves. You will not need IRS tax returns, tax transcripts (4506-Ts). Your Debt to income will not be calculated!
What are the minimum and maximum loan amounts?
Most Florida self-employed No Ratio, No Tax Return, no income verification mortgage lenders will have a 100k minimum and offer as much as $3 million for purchase or refinancing.  This Jumbo Florida no tax return mortgage program can finance luxury properties.
What (LTV) Loan To Values Are Available?
The LTVs offered by lenders depend on the risk they are willing to take by giving you the loan. The more creditworthy you are, the higher your LTV could be. It also depends on your credit score, reserves, and property type. For purchase loans where a borrower seeks to buy a residential property, a maximum LTV is 80 to 90% for purchase and up to 75% for cashout depending on credit and debt-to-income ratios! 
What property and occupancy types are allowed for no doc no income verification mortgage loans?
This no income verification mortgage loan program can be used to purchase or refinance several types of properties, including:
Single-family Homes

Manufactured Homes

Townhomes, Condos, Villas

Multifamily 2- to 4-unit properties

Condominiums (including non-warrantable condos)