Debt service coverage ratio Florida mortgage lenders use an alternative method to qualify investment property for the purchase or refinance of Florida real estate. Rather than using the borrower's income via W2, 1099, and Tax Returns to verify the borrower's ability to pay. (Investors income) debt service coverage ratio lenders use the rental income from the subject property to qualify instead of using the borrower's ability to repay.  The Investors income or debt service coverage ratio shows the amount of rental income you have every month after paying the total housing payment that includes PITI and HOA.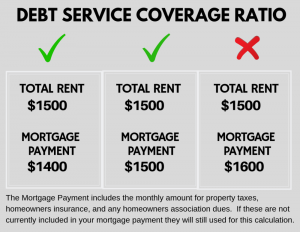 Investors' income loans come with different terms and requirements because they're not for regular Florida home buyers. These loans are designed for real estate investors who want to invest in rental properties and cannot be used to purchase owner-occupied properties. If you want to invest in rental properties to supplement your income, Investors' income loans in Florida are one option to consider.
How Do You Calculate the Investor's income via Debt Service Coverage?
The Investors income is calculated by taking net operating income and dividing it by total debt service (which includes the principal and interest payments on a loan). For example, if a rental home has an income of $2000 per month and the total housing payment that includes Principal, Interest, Taxes, Insurance, and HOA is $1900 the DCR 2000/1900 =  Investors income would be approximately 1.052. The lender is looking a number over 1 to approve your loan request.

Florida Investor Mortgage – Use the rental income to qualify for Investment homes!
No Income Verification Florida Investor Loans= Income / Payment = 1 or greater qualifies!
Higher the rental income and the lower the payments the better the (Investors income) debt service coverage ratio.
| | | |
| --- | --- | --- |
| Rental income | Total Housing Payment | Investors income |
| $2000 | $1900 | 1.052 |
| $2200 | $1900 | 1.15 |
The higher the Investors income, the greater your chances for mortgage approval. Florida Investor's income mortgage lenders prefer to see a very high debt coverage ratio because it means you'll have more income to make the payment and a reserve to cover any unforeseen expenses.
If your Investors income is too low, usually under 1 you will need to make a larger down payment, buy down the mortgage rate, or buy a home with lower expenses. Any improvement in these expenses could raise your Investor's income and help you get approved.
What Is a Good Investors Income Ratio?
A "good" Investors income for mortgage qualifying is any number greater than 1.00.  As a general rule, however, an Investors income above 1.00 shows the property will generate enough income to cover the total housing payments.  Most Investor's income Florida mortgage lenders require at least 1 to qualify!
How does a lender know if a property has positive Cash Flow? 
All Investor's income lenders will require the investor to provide to the lender a standard appraisal to verify the value allow with appraisal Form 1007, the Single-Family Comparable Rent Schedule, is to be used by Florida mortgage lender to estimate the market rent of the subject property. Adjustments should be made only for items of significant difference between the comparables and the subject property. Form 1007 is only to be used for conventional single-family investment properties and is to be included and prepared by the appraiser as an attachment to the uniform residential appraisal for the property. The market rent value is determined by analyzing three rental properties that share or bracket significant rental characteristics with the subject property, as well as information relating to the physical structure, location and lease terms of the single-family property.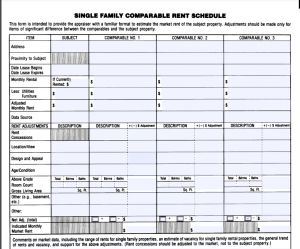 How to qualify for a Florida income mortgage in Florida?
Qualifying for a California Investors income loan is not difficult when you have the right property and meet other requirements. Here are general things lenders are looking for.
Loan purpose: Purchase a property, refinance (for instance, you could refinance out of a hard money loan), or cash-out refinance.
Property types allowed: Single-family residence, multi-family 2-4 unit homes, condos, non-warrantable condos, townhomes, and more. These loans also work for commercial properties, such as 5-8 unit apartment complexes and office buildings, although the Investor's income calculation is different than for residential.
Loan-to-value (LTV): Maximum loan to value is typically 75-80%. For a purchase, this is the same as saying you need a 20-25% down payment. For a refinance, you have to have 20-25% equity.
Credit score: Case by case 500+.
Property use: Investment properties only; no primary residences. Short-term rentals accepted.
Loan type: 30-year fixed, adjustable rate, and interest-only loans.
Income and employment, debt-to-income ratio: No personal income or DTI verification is required.
Maximum loan amount: Typically $1-2 million, but some lenders go up to $5 million or more.
Maximum properties owned: There's no limit to the number of owned or financed properties.
Prepayment penalties: Many Investors income loans come with prepay penalties. Make sure you intend to keep the home and mortgage until the penalty time period expires.
Closing in the name of an LLC: This is allowed.
Seller paid closing costs: Typically allowed up to a certain percentage of the home price. 
Category: NO Tax Return Florida Investment Loans