How do I Qualify For A Florida Mortgage Using 1099's For Income?
You must be employed in the same line of work or business for at least 2 years.

We can then average your 2 years 1099 average with your year-to-date income! 

We also need your most recent 2 months bank statement to document your income has continued year to date.

NO TAX RETURN FLORIDA 1099 MORTGAGE LENDERS!

  


What Are The Requirments To Use 1099 For A Florida Mortage?
You must prove self-employment for a minimum of 2 years in the same line of work.

Must provide proof of 12-month rental history.

Document the most recent 2 years 1099 and 2 months most recent deposits.

You must have at least 10% down + closing cost + reserves.

4-6 months of PITI reserves, reserves defined as the total monthly housing payment.

You may qualify with as little as a 12-months bank statement.

You must have a credit score of 600 or above to qualify.

The minimum loan amount is $100,000, and the maximum loan is $5,000,000.
How Do 1099 Florida Mortgage Lenders Calculate income? 
Florida mortgage lenders take the last most recent 2 years 1099 and the most recent 2 months' bank statements and add them up and divide by the total months to determine your total income. 1099 Florida mortgage lenders will also require you to complete a self-employed questionnaire so they can determine your bare-bone business expenses. Once the lender determines how much you need to run your business via a self-employed questionnaire they will give you an expense ratio. The rest of the funds can be used for mortgage qualifying.
What Questions Will I Have To Answer To Calculate 1099's As Income? 
Contractors 1099 Questionnaire Business information is required to properly analyze 1099 business expenses.
1. Business Type: _______________________________If Other, please describe here: __________________________________
2. Where do you conduct business: Office, Plant, Residence? _________________________
More than one physical site? (Check One) YES NO If Yes, how many? _____________ Current rent for business space(s)?_______
Address(es)? _____________________________________________ State_______ Zip Code__________
3. How many people do you have employed?Full Time: __________ Part Time: __________ Contractors: __________
Full Time Payroll: _________ Part Time Payroll: __________ Contractor Payroll: __________
Total Monthly Payroll Expense: ___________ $ 0.00
4. Do you manufacture a product, such that you have a cost of goods sold for the product you ultimately sell? (Check One) YES NO
If YES, describe in detail: Estimate for monthly Cost of goods sold: _____________________
5. Do you buy and then resell a product? (Check One) YES NO
If YES, describe in detail:
6. What percentage of your business do you own? ____________% If less than 100%, who owns the remaining portion, and what percentage?
7. Please provide any additional business expenses not listed above: (Excluding Rent / Payroll / COGSold)
8. How has Covid-19 affected your business?
9. Is there anything else you can tell us about your business that is important for us to know as we review your bank statements, including sources of deposits and withdrawals?
Borrower 1 Name/Signature: ____________________ Borrower 2 Name/Signature ____________________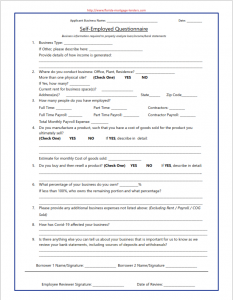 What is a 1099 Florida Mortgage Lender? 
1099 mortgage lenders average a self-employed contract worker's income for Florida mortgage qualifying instead of requiring tax returns. The lender has the extra risk of not knowing the true expenses the contractor incurs during their contract work. As a result, the fees for these types of loans are higher than a conventional mortgage. The 1099 form is a series of Florida independent contractor documents the IRS Internal Revenue Service refers to as "information returns." There are a number of different Florida 1099 forms that report the various types of income you may receive throughout the year other than the salary your Florida employer pays you. A Florida independent contractor or a Florida entity that pays you is responsible for filling out the appropriate Florida 1099 tax form and sending it to you by regular mail.
Florida 1099 Independent Contractor or 1099 Freelancer Income
If you are a Florida worker earning a salary or wage, your Florida employer reports your annual earnings at year-end on IRS Form W-2. However, if you are an independent contractor, freelancer or Florida self-employed you probably receive a Form 1099. from each business client that pays you at least $600 per year during the tax year.
For example, if you are a freelance writer, consultant or artist, you hire yourself out to individuals or Florida companies on a contract basis. The income you receive from each contract or job and or service you take part in should be reported to you on by the Florida business on Form 1099. When you prepare your tax return, the IRS requires you to report all of this income and pay income tax on it. Your are still required to report all of your income even if you do not receive a form 1099.
1099 from interest and dividend income
When you own a portfolio of stock investments or mutual funds, you may receive a Form 1099-DIV to report the dividends and other distributions you receive during the year. These payments are different than the income you earn from selling stocks. Rather, it is a payment of the corporation's earnings directly to shareholders.
Other types of investments you have may pay periodic interest payments rather than dividends. These interest payments are also taxable and are usually reported to you on Form 1099-INT. Commonly, taxpayers receive this form from banks where they have interest bearing accounts.
1099-C Florida income from debt cancellation 
Sometimes, transactions can increase your taxable income even when you don't receive a payment. This commonly occurs when a creditor cancels a portion of your outstanding debt. When this happens, the IRS treats the debt cancellation as income which may be taxable to you. For example, if your credit card company no longer requires you to pay your outstanding balance, it may send you Form 1099-C to report the amount of debt it cancels and you may need to report this amount on your tax return.
1099 Florida income from Government payment Income
The federal and state governments are equally responsible for reporting the income that it pays to taxpayers. Government agencies commonly use Form 1099-G to report the state income tax refunds and unemployment compensation you receive during the year. If you receive unemployment income, you must include the entire amount your state reports on the 1099-G form in your taxable income. However, you only include your state refund in income if you claimed a deduction of state income taxes in a prior tax year.
1099 Floirda Income Withdrawals from a retirement account
When you withdraw money from your traditional IRA, in most cases it is taxable. You will receive a Form 1099-R that reports your total withdrawals for the year. The form also covers other types of distributions you receive from pension plans, annuities and profit-sharing plans. Usually, the 1099-R will show the taxable amount of the distribution on the form itself and will report the amount of federal tax that was withheld.
SELF-EMPLOYED FLORIDA 1099  MORTGAGE LENDERS LINKS
---
---
 

1099 Florida mortgage lenders links You May Find Useful
---
Comment on Form 1099-MISC
Use the Comment on Tax Forms and Publications web form to provide feedback on the content of this product. Although we cannot respond individually to each comment, we do appreciate your feedback and will consider all comments submitted.
CAUTION: We cannot respond to tax-related questions submitted using this page. Instead, please see our Tax Law Questions page.
SELF-EMPLOYED FLORIDA 1099  MORTGAGE LENDERS DETAILS
1099 Only Florida Mortgage Lenders – 2 Years Self Employed Required!
1099 Only Florida Mortgage Lenders – Last 2 years 1099a used to qualify!
1099 Only Florida Mortgage Lenders – No tax returns required
1099 Only Florida Mortgage Lenders – NO Business Or Personal Tax Returns Needed!
1099 Only Florida Mortgage Lenders – Loans up to $3 million
1099 Only Florida Mortgage Lenders – Credit scores down to 600
1099 Only Florida Mortgage Lenders – Credit scores down to 500 if mortgage payments are timely 
1099 Only Florida Mortgage Lenders – Up to 85% LTV
1099 Only Florida Mortgage Lenders – DTI up to 55% considered
1099 Only Florida Mortgage Lenders – Owner-occupied, 2nd homes, and investment properties
1099 Only Florida Mortgage Lenders – 1-day seasoning for foreclosure, short sale, BK, DIL
1099 Only Florida Mortgage Lenders – Non-warrantable condos considered
1099 Only Florida Mortgage Lenders – Jumbo loans down to 660 score
1099 Only Florida Mortgage Lenders – 5/1 ARM or 30-year fixed
1099 Only Florida Mortgage Lenders – No pre-payment penalty for owner-occ and 2nd homes
1099 Only Florida Mortgage Lenders – SFRs, townhomes, condos, 2-4 units
1099 Only Florida Mortgage Lenders – Seller concessions to 6% (2% for investment)
1099 For Income Florida Mortgage Coverage Areas
| | | | | |
| --- | --- | --- | --- | --- |
| View Map | Alachua | Florida | Alachua | 32615 |
| View Map | Alachua | Florida | Alachua | 32616 |
| View Map | Alford | Florida | Jackson | 32420 |
| View Map | Altamonte Springs | Florida | Seminole | 32701 |
| View Map | Altamonte Springs | Florida | Seminole | 32714 |
| View Map | Altamonte Springs | Florida | Seminole | 32715 |
| View Map | Altamonte Springs | Florida | Seminole | 32716 |
| View Map | Altha | Florida | Calhoun | 32421 |
| View Map | Altoona | Florida | Lake | 32702 |
| View Map | Alturas | Florida | Polk | 33820 |
| View Map | Alva | Florida | Lee | 33920 |
| View Map | Anna Maria | Florida | Manatee | 34216 |
| View Map | Anthony | Florida | Marion | 32617 |
| View Map | Apalachicola | Florida | Franklin | 32320 |
| View Map | Apalachicola | Florida | Franklin | 32329 |
| View Map | Apollo Beach | Florida | Hillsborough | 33572 |
| View Map | Apopka | Florida | Orange | 32703 |
| View Map | Apopka | Florida | Orange | 32704 |
| View Map | Apopka | Florida | Orange | 32712 |
| View Map | Arcadia | Florida | De Soto | 34265 |
| View Map | Arcadia | Florida | De Soto | 34266 |
| View Map | Arcadia | Florida | De Soto | 34269 |
| View Map | Archer | Florida | Alachua | 32618 |
| View Map | Argyle | Florida | Walton | 32422 |
| View Map | Aripeka | Florida | Pasco | 34679 |
| View Map | Astatula | Florida | Lake | 34705 |
| View Map | Astor | Florida | Lake | 32102 |
| View Map | Atlantic Beach | Florida | Duval | 32233 |
| View Map | Auburndale | Florida | Polk | 33823 |
| View Map | Avon Park | Florida | Highlands | 33825 |
| View Map | Avon Park | Florida | Highlands | 33826 |
| View Map | Babson Park | Florida | Polk | 33827 |
| View Map | Bagdad | Florida | Santa Rosa | 32530 |
| View Map | Baker | Florida | Okaloosa | 32531 |
| View Map | Balm | Florida | Hillsborough | 33503 |
| View Map | Barberville | Florida | Volusia | 32105 |
| View Map | Bartow | Florida | Polk | 33830 |
| View Map | Bartow | Florida | Polk | 33831 |
| View Map | Bascom | Florida | Jackson | 32423 |
| View Map | Bay Pines | Florida | Pinellas | 33744 |
| View Map | Bell | Florida | Gilchrist | 32619 |
| View Map | Belle Glade | Florida | Palm Beach | 33430 |
| View Map | Belleair Beach | Florida | Pinellas | 33786 |
| View Map | Belleview | Florida | Marion | 34420 |
| View Map | Belleview | Florida | Marion | 34421 |
| View Map | Beverly Hills | Florida | Citrus | 34464 |
| View Map | Beverly Hills | Florida | Citrus | 34465 |
| View Map | Big Pine Key | Florida | Monroe | 33043 |
| View Map | Blountstown | Florida | Calhoun | 32424 |
| View Map | Boca Grande | Florida | Lee | 33921 |
| View Map | Boca Raton | Florida | Palm Beach | 33427 |
| View Map | Boca Raton | Florida | Palm Beach | 33428 |
| View Map | Boca Raton | Florida | Palm Beach | 33429 |
| View Map | Boca Raton | Florida | Palm Beach | 33431 |
| View Map | Boca Raton | Florida | Palm Beach | 33432 |
| View Map | Boca Raton | Florida | Palm Beach | 33433 |
| View Map | Boca Raton | Florida | Palm Beach | 33434 |
| View Map | Boca Raton | Florida | Palm Beach | 33464 |
| View Map | Boca Raton | Florida | Palm Beach | 33481 |
| View Map | Boca Raton | Florida | Palm Beach | 33486 |
| View Map | Boca Raton | Florida | Palm Beach | 33487 |
| View Map | Boca Raton | Florida | Palm Beach | 33488 |
| View Map | Boca Raton | Florida | Palm Beach | 33496 |
| View Map | Boca Raton | Florida | Palm Beach | 33497 |
| View Map | Boca Raton | Florida | Palm Beach | 33498 |
| View Map | Boca Raton | Florida | Palm Beach | 33499 |
| View Map | Bokeelia | Florida | Lee | 33922 |
| View Map | Bonifay | Florida | Holmes | 32425 |
| View Map | Bonita Springs | Florida | Lee | 34133 |
| View Map | Bonita Springs | Florida | Lee | 34134 |
| View Map | Bonita Springs | Florida | Lee | 34135 |
| View Map | Bonita Springs | Florida | Lee | 34136 |
| View Map | Bostwick | Florida | Putnam | 32007 |
| View Map | Bowling Green | Florida | Hardee | 33834 |
| View Map | Boynton Beach | Florida | Palm Beach | 33424 |
| View Map | Boynton Beach | Florida | Palm Beach | 33425 |
| View Map | Boynton Beach | Florida | Palm Beach | 33426 |
| View Map | Boynton Beach | Florida | Palm Beach | 33435 |
| View Map | Boynton Beach | Florida | Palm Beach | 33436 |
| View Map | Boynton Beach | Florida | Palm Beach | 33437 |
| View Map | Boynton Beach | Florida | Palm Beach | 33474 |
| View Map | Bradenton | Florida | Manatee | 34201 |
| View Map | Bradenton | Florida | Manatee | 34202 |
| View Map | Bradenton | Florida | Manatee | 34203 |
| View Map | Bradenton | Florida | Manatee | 34204 |
| View Map | Bradenton | Florida | Manatee | 34205 |
| View Map | Bradenton | Florida | Manatee | 34206 |
| View Map | Bradenton | Florida | Manatee | 34207 |
| View Map | Bradenton | Florida | Manatee | 34208 |
| View Map | Bradenton | Florida | Manatee | 34209 |
| View Map | Bradenton | Florida | Manatee | 34210 |
| View Map | Bradenton | Florida | Manatee | 34211 |
| View Map | Bradenton | Florida | Manatee | 34212 |
| View Map | Bradenton | Florida | Manatee | 34280 |
| View Map | Bradenton | Florida | Manatee | 34281 |
| View Map | Bradenton | Florida | Manatee | 34282 |
| View Map | Bradenton Beach | Florida | Manatee | 34217 |
| View Map | Bradley | Florida | Polk | 33835 |
| View Map | Brandon | Florida | Hillsborough | 33508 |
| View Map | Brandon | Florida | Hillsborough | 33509 |
| View Map | Brandon | Florida | Hillsborough | 33510 |
| View Map | Brandon | Florida | Hillsborough | 33511 |
| View Map | Branford | Florida | Suwannee | 32008 |
| View Map | Bristol | Florida | Liberty | 32321 |
| View Map | Bronson | Florida | Levy | 32621 |
| View Map | Brooker | Florida | Bradford | 32622 |
| View Map | Brooksville | Florida | Hernando | 34601 |
| View Map | Brooksville | Florida | Hernando | 34602 |
| View Map | Brooksville | Florida | Hernando | 34603 |
| View Map | Brooksville | Florida | Hernando | 34604 |
| View Map | Brooksville | Florida | Hernando | 34605 |
| View Map | Brooksville | Florida | Hernando | 34613 |
| View Map | Brooksville | Florida | Hernando | 34614 |
| View Map | Bryant | Florida | Palm Beach | 33439 |
| View Map | Bryceville | Florida | Nassau | 32009 |
| View Map | Bunnell | Florida | Flagler | 32110 |
| View Map | Bushnell | Florida | Sumter | 33513 |
| View Map | Callahan | Florida | Nassau | 32011 |
| View Map | Campbellton | Florida | Jackson | 32426 |
| View Map | Canal Point | Florida | Palm Beach | 33438 |
| View Map | Candler | Florida | Marion | 32111 |
| View Map | Cantonment | Florida | Escambia | 32533 |
| View Map | Cape Canaveral | Florida | Brevard | 32920 |
| View Map | Cape Coral | Florida | Lee | 33904 |
| View Map | Cape Coral | Florida | Lee | 33909 |
| View Map | Cape Coral | Florida | Lee | 33910 |
| View Map | Cape Coral | Florida | Lee | 33914 |
| View Map | Cape Coral | Florida | Lee | 33915 |
| View Map | Cape Coral | Florida | Lee | 33990 |
| View Map | Cape Coral | Florida | Lee | 33991 |
| View Map | Cape Coral | Florida | Lee | 33993 |
| View Map | Captiva | Florida | Lee | 33924 |
| View Map | Carrabelle | Florida | Franklin | 32322 |
| View Map | Caryville | Florida | Washington | 32427 |
| View Map | Cassadaga | Florida | Volusia | 32706 |
| View Map | Casselberry | Florida | Seminole | 32707 |
| View Map | Casselberry | Florida | Seminole | 32718 |
| View Map | Casselberry | Florida | Seminole | 32730 |
| View Map | Cedar Key | Florida | Levy | 32625 |
| View Map | Center Hill | Florida | Sumter | 33514 |
| View Map | Century | Florida | Escambia | 32535 |
| View Map | Chattahoochee | Florida | Gadsden | 32324 |
| View Map | Chiefland | Florida | Levy | 32626 |
| View Map | Chiefland | Florida | Levy | 32644 |
| View Map | Chipley | Florida | Washington | 32428 |
| View Map | Chokoloskee | Florida | Collier | 34138 |
| View Map | Christmas | Florida | Orange | 32709 |
| View Map | Citra | Florida | Marion | 32113 |
| Zip | City | State | County | Zip Code |
| View Map | Clarcona | Florida | Orange | 32710 |
| View Map | Clarksville | Florida | Calhoun | 32430 |
| View Map | Clearwater | Florida | Pinellas | 33755 |
| View Map | Clearwater | Florida | Pinellas | 33756 |
| View Map | Clearwater | Florida | Pinellas | 33757 |
| View Map | Clearwater | Florida | Pinellas | 33758 |
| View Map | Clearwater | Florida | Pinellas | 33759 |
| View Map | Clearwater | Florida | Pinellas | 33760 |
| View Map | Clearwater | Florida | Pinellas | 33761 |
| View Map | Clearwater | Florida | Pinellas | 33762 |
| View Map | Clearwater | Florida | Pinellas | 33763 |
| View Map | Clearwater | Florida | Pinellas | 33764 |
| View Map | Clearwater | Florida | Pinellas | 33765 |
| View Map | Clearwater | Florida | Pinellas | 33766 |
| View Map | Clearwater | Florida | Pinellas | 33769 |
| View Map | Clearwater Beach | Florida | Pinellas | 33767 |
| View Map | Clermont | Florida | Lake | 34711 |
| View Map | Clermont | Florida | Lake | 34712 |
| View Map | Clermont | Florida | Lake | 34713 |
| View Map | Clermont | Florida | Lake | 34714 |
| View Map | Clermont | Florida | Lake | 34715 |
| View Map | Clewiston | Florida | Hendry | 33440 |
| View Map | Cocoa | Florida | Brevard | 32922 |
| View Map | Cocoa | Florida | Brevard | 32923 |
| View Map | Cocoa | Florida | Brevard | 32924 |
| View Map | Cocoa | Florida | Brevard | 32926 |
| View Map | Cocoa | Florida | Brevard | 32927 |
| View Map | Cocoa Beach | Florida | Brevard | 32931 |
| View Map | Cocoa Beach | Florida | Brevard | 32932 |
| View Map | Coconut Creek | Florida | Broward | 33093 |
| View Map | Coleman | Florida | Sumter | 33521 |
| View Map | Copeland | Florida | Collier | 34137 |
| View Map | Cortez | Florida | Manatee | 34215 |
| View Map | Cottondale | Florida | Jackson | 32431 |
| View Map | Crawfordville | Florida | Wakulla | 32326 |
| View Map | Crawfordville | Florida | Wakulla | 32327 |
| View Map | Crescent City | Florida | Putnam | 32112 |
| View Map | Crestview | Florida | Okaloosa | 32536 |
| View Map | Crestview | Florida | Okaloosa | 32539 |
| View Map | Cross City | Florida | Dixie | 32628 |
| View Map | Crystal Beach | Florida | Pinellas | 34681 |
| View Map | Crystal River | Florida | Citrus | 34423 |
| View Map | Crystal River | Florida | Citrus | 34428 |
| View Map | Crystal River | Florida | Citrus | 34429 |
| View Map | Crystal Springs | Florida | Pasco | 33524 |
| View Map | Cypress | Florida | Jackson | 32432 |
| View Map | Dade City | Florida | Pasco | 33523 |
| View Map | Dade City | Florida | Pasco | 33525 |
| View Map | Dade City | Florida | Pasco | 33526 |
| View Map | Dania | Florida | Broward | 33004 |
| View Map | Davenport | Florida | Polk | 33836 |
| View Map | Davenport | Florida | Polk | 33837 |
| View Map | Davenport | Florida | Polk | 33896 |
| View Map | Davenport | Florida | Polk | 33897 |
| View Map | Day | Florida | Lafayette | 32013 |
| View Map | Daytona Beach | Florida | Volusia | 32114 |
| View Map | Daytona Beach | Florida | Volusia | 32115 |
| View Map | Daytona Beach | Florida | Volusia | 32116 |
| View Map | Daytona Beach | Florida | Volusia | 32117 |
| View Map | Daytona Beach | Florida | Volusia | 32118 |
| View Map | Daytona Beach | Florida | Volusia | 32119 |
| View Map | Daytona Beach | Florida | Volusia | 32120 |
| View Map | Daytona Beach | Florida | Volusia | 32121 |
| View Map | Daytona Beach | Florida | Volusia | 32122 |
| View Map | Daytona Beach | Florida | Volusia | 32124 |
| View Map | Daytona Beach | Florida | Volusia | 32125 |
| View Map | Daytona Beach | Florida | Volusia | 32126 |
| View Map | Daytona Beach | Florida | Volusia | 32198 |
| View Map | De Leon Springs | Florida | Volusia | 32130 |
| View Map | Debary | Florida | Volusia | 32713 |
| View Map | Debary | Florida | Volusia | 32753 |
| View Map | Deerfield Beach | Florida | Broward | 33441 |
| View Map | Deerfield Beach | Florida | Broward | 33442 |
| View Map | Deerfield Beach | Florida | Broward | 33443 |
| View Map | Defuniak Springs | Florida | Walton | 32433 |
| View Map | Defuniak Springs | Florida | Walton | 32435 |
| View Map | Deland | Florida | Volusia | 32720 |
| View Map | Deland | Florida | Volusia | 32721 |
| View Map | Deland | Florida | Volusia | 32723 |
| View Map | Deland | Florida | Volusia | 32724 |
| View Map | Delray Beach | Florida | Palm Beach | 33444 |
| View Map | Delray Beach | Florida | Palm Beach | 33445 |
| View Map | Delray Beach | Florida | Palm Beach | 33446 |
| View Map | Delray Beach | Florida | Palm Beach | 33447 |
| View Map | Delray Beach | Florida | Palm Beach | 33448 |
| View Map | Delray Beach | Florida | Palm Beach | 33482 |
| View Map | Delray Beach | Florida | Palm Beach | 33483 |
| View Map | Delray Beach | Florida | Palm Beach | 33484 |
| View Map | Deltona | Florida | Volusia | 32725 |
| View Map | Deltona | Florida | Volusia | 32728 |
| View Map | Deltona | Florida | Volusia | 32738 |
| View Map | Deltona | Florida | Volusia | 32739 |
| View Map | Des | Florida | Okaloosa | 32540 |
| View Map | Des | Florida | Okaloosa | 32541 |
| View Map | Doctors Inlet | Florida | Clay | 32030 |
| View Map | Dover | Florida | Hillsborough | 33527 |
| View Map | Dundee | Florida | Polk | 33838 |
| View Map | Dunedin | Florida | Pinellas | 34697 |
| View Map | Dunedin | Florida | Pinellas | 34698 |
| View Map | Dunnellon | Florida | Marion | 34430 |
| View Map | Dunnellon | Florida | Marion | 34431 |
| View Map | Dunnellon | Florida | Marion | 34432 |
| View Map | Dunnellon | Florida | Citrus | 34433 |
| View Map | Dunnellon | Florida | Citrus | 34434 |
| View Map | Durant | Florida | Hillsborough | 33530 |
| View Map | Eagle Lake | Florida | Polk | 33839 |
| View Map | Earleton | Florida | Alachua | 32631 |
| View Map | East Palatka | Florida | Putnam | 32131 |
| View Map | Eastlake Weir | Florida | Marion | 32133 |
| View Map | Eastpoint | Florida | Franklin | 32328 |
| View Map | Eaton Park | Florida | Polk | 33840 |
| View Map | Ebro | Florida | Washington | 32437 |
| View Map | Edgar | Florida | Putnam | 32149 |
| View Map | Edgewater | Florida | Volusia | 32132 |
| View Map | Edgewater | Florida | Volusia | 32141 |
| View Map | Eglin Afb | Florida | Okaloosa | 32542 |
| View Map | El Jobean | Florida | Charlotte | 33927 |
| View Map | Elfers | Florida | Pasco | 34680 |
| View Map | Elkton | Florida | Saint Johns | 32033 |
| View Map | Ellenton | Florida | Manatee | 34222 |
| View Map | Englewood | Florida | Sarasota | 34223 |
| View Map | Englewood | Florida | Charlotte | 34224 |
| View Map | Englewood | Florida | Sarasota | 34295 |
| View Map | Estero | Florida | Lee | 33928 |
| View Map | Eustis | Florida | Lake | 32726 |
| View Map | Eustis | Florida | Lake | 32727 |
| View Map | Eustis | Florida | Lake | 32736 |
| View Map | Everglades City | Florida | Collier | 34139 |
| View Map | Evinston | Florida | Alachua | 32633 |
| View Map | Fairfield | Florida | Marion | 32634 |
| View Map | Fedhaven | Florida | Polk | 33854 |
| View Map | Felda | Florida | Hendry | 33930 |
| View Map | Fellsmere | Florida | Indian River | 32948 |
| View Map | Fernandina Beach | Florida | Nassau | 32034 |
| View Map | Fernandina Beach | Florida | Nassau | 32035 |
| View Map | Ferndale | Florida | Lake | 34729 |
| View Map | Flagler Beach | Florida | Flagler | 32136 |
| View Map | Fleming Island | Florida | Clay | 32006 |
| View Map | Florahome | Florida | Putnam | 32140 |
| View Map | Floral City | Florida | Citrus | 34436 |
| View Map | Fort Lauderdale | Florida | Broward | 33301 |
| View Map | Fort Lauderdale | Florida | Broward | 33302 |
| View Map | Fort Lauderdale | Florida | Broward | 33303 |
| View Map | Fort Lauderdale | Florida | Broward | 33304 |
| View Map | Fort Lauderdale | Florida | Broward | 33305 |
| View Map | Fort Lauderdale | Florida | Broward | 33306 |
| View Map | Fort Lauderdale | Florida | Broward | 33307 |
| View Map | Fort Lauderdale | Florida | Broward | 33308 |
| View Map | Fort Lauderdale | Florida | Broward | 33309 |
| View Map | Fort Lauderdale | Florida | Broward | 33310 |
| View Map | Fort Lauderdale | Florida | Broward | 33311 |
| View Map | Fort Lauderdale | Florida | Broward | 33312 |
| View Map | Fort Lauderdale | Florida | Broward | 33313 |
| View Map | Fort Lauderdale | Florida | Broward | 33314 |
| View Map | Fort Lauderdale | Florida | Broward | 33315 |
| View Map | Fort Lauderdale | Florida | Broward | 33316 |
| View Map | Fort Lauderdale | Florida | Broward | 33317 |
| View Map | Fort Lauderdale | Florida | Broward | 33318 |
| View Map | Fort Lauderdale | Florida | Broward | 33319 |
| View Map | Fort Lauderdale | Florida | Broward | 33320 |
| View Map | Fort Lauderdale | Florida | Broward | 33321 |
| View Map | Fort Lauderdale | Florida | Broward | 33322 |
| View Map | Fort Lauderdale | Florida | Broward | 33323 |
| View Map | Fort Lauderdale | Florida | Broward | 33324 |
| View Map | Fort Lauderdale | Florida | Broward | 33325 |
| View Map | Fort Lauderdale | Florida | Broward | 33326 |
| View Map | Fort Lauderdale | Florida | Broward | 33327 |
| View Map | Fort Lauderdale | Florida | Broward | 33328 |
| View Map | Fort Lauderdale | Florida | Broward | 33329 |
| View Map | Fort Lauderdale | Florida | Broward | 33330 |
| View Map | Fort Lauderdale | Florida | Broward | 33331 |
| View Map | Fort Lauderdale | Florida | Broward | 33332 |
| View Map | Fort Lauderdale | Florida | Broward | 33334 |
| View Map | Fort Lauderdale | Florida | Broward | 33335 |
| View Map | Fort Lauderdale | Florida | Broward | 33336 |
| View Map | Fort Lauderdale | Florida | Broward | 33337 |
| View Map | Fort Lauderdale | Florida | Broward | 33338 |
| View Map | Fort Lauderdale | Florida | Broward | 33339 |
| View Map | Fort Lauderdale | Florida | Broward | 33340 |
| View Map | Fort Lauderdale | Florida | Broward | 33345 |
| View Map | Fort Lauderdale | Florida | Broward | 33346 |
| View Map | Fort Lauderdale | Florida | Broward | 33348 |
| View Map | Fort Lauderdale | Florida | Broward | 33349 |
| View Map | Fort Lauderdale | Florida | Broward | 33351 |
| View Map | Fort Lauderdale | Florida | Broward | 33355 |
| View Map | Fort Lauderdale | Florida | Broward | 33359 |
| View Map | Fort Lauderdale | Florida | Broward | 33388 |
| View Map | Fort Lauderdale | Florida | Broward | 33394 |
| View Map | Fort Mc Coy | Florida | Marion | 32134 |
| View Map | Fort Meade | Florida | Polk | 33841 |
| View Map | Fort Myers | Florida | Lee | 33901 |
| View Map | Fort Myers | Florida | Lee | 33902 |
| View Map | Fort Myers | Florida | Lee | 33905 |
| View Map | Fort Myers | Florida | Lee | 33906 |
| View Map | Fort Myers | Florida | Lee | 33907 |
| View Map | Fort Myers | Florida | Lee | 33908 |
| View Map | Fort Myers | Florida | Lee | 33911 |
| View Map | Fort Myers | Florida | Lee | 33912 |
| View Map | Fort Myers | Florida | Lee | 33913 |
| View Map | Fort Myers | Florida | Lee | 33916 |
| View Map | Fort Myers | Florida | Lee | 33919 |
| View Map | Fort Myers | Florida | Lee | 33965 |
| View Map | Fort Myers | Florida | Lee | 33966 |
| View Map | Fort Myers | Florida | Lee | 33967 |
| View Map | Fort Myers | Florida | Lee | 33994 |
| View Map | Fort Myers Beach | Florida | Lee | 33931 |
| View Map | Fort Myers Beach | Florida | Lee | 33932 |
| View Map | Fort Ogden | Florida | De Soto | 34267 |
| View Map | Fort Pierce | Florida | Saint Lucie | 34945 |
| View Map | Fort Pierce | Florida | Saint Lucie | 34946 |
| View Map | Fort Pierce | Florida | Saint Lucie | 34947 |
| View Map | Fort Pierce | Florida | Saint Lucie | 34948 |
| View Map | Fort Pierce | Florida | Saint Lucie | 34949 |
| View Map | Fort Pierce | Florida | Saint Lucie | 34950 |
| View Map | Fort Pierce | Florida | Saint Lucie | 34951 |
| View Map | Fort Pierce | Florida | Saint Lucie | 34954 |
| View Map | Fort Pierce | Florida | Saint Lucie | 34979 |
| View Map | Fort Pierce | Florida | Saint Lucie | 34981 |
| View Map | Fort Pierce | Florida | Saint Lucie | 34982 |
| View Map | Fort Walton Beach | Florida | Okaloosa | 32547 |
| View Map | Fort Walton Beach | Florida | Okaloosa | 32548 |
| View Map | Fort Walton Beach | Florida | Okaloosa | 32549 |
| View Map | Fort White | Florida | Columbia | 32038 |
| View Map | Fountain | Florida | Bay | 32438 |
| View Map | Freeport | Florida | Walton | 32439 |
| View Map | Frostproof | Florida | Polk | 33843 |
| View Map | Fruitland Park | Florida | Lake | 34731 |
| View Map | Gainesville | Florida | Alachua | 32601 |
| View Map | Gainesville | Florida | Alachua | 32602 |
| View Map | Gainesville | Florida | Alachua | 32603 |
| View Map | Gainesville | Florida | Alachua | 32604 |
| View Map | Gainesville | Florida | Alachua | 32605 |
| View Map | Gainesville | Florida | Alachua | 32606 |
| View Map | Gainesville | Florida | Alachua | 32607 |
| View Map | Gainesville | Florida | Alachua | 32608 |
| View Map | Gainesville | Florida | Alachua | 32609 |
| View Map | Gainesville | Florida | Alachua | 32610 |
| View Map | Gainesville | Florida | Alachua | 32611 |
| View Map | Gainesville | Florida | Alachua | 32612 |
| View Map | Gainesville | Florida | Alachua | 32613 |
| View Map | Gainesville | Florida | Alachua | 32614 |
| View Map | Gainesville | Florida | Alachua | 32627 |
| View Map | Gainesville | Florida | Alachua | 32635 |
| View Map | Gainesville | Florida | Alachua | 32641 |
| View Map | Gainesville | Florida | Alachua | 32653 |
| View Map | Geneva | Florida | Seminole | 32732 |
| View Map | Georgetown | Florida | Putnam | 32139 |
| View Map | Gibsonton | Florida | Hillsborough | 33534 |
| View Map | Glen Saint Mary | Florida | Baker | 32040 |
| View Map | Glenwood | Florida | Volusia | 32722 |
| View Map | Goldenrod | Florida | Seminole | 32733 |
| View Map | Gonzalez | Florida | Escambia | 32560 |
| View Map | Goodland | Florida | Collier | 34140 |
| View Map | Gotha | Florida | Orange | 34734 |
| View Map | Graceville | Florida | Jackson | 32440 |
| View Map | Graham | Florida | Bradford | 32042 |
| View Map | Grand Island | Florida | Lake | 32735 |
| View Map | Grand Ridge | Florida | Jackson | 32442 |
| View Map | Grandin | Florida | Putnam | 32138 |
| View Map | Grant | Florida | Brevard | 32949 |
| View Map | Green Cove Springs | Florida | Clay | 32043 |
| View Map | Greensboro | Florida | Gadsden | 32330 |
| View Map | Greenville | Florida | Madison | 32331 |
| View Map | Greenwood | Florida | Jackson | 32443 |
| View Map | Gretna | Florida | Gadsden | 32332 |
| View Map | Groveland | Florida | Lake | 34736 |
| View Map | Gulf Breeze | Florida | Santa Rosa | 32561 |
| View Map | Gulf Breeze | Florida | Santa Rosa | 32562 |
| View Map | Gulf Breeze | Florida | Santa Rosa | 32563 |
| View Map | Gulf Hammock | Florida | Levy | 32639 |
| View Map | Haines City | Florida | Polk | 33844 |
| View Map | Haines City | Florida | Polk | 33845 |
| View Map | Hallandale | Florida | Broward | 33008 |
| View Map | Hallandale | Florida | Broward | 33009 |
| View Map | Hampton | Florida | Bradford | 32044 |
| View Map | Hasgs | Florida | Saint Johns | 32145 |
| View Map | Havana | Florida | Gadsden | 32333 |
| View Map | Hawthorne | Florida | Alachua | 32640 |
| View Map | Hernando | Florida | Citrus | 34442 |
| View Map | Hialeah | Florida | Miami-dade | 33002 |
| View Map | Hialeah | Florida | Miami-dade | 33010 |
| View Map | Hialeah | Florida | Miami-dade | 33011 |
| View Map | Hialeah | Florida | Miami-dade | 33012 |
| View Map | Hialeah | Florida | Miami-dade | 33013 |
| View Map | Hialeah | Florida | Miami-dade | 33014 |
| View Map | Hialeah | Florida | Miami-dade | 33015 |
| View Map | Hialeah | Florida | Miami-dade | 33016 |
| View Map | Hialeah | Florida | Miami-dade | 33017 |
| View Map | Hialeah | Florida | Miami-dade | 33018 |
| View Map | High Springs | Florida | Alachua | 32643 |
| View Map | High Springs | Florida | Alachua | 32655 |
| View Map | Highland City | Florida | Polk | 33846 |
| View Map | Hilliard | Florida | Nassau | 32046 |
| View Map | Hobe Sound | Florida | Martin | 33455 |
| View Map | Hobe Sound | Florida | Martin | 33475 |
| View Map | Holder | Florida | Citrus | 34445 |
| View Map | Holiday | Florida | Pasco | 34690 |
| View Map | Holiday | Florida | Pasco | 34691 |
| View Map | Holiday | Florida | Pasco | 34692 |
| View Map | Hollister | Florida | Putnam | 32147 |
| View Map | Hollywood | Florida | Broward | 33019 |
| View Map | Hollywood | Florida | Broward | 33020 |
| View Map | Hollywood | Florida | Broward | 33021 |
| View Map | Hollywood | Florida | Broward | 33022 |
| View Map | Hollywood | Florida | Broward | 33023 |
| View Map | Hollywood | Florida | Broward | 33024 |
| View Map | Hollywood | Florida | Broward | 33025 |