Florida Mortgage Lenders Use Bank Statements For Income!
The Bank Statement Only mortgage is often the only option for self-employed borrowers to get the funding they need.  The bank statement-only mortgage uses business or personal bank statements to calculate income with NO TAX RETURNS NEEDED!
Cash – Minimum 10% Down.
Credit – Minimum 350 Credit score (case by case)
Capacity – Maximum 55% 
Collateral – Single-family homes, Townhomes, Villas, Condos, Manufactured Homes, Commerical

What Does The Application Process Look Like for a Bank Statement Only Mortgage?
To apply for a bank statement loan you would fill out our full mortgage application. Then provide your last 12 or 24  months' worth of bank statements from a personal or business bank account. Bank statement mortgage loans are processed through a manual underwriting process. This means the income is calculated by a person so the process can take 24 -48 hours. We will also need a full bank statement questionnaire to understand your business expenses. For a bank statement loan, the lender only backs out your bare-bone minimum business expenses. You can use the rest of your income to qualify for a mortgage. 
What Questions will I have to answer about my Business? 
Self-Employed Questionnaire Business information required to properly analyze loan/income/bank statements
1. Business Type: _______________________________If Other, please describe here: __________________________________
2. Where do you conduct business: Office, Plant, Residence? _________________________
More than one physical site? (Check One) YES NO If Yes, how many? _____________ Current rent for business space(s)?_______
Address(es)? _____________________________________________ State_______ Zip Code__________
3. How many people do you have employed?Full Time: __________ Part Time: __________ Contractors: __________
Full Time Payroll: _________ Part Time Payroll: __________ Contractor Payroll: __________
Total Monthly Payroll Expense: ___________ $ 0.00
4. Do you manufacture a product, such that you have a cost of goods sold for the product you ultimately sell? (Check One) YES NO
If YES, describe in detail: Estimate for monthly Cost of goods sold: _____________________
5. Do you buy and then resell a product? (Check One) YES NO
If YES, describe in detail:
6. What percentage of your business do you own? ____________% If less than 100%, who owns the remaining portion, and what percentage?
7. Please provide any additional business expenses not listed above: (Excluding Rent / Payroll / COGSold)
8. How has Covid-19 affected your business?
9. Is there anything else you can tell us about your business that is important for us to know as we review your bank statements, including sources of deposits and withdrawals?
Borrower 1 Name/Signature: ____________________ Borrower 2 Name/Signature ____________________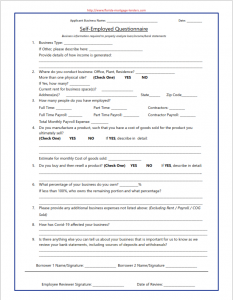 Am I Eligible for a loan with No Tax Returns? What is Required?
You must prove self-employment for a minimum of 2 years.

Must provide proof of 12-month rental history or 3-6 months of future payments in reserves.

You must have at least 10% down.

You must have 4-6 months of PITI reserves

You may qualify with as little as a 12-months bank statement.

You must have a credit score of 600 or above to qualify.

The minimum loan amount is $100,000, and the maximum loan is $5,000,000.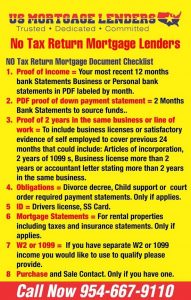 What Are the Advantages of a Bank Statement Mortgage Loan?
The lender can look at 12 or 24-month bank statements.

30-Year Fixed Options.

Bank statement-only mortgage lenders do not need to look at your tax returns.

Your income statements are made up of the average monthly income deposits.

You can get a bank statement home loan for as little as 10 percent down.

You can do a cash-out refinance.

You can borrow up to $5 million.

Debt to income ratio up to 55 percent.
Bank Statement Loans in Florida
Bank statement loans in Florida offer a unique opportunity for self-employed individuals, business owners, retirees, Florida real estate investors, Gig workers, freelancers, and other professionals to use bank statements for income. These self-employed borrowers can use bank statements to show a lender they can afford the monthly mortgage payments they need to purchase a home. Find out if a bank statement mortgage in Florida is the right solution for you.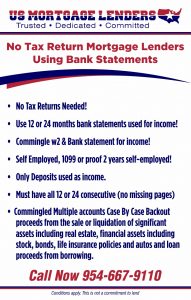 What Is a Bank Statement Loan?
A Bank Statement mortgage lender is often a great mortgage option for eligible self-employed Florida business owners that write off all of their income. Florida bank statement lenders provide an opportunity for self-employed borrowers that write off all of their income. The bank statement mortgage lender uses the borrower's average bank statement deposits from business or personal bank statements to help calculate their income without requiring tax returns or W-2s. If personal bank statements are used self-employed mortgage applicants can usually use 100% of the deposits for income. If the business bank statements are used for income the mortgage lender will require the borrower to complete a questionnaire to determine the expense ratio and determine the income calculation.
Who Qualifies For A Bank Statement Only Mortgage?
Bank Statement Mortgage loans are utilized by a wide range of self-employed professionals, including Business owners, Youtubers, Freelancers, Consultants, Contract workers, Independent contractors, Sole proprietors, Shop Owners, Online retailers, Economy workers, Realtors, and Entrepreneurs, are some examples. The facts are that most self-employed would agree that their tax returns don't really show their true income as many tend to write off many expenses over that of a W-2 wage earner. Regardless of what you make for income, tax write-offs and deductions reduce your taxable income which can affect your ability to qualify for the home of your choice. As a result, your net taxable income (after deductions) may disqualify you for a traditional Florida mortgage for purchasing and/or refinancing!
Advantages of Bank Statement Mortgage Lenders



Borrow up to 90% of the purchase price.

Single Family Homes

, Condos, Townhouse, Villa's and 2-4 Units, Rural OK!

No Prepayment Penalty For Primary Homes

Commingle W2 and 1099 and/or Bank Statement Income to qualify! 

No 4506% or tax returns are required.

Min $100,000 up to $5,000,000 or More?

Min 350 Fico permitted 35% Down 680+ Fico requires 10% Down. 

DTI up to 55% of your income!

No Mortgage Insurance!

Single Family Homes

, Condos, Townhouse, Villa's and 2-4 Units, Rural OK!

non-warrantable and warrantable condos OK

5/1 & 7/1 ARM or 30-year Fixed

The borrower does not have to be 100% owner of the business

Multiple bank accounts are permitted in some programs

P&L statements are NOT required on most programs

Owner-occupied, 2nd homes and investment properties

Bankruptcy, Foreclosure, Short Sale (Min 2 years out)

Common-sense consideration of NSFs and overdrafts

Some reserves required depending on credit and loan amount

Purchase, Rate/Term, and Cash-Out Refinancing

Add income using W2, rental retirement, social security, and pension letters..

All Situations Welcome! 
No Tax Return Bank Statement Mortgage Lenders Checklist

 
ID = Drivers license, SS Card.

2 Years 1099's or/and w2's or 12/24 Bank Statements instead of tax returns.

W2 and Awards letters for any additional income. (Only If applicable)

Provide accountant letter for the percentage of ownership (Only If applies)

2-Months Bank Statements to show reserves. For refinance you can use cashout for reserves.

2-year Self Employment = Articles of corp, 2 years of 1099's, Business license or accountant letter etc.

Obligations = Divorce decree, Child support, or court order required payment statements(Only If applies)

Mortgage Statements = For rental properties including taxes and insurance statements(Only If applies)

Letter of Explanation regarding any credit issues within the past 24 months. (Only If applies)

Proof of housing payments Most recent 12 months rental history- F/B checks or wire transfers and lease if available.

Lenders-specific questionnaire -so the lender can calculate your expenses

Purchase and Sale Contract. ( Only If you have one)
Find Out If You Qualify for a Bank Statement Mortgage Loan in Florida
If you're a self-employed professional or business owner interested in learning more about how to secure a bank statement loan, our team of experts is here to assist you. We can walk you through the process from our initial discovery call to the application submission, so there are no unanswered questions when you choose a loan program.