When determining the appropriate qualifying income for a self-employed borrower, it is important to note that business income reported on an individual IRS Form 1040 may not necessarily represent income that has actually been distributed to the borrower. No Tax return bank statement Florida mortgage lenders use bank statements along with a questionnaire to determine the amount of income that can be relied on by the borrower in qualifying for their personal mortgage obligation. When underwriting these borrowers, it is important to review business income distributions on the bank statements to determine the viability of the underlying business. This analysis includes assessing the stability of business income and the ability of the business to continue to generate sufficient income to enable self-employed mortgage applicants to meet their monthly payment obligations.
Who Qualifies For A Bank Statement Mortgage?
Our bank statement mortgage lenders provide funding for business owners throughout Florida. You must have  a good pay history and good deposits but don't have traditional income and wouldn't qualify for standard bank loan financing. To qualify for our No Tax return bank statement mortgage you'll need the following:
Minimum of 1-year same line of work 2+ years.
Minimum 550 middle credit score.
Minimum 10% down payment+ Closing Cost + Reserves. reserves are defined as the total mortgage payment PITI in your account after closing.
Minimum 3-6 Months Reserves.
Minimum 12 months since any housing events ( Foreclosure, Bankruptcy Discharge, Short Sale )
Maximum DTI 55% Bank statement only mortgage lenders will allow the self employed to qualify up to 55% of their total income for housing and all other monthly payments on their credit report.
Like any mortgage loan, we'll evaluate your qualifying factors to determine if you're a good candidate for the bank statement loan before you go searching for a home! And because we don't ask for tax returns, you don't have to worry about skipping certain deductions you're entitled to as a business owner and increasing your tax liability just to get approved for a Florida mortgage.
Pembroke Pines Florida No Tax Return Mortgage Lenders Options
Use Personal Bank Statements: You can qualify using 12 or 24 months bank statements and use Up To 100 percent of deposits if they came from a business Bank Account.
Use Business Bank Statements: You can qualify with 12 or 24 months of bank statements and count up to 90% percent of the deposits. A self-employment questionnaire is usually required to determine your income. For example, if you are a 1099 realtor with no money rent, or cost you can use up to 90% of your income to qualify. 
Use 1099s For Income: Some lenders will allow 2 years of 1099s and 2 months of recent bank statements along with a bank statement questionnaire to understand your expenses.
Use Lease Agreements: As long as the lease agreements are enough to cover the mortgage payments lenders will lend up to 80% loan to value with no income verification needed.
Allowable Properties Include:
Single-family homes /Townhomes / Villas
Condos / Condominiums
Condotels
Multifamily Up To 8 Units
What is a Bank Statement Loan? 
The name should explain it – Florida no tax return mortgage lenders can use bank statement deposits to estimate your income instead of tax returns. Bank lenders and lenders that sell your loan to Fannie mae or Freddie mac all want to see your income after expenses. If your tax returns show less than enough income you will Not qualify for the mortgage of your choice.  Fannie Mae Freddie mac lenders can only use the income after all expenses claimed on your tax returns for qualifying.  This FannieMae 1084 self-employed worksheet may be used to prepare a written evaluation of the analysis of income related to self-employment. The purpose of this written analysis is to determine the amount of stable and continuous income after expenses that will be available for you to purchase a home. 
How Does it Work? 
Bank statement Florida mortgage lenders will request your last 12 – 24 months of bank statements to prove your income. We look for regular monthly deposits that equal to the income you state you make running your business. We use the deposits as proof of your income and to come up with the figures used to determine your debt-to-income ratio, and how much you can afford.  The percentage the lender will allow you to use to qualify for it depends on the industry you're in and the regularity of your deposits.  Our bank statement loan works on almost any property type including owner-occupied, second homes, and investment homes. 
Why Choose a Bank Statement Loan? 
Bank statement loans have pros and cons, like all other mortgage loans. If you're self-employed consider the bank statement loan for these benefits:
You can get mortgage financing without using your tax returns and/or you've been denied by your bank or credit union.

You can continue to claim your business write-offs without losing your mortgage eligibility.

You don't need perfect credit

You can buy a home with just 10% down

Sellers can help you with up to 6% of the sales price in closing costs (2% for investment homes) 
What Are the Downsides?
If you don't make your mortgage payments you can lose your home

You'll need at least 10 Down + Closing cost + Reserves.

You need 3-6 months of reserves in your account at closing. 
Bank statement loans have flexible guidelines and let you qualify without typical tax returns. It's a nice reprieve for self-employed borrowers who already face so many different regulations and expenses since they don't work for someone else. 
How are these Mortgage loans different than Conventional loans?  
 Here are a few ways our bank statement loans are more flexible than a conventional loans:
NO PMI with Bank Statement Loans – We only require a 10% down payment yet you don't pay PMI. Conventional loans require PMI with a down payment of less than 20%. This saves you money on your mortgage payment and makes it easier to afford a home.
30-year Fixed repayment terms – but with a variety of options. You can choose a 30-year fixed-rate loan, 5/1 ARM, or 7/1 ARM. 
No prepayment penalty on primary owner-occupied or second homes – This means you can make extra payments as often as you want, pay the loan off early, or sell the home whenever you want.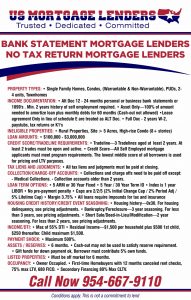 Bad Credit Florida No Tax Return Mortgage Lenders   About No Tax Return Bad Credit Mortgage Lenders Bad credit Florida Bank statement mortgage lenders were Read More »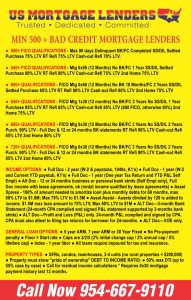 Public Notice/Housing Reports