No Income Verification Florida Mortgage Lenders 
No Income  Florida Mortgage Lenders Requirements Of Florida No Income Mortgage Lenders Primary Residence & Second Homes Credit Underwritten Based on LTV, FICO, and Liquidity Read More »
But running a cash business has many benefits. It allows Florida business owners to reach customers who don't have access to credit or the devices needed to make mobile payments. It also allows Florida business owners to avoid credit card fees and other expenses that go along with collecting various types of payments. Some cash businesses that often benefit from a No Income verification loan include Nail Salons, Vending Machines, Delivery services, Laundromats, Auto Services, and House keepers!
No income verification mortgage lenders offer numerous alternative document mortgage programs for borrowers to qualify without showing tax returns. The no-income mortgage can be used to purchase a primary residence home or refinance your current primary residence mortgage. No income, no employment, no tax returns, no W2s, no 1099's are needed! The lender will review your credit, assets, and payment history for approval.
Requirements Of Florida

No Income Mortgage Lenders
Primary Residence & Second Homes
Credit Underwritten Based on LTV, FICO, and Liquidity
Income Documentation Not Required
Employment Not Required
Debt-to-Income (DTI) Not Calculated
Asset Seasoning 30 Days
No Income Florida Mortgage Approval Based On 1. Credit, 2. Downpayment, 3. Reserves
No Income Florida Mortgage Highlights
Primary Residence and Second Homes
Credit Underwritten Based on LTV, FICO, and Liquidity
Income Documentation Not Required
Income Not No
Debt-to-Income (DTI) Not Calculated
Asset Seasoning 30 Days
Only the first page of a bank statement is required for typical portfolio loans
Loan Amounts Up to $3 Million
Up to 80% LTV Purchase/Rate & Term
FICO Beginning at 640
Reserves from 3 Months
Credit Requirments For 

No Income Verification Florida Mortgage Lenders
No Mortgage or Rental Late payments in the last 12 months.
Foreclosure, and Short Sale,  Require 12 months of seasoning
Bankruptcy must be discharged or settled.
Assets must be sourced or seasoned for 30+ Days.
Texas Cashout A6 Not permitted.
US Citizen Permanent Resident Alien, Non-Permanent Resident Alien with US Credit Report
Maximum 20 properties including subject property.
Primary and Second Homes Only
No PRepayment penalty
SFR, PUD, Townhome, Condo, Non-Warrantable COndo max 65% 2-4 unite Modular, Rural, Log homes.
Manufactured homes Not Eligible
Seller-paid closing cost up to 6%
No Income Florida Mortgage Approvals Based On 1. Fico 2. Liquidity
Self-Employed/Small Business Owner
Volatile or Irregular Employment
Retired
Seasonal & Gig Workers
Real Estate Investors
Owners & Employees of Cash Businesses
Change of Industry or type of
Employment
Transitioning from Recent Health, Family,
or Other Life Events
Looking to Unlock Trapped Home Equity
Recent Immigrant
Close Faster – Confirm LTV – Confirm Fico – Confirm Reserves

 
Elimination of "feel good" conditions
Only the first page of a bank statement is required for typical portfolio loans
No overlays on agency and government loans
White-Glove Concierge Desk services
Leading-edge technology
Allowable No Income Florida Mortgage Property Types
 Primary Residences
 Second Homes
o Must be occupied by the borrower some portion of the year
o Must be located a reasonable distance from the borrower's current residence
o Restricted to one‐unit dwellings
o The borrower must have exclusive control over the property
o Must not be a rental property or a timeshare agreement.
 1‐4 Unit Residential Properties
 Condominiums
o Fannie Mae warrantable or FHA/VA approved up to max LTV per eligibility grid
o Florida Condos require a Full Condo Review
 Agriculturally/Rural Zoned Properties
o Working farms, ranches, or orchards are ineligible.
o Acreage limited to 10 acres max
 Mixed‐Use Properties
o The property must be a 1‐unit dwelling the borrower occupies as a primary
residence
o The borrower must be both the owner and the operator of the business
o The property must be primarily residential in nature
o The dwelling may not be modified in a manner that has an adverse impact on its
marketability
o The appraisal must:
 Provide a detailed description of the mixed‐use characteristics of the subject
property.
 Indicate the mixed use of the property is legal, permissible use of the
property under local zoning requirements.
 Report any adverse impact on marketability and market resistance to the
commercial use of the property; and
 Report the market value based on its residential characteristics only
 No more than 35% of a condo project or of the building in which the project
is located be commercial space allocated to mixed‐use. This includes
commercial space that is above and below grade.
Closing Conditions For No Income Florida Mortgage Lenders 
Example Conditions Checklist – For Florida NO Income Verification Loans – Check Guidelines with the No Income Florida Mortgage lenders before submission.
M75: QA-Prefunding QC Review Loan file has been selected for pre funding QC review. The loan may not fund until the review is completed.

A30: Closing-Seller Credit Funding Added 09/14/22 Seller Credit: $TBD

P75: Property-Close of Escrow Funding Added 03/14/22 If the loan does not close by contract COE 04/12, a closing extension executed by all parties is required

M03: Application-Final 1003 Loan Application Signed Borrower To Sign And Date Final 1003

P36: Appraisal-Copy Delivered to borrower Evidence that borrower has been given a copy of the appraisal/ AVM or another review a minimum of 3 days prior to signing

A04: Assets-Cash/Funds to Close Funding Received Provide a copy of the most recent 1-month (s) bank statements to evidence funds in the amount of $70,996 for closing and/or reserves. Source any large deposits

C20: Credit-Rental History, Cancelled Checks Provide Copies Of The Most Recent 12 Months Cancelled Checks To Landlord For Rent Paid On

Current Residence To Evidence A Satisfactory Payment History.

A27: Closing-Max cash from borrower: Max funds allowed due from the borrower at closing$ __

143: Insurance-Hazard Coverage Effective Date Hazard policy must be effective as of the date of loan closing. If the effective date is the past closing date, provide an updated policy confirming active coverage.

P72: Title-Wiring Instructions Must match Settlement agent information on CPL.

M67: Misc-Picture ID Documents Provide a legible copy of driver's license or other acceptable forms of identification

M104: Anti Steering form required on all LPG Documents Cleared 04/14/22 Anti-Steering form required on all Lender Paid Compensation Transactions-Broker to Provide. (will be waived if BPC)

M125: Misc-LOE Occupancy/Motivation Documents 04/04/22 Provide a signed letter of explanation from the borrower regarding motivation or intent of occupancy of the subject property. Supporting evidence or documentation, if applicable, may be required.

M103: Application-Signed Change Initial 1003 Borrower(s) and LO to sign and date Change Wholesale Initial 1003.

P74: Appraisal-1004 Provide complete color appraisal with appraisal license and E&O. To be reviewed and approved by the underwriter.

02: Appraisal-CHM to order Nuquest Desk Review To Be Ordered. Reviewer Must Not Be Related To Appraiser.

P39: Appraisal-UCDP/SSR Update after corrections obtained

A06: Assets-Earnest Money Deposit (EMD) Provide Document Of Source Of Funds For Earnest Money Deposit In The Amount Of Example $10,000

N01: NQM VOD Third Party VODs will be pulled on all asset documentation provided to validate funds and/or income used to qualify. A live signed borrower authorization is required.

N03: NQM Forms Borrower to complete/sign the following forms: -Occupancy Certification -Borrower Contact Consent Form

L 16: Initial CD Request Need to provide doc order, vesting, all invoices (if charging 3rd party processing fee), settlement statement (correct sales price and loan amount as applicable), closing disclosures, and any other applicable documentation

M18: Closing-Title Vesting Documents 04/05/22 Title Must Be Vested In Borrower Individuals Names And Not In A Trust

C12: Credit-Inquiries LOE Provide a signed letter of explanation to explain the credit inquiries shown on the borrower's credit report 

C03: Credit-Address Variations LOE Documents 04/04/22 Borrower to explain & provide dates of residency and ownership for property/addresses not listed on 1003; reported on the Credit Report in the past 2 years: 

P54: Flood Certification

M101: Florida No Income verification mortgage lenders to provide updated Loansafe report with all material parties to the transaction added and any alerts addressed and cleared.

M62: Misc-Homebuyer Education Provide Certification of Completion from Framework

M63: Misc-Lock Confirm Provide evidence the loan is locked

N03: NQM Forms Borrower to complete/sign the following forms: -Occupancy Certification -Borrower Contact Consent Form

31: Insurance-Hazard Declaration Page w/ Paid Receipt Hazard Dec Page with Correct Mortgagee Clause, with a minimum of 60 days of continuous coverage.

M69: Misc-SSN Validation Satisfactory Social Security Number Validation Through The Social Security Administration. A live signed SSA Authorization form is required to request.

L 11: Title-Plat Map/Survey

M102: TPO-Change of Circumstance Attach change of circumstance requests for UW to update.

P56: Title-Closing Protection Letter and E&O CPL to reflect Lenders Mortgagee ( Florida No Income Mortgage Lenders) and dated within 30 days of funding (unless CPL States otherwise).

p57: Title-Prelim/Title Commitment Preliminary Title Report/ Title Commitment Together With A 24-Month Chain Of Title, with correct proposed insured lender info and loan amount.

P58: Title-Tax Certificate
No Income Verification Florida Mortgage Lenders  Alternative Options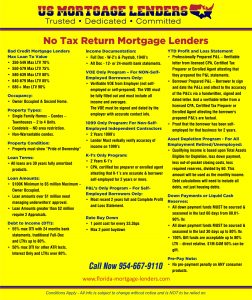 How and Who do No Income Verification Florida mortgages work for?
Most self-employed Florida mortgage applicants have difficulty qualifying for a mortgage unless they provide the standard income documentation for the last (2) two years. However, there are mortgage options for people who cannot provide tax returns or if their tax returns do not show enough income to qualify for a mortgage. For Primary homes, No doc is not an option. in  2010 The Ability-to-Repay (ATR) / Qualified Mortgage (QM) rule, which is part of the post-crisis mortgage reforms created by the Dodd-Frank Wall Street Reform and Consumer Protection Act (Dodd-Frank Act), requires lenders to consider a borrower's ability to repay the mortgage.  No-document Florida mortgage lenders offer a variety of different types of no-doc or low-doc mortgages, depending on your particular needs. Most time low and no doc loans require much better credit and a much higher downpayment, closing cost, and reserves. Reserves are defined as the amount of future monthly mortgage payments the lender requires in your bank account after your downpayment and closing cost are paid.  

Coffee Carts
A coffee cart is perfect for those quick transactions. Cash payments can work well for businesses selling items that don't cost a lot, so customers are likely to have the cash on hand. 
Coin Laundromat 
Coin Laundromats traditionally work using a cash-only format, so this should still be a fairly straightforward idea.
Bakery
You could also start a bakery offering various baked goods that customers can purchase through quick transactions.
Housekeeping Or And Personal Chef
If you want to work more in-depth with clients, you can start a business by working as a personal chef, cooking specific meals for them and then collecting larger payments in cash.
Handyman
 A handyman offers services to homeowners in your community for cash payments.
Lawn or Moving Service
If you have access to a truck and some moving supplies or lawn equipment, you can offer packing and moving or lawn services to those needing assistance.
Recycling Service
You can also offer to pick up junk and items for recycling in exchange for a flat fee.
Carpenter
If you are skilled at working with wood, you can set up a carpentry workshop and then offer handcrafted products or custom carpentry services.
Local Bar
Bars and restaurants today often collect a variety of different payment types. But you can still run a cash-only bar as long as you make it clear to customers upfront.
Convenience Store
Convenience stores or small corner stores sell a lot of small items that customers can potentially purchase with a little bit of cash.
Tutor
If you have knowledge in a specific subject to share, you can work with clients one-on-one as part of a tutoring business.
Personal Trainer
For fitness-minded entrepreneurs, you can work with clients one-on-one at gyms or even from home.
Fitness Instructor
Or you could work with multiple customers at once by teaching classes in particular areas like yoga, pilates or kickboxing.
Music Instructor
For those who are more musically skilled, you can also set up your own cash business around offering music lessons.
Dance Instructor
If you can teach dance classes to groups or individuals and collect regular payments in cash.
Alterations Service
If you're skilled at sewing, you can offer your services as a tailor where customers bring in their garments for alterations.
Computer Repair Service and Setup 
For the tech-savvy, you can offer your services to those who need help setting up or fixing issues with their computers.
Smartphone Repair Service
Repairs fix and replace smartphones from cracked screens or water damage. So you can open up a business that specializes in this area.
Resume Service
If you want to start a business that helps job seekers, you can offer services as a resume or cover letter specialist.
Estate Sale Service
You can also help people in your community organize and liquidate estate sales. You can then charge a flat fee or a percentage of the total sales.
General Stores
You could also focus more on a specialty type of stores like a health foods store or one that only sells a specific type of food item.
Local Market
You can also open up a local market that sells food and grocery items and only accepts cash payments.
Mobile Retailer
Another format for a retail store, you can keep all of your inventory in a trailer or other mobile setting and set up shop at fairs and events.
Fair Food Vendor
Or you could sell food items out of a cart or other mobile set up at fairs and similar events.
Face Painter
Another business that you could run mainly at local events is a face painting booth, collecting cash payments in exchange for your services.
Carry Out Restaurant
If you want to start a small restaurant that offers mainly carry-out items, you could make it a cash-only operation.
Caricature Artist
You could also offer up your artistic services as a caricature artist at events or high-traffic areas.
Auto Detailing
For those who like working with automobiles, you could start a car washing and detailing business that collects cash payments from customers.
Child Care
You could also start a daycare or babysitting service out of your home or by visiting your clients at their home
---
Pet Sitting and or Grooming
Similarly, you can offer pet sitting services to travelers and busy pet owners, you can start a pet grooming business to clean and groom dogs and cats.
Pet Training
Or if you're skilled in training dogs and other animals, you could offer your services as a trainer in exchange for cash.
Landscaping
For those who enjoy working outside, you can start a lawn care and landscaping business that accepts cash payments from clients.
Gardening
Additionally, you could start a business where you specialize in gardening and more intricate outdoor projects for clients.
Yard Cleanup
Or you could focus more on the dirty work and offer yard cleanup services for pet owners.
House Cleaning
You can also build a cash business around house cleaning. Just build up your client base in your area and collect cash payments on a set schedule.
Antique Shop
Antique shops often collect cash payments from customers. You can set up your own shop or antique mall or even deal antiques at various events.
Delivery Service
You could also offer a delivery service for consumers who want food or other items delivered directly to them.
Gift Shop
For a more stable business setup, you can open up a small local gift shop that only deals in cash.
Clothing Store
Or you could choose a more specific niche for a local store. For instance, open up a store that just sells clothing and accessories.
Security Service
You can also offer security services to businesses and individuals on a contract basis, and just make it clear that payments should be made in cash.
Farm Stand
For entrepreneurs who want to grow food or similar items, you could set up a farm stand and let customers make purchases with cash.
Nursery
Similarly, you can just grow a variety of different plants and then sell them to customers in a nursery setting.
Farmers Market Vendor
With food and plant items, you can also reserve space at local farmers' markets and sell your items in that setting.
Flea Market Vendor
Flea markets allow vendors to sell a variety of different items, from handcrafted jewelry to secondhand goods.
Craft Show Vendor
Or you could focus more specifically on handmade items and sell them at craft fairs where you can collect cash payments.