Note  Approvals based on payment history are Not credit score driven!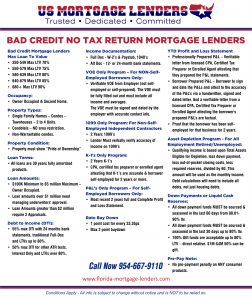 Bad Credit Florida No Tax Return Mortgage Lenders   About No Tax Return Bad Credit Mortgage Lenders Bad credit Florida Bank statement mortgage lenders were  Read More »

FLORIDA NO TAX RETURN MORTGAGE LENDERS How Do I get a Mortgage In Florida With No Tax Returns? If you are looking for a Florida
Read More »

About Bad Credit

Florida Mortgage Lenders Home Loans 
Our bad credit Florida mortgage lenders make bad credit home loans based on common sense approvals. In addition, our mortgage lenders do not require tax returns. These mortgage programs work great for bad credit Florida self-employed borrowers that write off all of their income.  Our Florida bad credit bank statement mortgage lenders use 12 or 24 months of bank statements or last 2 years 1099's and average the income for mortgage qualifying. These alt doc bad credit mortgage loans provide another option for self-employed business owners and independent contractors who take too many deductions to qualify for a conventional Fannie Mae mortgage.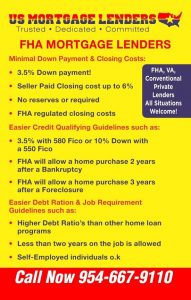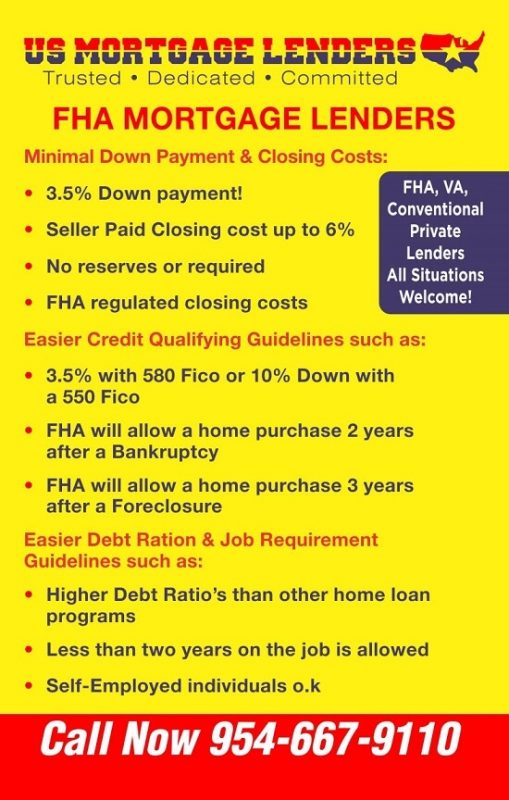 You may ask what is a manual underwrite. When Fannie Mae or Freddie mac underwriting system declines your loan request you may qualify for a manual underwrite. This means the FHA mortgage lenders can override the results in the automated underwriting system. In order to The underwriter must examine the Borrower's overall pattern of credit behavior, not just isolated unsatisfactory or slow payments, to determine the Borrower's creditworthiness. The underwriter must evaluate the Borrower's payment histories in the following order: (1) previous housing expenses and related expenses, including utilities; (2) installment debts; and (3) Revolving Charge Accounts. 


What Is Considered Satisfactory Credit For Bad Credit FHA mortgage approvals?
Bad credit underwriters may consider a Florida mortgage applicant to have an acceptable payment history if the Borrower has made all housing and installment debt payments on time for the previous 12 months prior to closing and has no more than (2 ) two 30-Day late Mortgage Payments or installment payments in the previous 24 months prior to closing. The underwriter may approve the Borrower with an acceptable payment history if the Borrower has no major derogatory credit on Revolving Charge Accounts in the previous 12 months prior to closing. Major derogatory credit on Revolving Charge Accounts must include any payments made more than 90 Days after the due date, or three or more payments more than 60 Days after the due date.If a Borrower's credit history does not reflect satisfactory credit as stated above, the
The borrower's payment history requires additional analysis.
Who Will Not For Bad Credit Florida mortgage?
Bad Credit Florida Mortgage lenders make approvals based on a common sense approach to lending. If you have a lot of late payments and cannot show the ability and willingness to repay then you will not qualify for a bad credit mortgage. We get calls every day from borrowers with recent 30,60,90 day late payments that think they can get a bad credit mortgage with a ton of late payments within the past 12-24 months, this is NOT THE CASE. Florida bad credit mortgage approvals usually occur when someone had a bad payment history in the past and has not reestablished credit on their credit report. But at the same time can prove they have paid timely rent utilities for 12-24 months with no late payments. 
Bad Credit No Tax Return Mortgage Lenders
Bad Credit Mortgage Lenders Max Loan To Value
•350-549 Max LTV 70% •550-579 Max LTV 75% •580-639 Max LTV 80% •640-679 Max LTV 85% •680+ Max LTV 90%
Occupancy:
• Owner Occupied & Second Home.
Property Types:
• Single Family Homes – Condos – Townhouses – 2 to 4 Units.
• Condotels – NO area restriction.
• Non-Warrantable condos.
Property Condition:
• Property must show "Pride of Ownership".
Loan Terms:
• All loans are 30 years fully amortized products.
Loan Amounts:
• $100K Minimum to $5 million Maximum – Owner Occupied.
• Loan amounts over $1 million need managing underwriters' approval.
• Loan Amounts greater than $2 million require 2 Appraisals.
Debt to Income (DTI):
• 55% max DTI with 24 months bank statements, traditional Full-Doc and LTVs up to 80%.
• 50% max DTI for other ATR tests, Interest Only and LTVs over 80%.
Income Documentation:
Full Doc – W-2's & Paystub, 1040's
Alt Doc – 12- or 24-month bank statements.
VOE Only Program – For NON-Self-Employed Borrowers Only:
• Verifiable VOE from Employer (not self-employed or self-prepared). The VOE must be fully filled out and must include all income and averages.
The VOE must be signed and dated by the employer with accurate contact info.
1099 Only Program: For Non-Self-Employed Independent Contractors
• 2 Years 1099's
• Lender Must verbally verify accuracy of income on 1099's
K-1's Only Program:
• 2 Years K-1's
• CPA, certified tax preparer or enrolled agent attesting that K-1's are accurate & borrower self-employed for 2 years or more.
P&L's Only Program – For Self-Employed Borrowers Only:
•Most recent 2 years full and Complete Profit and Loss Statement.
YTD Profit and Loss Statement
• Professionally Prepared P&L – Verifiable letter from licensed CPA, Certified Tax Preparer or Enrolled Agent attesting that they prepared the
P&L statements.
• Borrower Prepared P&L – Borrower to sign and date the P&Ls and attest to the accuracy of the P&L's via a handwritten, signed and dated
letter. And a verifiable letter from a licensed CPA, Certified Tax Preparer or Enrolled Agent attesting the borrower prepared P&L's are factual.
• Proof that the borrower has been self-employed for that business for 2
years.
Asset Depletion Program – For All Employment Retired/Unemployed:
• Qualifying income is based upon Total Assets Eligible for Depletion, less down payment, less out of pocket closing costs, less required reserves,
divided by 60. This amount will be used as the monthly income. Debt calculations will need to include all debts, not just housing debts.
Down Payments or Liquid Cash Reserves:
• All down payment funds MUST be sourced & seasoned in the last 60 days from 80.01-90% ltv.
• All down payment funds MUST be sourced & seasoned in the last 30 days up to 80% ltv.
• 100% Gift funds are acceptable up to 80% LTV – direct relative. $1M-$4M 50% can be gift.
Pre-Pay Note:
• No pre-payment penalty on ANY consumer products. Rate Buy Down – 1 point cost for every 33.3bps – Max 2 point buydown. Conditions Apply – All info is subject to change without notice and is NOT to be relied on.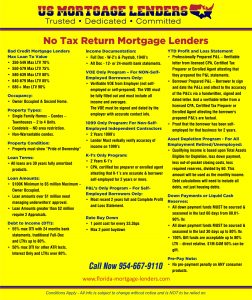 Use Average 12 Months Bank Statement Deposits To Purchase Or Refinance A Florida Home!
 Bank Statement mortgage loans are the best option for eligible self-employed borrowers to purchase or refinance a home. This program allows mortgage lenders to use personal or business bank statements to calculate income with NO tax returns.
Loans from $100,000 to $3 million.
Single-family, townhomes, or condos.
Primary, second home, or investment properties.
Available for purchase, cash-out or rate-term refinance.
2 years seasoning for foreclosure, short sale, bankruptcy, or deed-in-lieu.
Primary, second home, or investment properties.
12 or 24 months of business or personal bank statement.
1099 income option available.
Non-warrantable condos allowed
40-year fixed interest-only available.
12 Months Bad Credit Florida Bank Statement Mortgage Checklist
 Bad Credit Bank Statement Florida Mortgage Lenders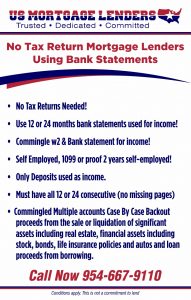 WHAT IS A FLORIDA BAD CREDIT NON-QM MORTGAGE LENDER? The Dodd-Frank Wall Street Reform and Consumer Protection Act was signed into law in the summer of 2010 by the President of the United States. Along with other regulatory reforms, this Act created minimum qualifying standards for mortgages, including the Ability to Repay (ATR) rules and a Qualified Mortgage definition. The Consumer Financial Protection Bureau (CFPB) put these new rules into effect on January 10, 2014.
A Non-QM loan can help bad credit mortgage applicants who have had credit issues in the past such as foreclosures, bankruptcy, late payments or other isolated credit issues. Non-QM bad credit loans also have underwriting guidelines that are different than the typical conventional or government-type loans. These guidelines allow the bad credit mortgage lenders to look at the entire loan picture for a borrower and not just their credit score and government underwriting matrices (DU or LP).
The Non-QM bad credit mortgage lenders guidelines also look at the borrower's income based on their type of employment and analyze their Ability to Repay (ATR) a loan according to its terms (based on many factors). This includes cash flows through personal and business bank accounts.
Self-employed borrowers typically have more complicated income structures that require different calculations than wage earners. Self-employed income often times does not qualify for the "one size fits all" conventional/government underwriting standards.
US Mortgage Lenders provide loans to bad credit mortgage applicants that have the ability to repay their loans and that meet all regulatory lending criteria. These borrowers can now take part in the American dream of homeownership even though they may have had a life event that affected their credit or they have verifiable income that needs to be considered outside a standard grid.
BAD CREDIT FLORIDA MORTGAGE LENDERS 
If your seeking a Florida mortgage lender and have what is known in general as bad credit, and you are trying to obtain a home loan in Florida, then we encourage you to work with an experienced Mortgage Lender with a record of funding even the most difficult Florida mortgage loans.
We have been helping Florida mortgages with bad credit find the right lenders, gather their loan documents, and present complete loan packages to lenders for over a decade. Our technique really comes down to understanding what an underwriter is looking for and putting together a complete and thorough Florida bad credit mortgage package.
For some Florida mortgage applicants, it's the only way to get a bad credit Florida mortgage lender to say yes to a home loan. This is especially the case for a borrower with bad credit mortgage issues.
We know that a temporary setback like a Foreclosure or Bankruptcy can leave you with damaged credit even though you have worked hard to meet all of your financial obligations for most of a lifetime. Even a Tax lien or Judgement can affect credit ratings quickly and adversely affect the loan process when applying for a bad credit Florida mortgage.
We feel the borrower with less-than-perfect credit is the one who benefits the most from working with an experienced Florida mortgage lender. A good Florida mortgage lender knows which lenders have the best programs for borrowers with poor credit and knows how to present an application truthfully and ethically in the strongest light possible. No, we won't exaggerate or misrepresent the facts on your behalf; however, we will work to properly represent you and explain why the situation so you can get approved for a low-interest rate bad credit Florida mortgage.
Your credit report is the key factor for many of the mortgages we offer, but it is not the only factor. With an experienced Florida Mortgage professional working on your behalf, you may be pleasantly surprised at the bad credit home loan quote you get from our network of quality Florida lenders.
We can help you take an objective look at your home loan options regardless of your past credit history. Our experienced loan officers are very skilled at examining your credit report. And our Florida bad credit home loan specialists are happy to offer you free advice on how to clean up your credit report in preparation for your home loan process.
For some bad credit mortgage applicants, the hardest lifting takes place weeks before the mortgage application. It's never too soon to call 1-954-667-9110 to speak to one of our mortgage officers. If you have a weak credit report but want to get a mortgage or refinance your existing one, now is the time to get started. Use our Full Application to find out more.
We have an excellent rapport with many lenders who underwrite and service their own loans in-house. Because they don't resell the loans they originate, these lenders can say yes to a borrower when banks that are more conservative have said no.
It's actually better for borrowers with bad credit right now than it was before 1990. Before 1990, if a borrower did not qualify for a conventional or government loan, he or she was out of home loan options. The emergence of lenders willing to serve those with poor credit has been a godsend for the borrower who recognizes that a bad credit Florida home loan is a temporary loan.
Used properly with good financial planning, a subprime home loan serves the bad credit borrower for 2-4 years while he or she demonstrates the discipline to pay financial obligations on time. Once the healthier financial pattern yields a higher middle credit score, the borrower can apply for a government-insured JUMBO home mortgage or a fixed-rate conventional mortgage.
Even for bad credit Florida mortgage borrowers with bad credit, our private Florida mortgage company has found ways to secure financing.
30-year fixed-rate mortgages for persons with damaged credit to purchase homes;

Fixed-rate mortgages with one, three, or five-year Interest Onlyperiods;

Limited opportunities on loans for purchasing or refinancing single and doublewide Mobile Homes on land for buyers with low FICO scores in Polk County and the other Florida counties we serve;

A range of Jumbo and Super Jumbo home loans for those borrowers seeking to purchase executive homes
Don't let credit dings prevent you from applying for a mortgage from one of Florida's fastest-growing mortgage lenders. Call 1-954-667-9110 or apply for a Florida bad credit mortgage online using our Full Application right now!