Florida VA Mortgage Lenders – VA 100% Florida Mortgage financing For Veterans! 
The VA Mortgage Program Offers Eligible Veterans Both home Purchase and Home Refinance Programs. VA Mortgage lenders along with our Federal Government have taken to benefit home buyers, and specifically, those who are Veterans and Active Duty personnel. A VA Mortgage lender provides the opportunity for a 0 NO DOWNPAYMENT home loan purchase, along with less stringent qualification requirements. The Mission of  VA Mortgage Lenders is to help veterans and active duty personnel purchase and retain homeownership in recognition of their service to our nation.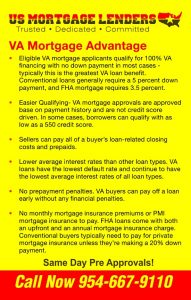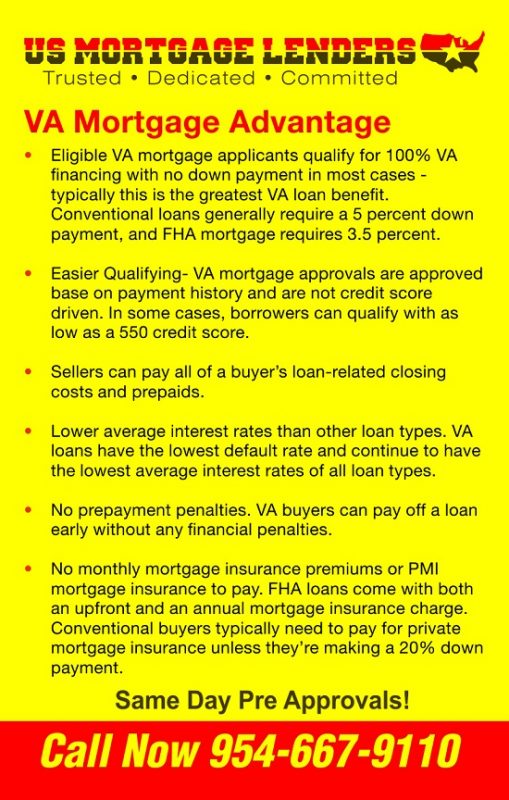 VA Mortgage Lenders Certificate Of Eligibility
VA Mortgage Lenders offer 100% financing for qualified Veterans to purchase a home with no money down. To qualify for a VA Loan, the home the veteran buyer needs to have been honorably discharged from a division of the United States Armed Services and have a certificate of eligibility. WE CAN ORDER YOUR CERTIFICATE OF ELIGIBILITY! To receive a certificate of eligibility from the United States Department of Veteran Affairs, the VA Loan borrower must have filed a VA Form 26-1880 for Determination of Eligibility and Available Loan Guaranty Entitlement.
First, a borrower must have a certificate of eligibility from the VA in order to obtain a loan. To receive this certificate, the borrower must file VA Form 26-1880, Request for Determination of Eligibility and Available Loan Guaranty Entitlement. Veteran spouses and service members who have died while on duty in the service or have died because of a disability due to the result of serving in the armed services may also be VA Mortgage eligible.
What is a VA Mortgage Lender?
 In 1944, the U.S. government created a military loan guaranty program to help to return service members purchase homes. The result, the VA Mortgage, is a mortgage loan issued by approved VA Mortgage lenders such as US Mortgage Lenders and guaranteed by the federal government. Since its inception, the VA  mortgage program has helped place more than 20 million veterans and their families into an affordable home financing situation through its distinct advantages over traditional mortgages.
With housing prices soaring VA Mortgage lenders program is more important than ever to service members. In recent years, mortgage lenders have tightened their lending requirements in the wake of the housing market collapse, making the VA mortgage Loan a lifeline for military home buyers.
Like all other mortgage programs, VA Mortgages have considerable details and information to review. We at VA Mortgage Lenders encourage you to use our website's resources to educate yourself on the specifics of this exclusive VA Mortgage Lenders benefit. If you have further questions, we invite you to call us at 954-667-9110.
VA Mortgage Lenders vs. Conventional Mortgage Lenders
Military home buyers have access to one of the most unique and powerful mortgage programs ever created. See below we compare how  Florida VA Mortgage lenders compares to traditional mortgage programs:
VA Mortgage Lenders
Conventional Mortgage Lenders

 0% Down (for qualified borrowers)

VA Mortgages are among the last 0% down VA Mortgage Lenders available on the market today.

Up to 20% Down

Conventional loans generally require down payments that can reach up to 20% to secure a VA Mortgage Lenders, pushing them out of reach for many homebuyers.

 No PMI

Since VA Mortgages are government-backed, banks do not require you to buy Private Mortgage Insurance.

PMI Monthly Required

Private Mortgage Insurance is a requirement for borrowers who finance more than 80% of their home's value, tacking on additional monthly expenses.

 Competitive Interest Rates

The VA guaranty gives VA mortgage lenders a greater degree of safety and flexibility, which typically means a more competitive rate than non-VA Mortgages.

Increased Risk for Lenders

Without government backing, banks are taking on more risk which, in turn, can result in a less-competitive interest rate on your VA Mortgage Lenders.

 Easier to Qualify

Because the loan is backed by the government, banks assume less risk and have less stringent qualification standards for VA Mortgages, making them easier to obtain.

Standard Qualification Procedures

Conventional options hold stricter qualification procedures that can put homeownership out of reach for some homebuyers.
When you're looking for a VA Mortgage lender, the last thing you want is an excuse. We provide VA mortgage lender's approvals down to a 580 fico under certain conditions.
Rest assured in knowing that we offer expert specialty service for specialized programs just like the VA Mortgage Lenders loan programs. Our VA Mortgage Lenders have had a wide range of expertise; in fact, many choose to select niche programs as their primary focus to better help VA home Buyers become homeowners. We can help to quickly purchase or refinance your current VA mortgage lender as well!
With both options, you'll be presented with Great Rates and great confidence that our specialist can get the job done right for you the very first time. No excuses great just results!
And if you have a bad credit history, that's okay too! Our VA mortgage lenders specialist will work with you, not against you. We're partners with a single, identical goal of helping our clients achieve their mortgage goals.
So, what makes our VA Mortgage lenders programs different? The answer is our people, experience and product knowledge.
The VA Mortgage Lenders program offers two primary products:
The VA home Buyer Program – This Product Is Designed To Help Eligible VA Veterans And Active Duty Personnel To Achieve home Ownership.
The VA Mortgage Lenders Refinance Product – This Product Offers Traditional Rate & Term Refinancing, A Cash-Out Refinance Choice & A Streamline Refinance For Existing VA Mortgages.
VA Mortgage Lenders' Interest Rates
We believe we offer VA home buyers some of the lowest interest rates and closing costs available in the industry today.
Please do know that rates are changing on a continual basis, so until we are able to lock in your rate, they are always subject to change. The money we lend to home buyers and refinance clients comes from the same pool as conventional lending funds. The difference is, the VA ensures the loan rather than a private mortgage insurance policy (PMI). As a result, the interest rates are tied to the same market factors as conventional rates.
To get today's low rate, just give us a call!
All to often, the cost of obtaining any mortgage can be quite expensive. Thankfully, there is some good news though…
We work hard to keep your closing costs to an absolute minimum. In addition, the VA regulates the closing costs that a veteran may be charged in connection with closing a VA Mortgage Lenders.
Fixed Rate Or Adjustable VA Mortgage Lenders?
With the VA mortgage lenders, you can choose either a fixed rate VA Mortgage Lenders option or the adjustable interest rate option. It's all based upon your financial needs and preferences. Our VA Mortgage originators will go into much more detail with the options you have based upon current VA lending limits and available mortgage products.
Once you've selected your VA Mortgage Lenders program, the VA will actually order your appraisal. This is great because it means you know you have an independent third party making decisions on the quality of the home you're about to buy.
What you need and want is not only the best rate at the lowest cost, but a company that delivers low-cost results…not tricky catchphrases, not empty promises, and most certainly not paying for a big company name and the expensive advertising budget that goes along with it.
We believe that we have your interests in mind each step of the way. Our company was created to give home buyers better choices by connecting you with specialists who deliver outstanding results for less. Why not Apply Now?
Fixed Rate VA Mortgage Lenders
Why are fixed rate VA Mortgage Lenders so highly recommended?
To begin with, a fixed rate VA Mortgage Lenders offers security in knowing your mortgage payment is not subject to change. The mortgage "melt-down" really proves this out. Providing stability is a wonderful thing and something a fixed low-interest rate loan can do very reliably. Although the fixed loan type limits options, it does provide a long-term strategy to equity and security.
The underwriting is no different, nor is the qualifying; and typically, your cost to close is very comparable too. As an added benefit, you can use the fixed rate VA Mortgage Lenders program for both traditional home purchases and for buying a manufactured home. It is the combination of all of these notable benefits that continues to give qualified VA Mortgage applicants a wide range of choices.
Choosing Your VA Mortgage Lenders
Trying to decide whether an adjustable-rate mortgage or a fixed rate program is best for your circumstances can be daunting, to say the least. That's where we come in. Your VA Mortgage Lenders specialist will be able to take your information and tailor specific options for you based on the programs available.
So, why wait any longer? Why not send over a Quick Inquiry and one of our VA Mortgage Lenders specialists will be in touch with you before you know it!
What Specific Costs Are Involved with VA mortgage lenders?
Although some additional costs are unique to certain localities, the closing costs generally include VA appraisal, credit report, survey, title evidence, recording fees, a 1 percent loan origination fee, along with other miscellaneous costs which are fully disclosed on your Good Faith Estimate. The closing costs and origination charge may not be included in the loan, except in VA refinancing loans.
In addition to negotiating the interest rate with your loan specialist, you may negotiate the payment of discount points and other closing costs with the seller. Often, sellers will consider paying some or all of the discount points charged in your loan in order to complete the sale.