Bank Statement Mortgage Lenders in Florida
Personal or Business Bank Statement mortgage Lenders Average 12 or 24 months!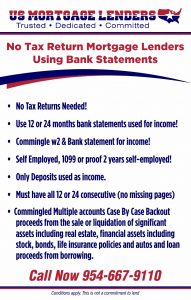 FLORIDA  BANK STATEMENT MORTGAGE LENDERS TO PURCHASE OR REFINANCE A FLORIDA MORTGAGE

If you are self-employed in Florida or have a different source of income that is not easy to document by way of Tax returns then a bank statement mortgage lender might be right for you. We help Florida self-employed business owners every day qualify for a mortgage using bank statements for income in order to purchase or refinance the Florida home of their choice.
You're not alone. According to the State of Florida business report, there are more than 2.5 million businesses in the state of Florida. Many Florida self-employed borrowers or those who work on commission or other types of structures have issues getting banks and other Florida mortgage lenders to pay attention to them simply because their tax returns after deductions do not show enough income to qualify for the home they need. Most Florida mortgage lenders are conservative and or cannot sell the loan unless strict Fannie Mae Income guidelines are met. But in this hot, ultra-competitive Florida real estate market, that can mean the difference between getting the home of your dreams and getting left behind.
NO TAX RETURN FL BANK STATEMENT MORTGAGE LENDER'S – INCOME OPTIONS
Personal Bank Statements: Qualify with 12 or 24 months of Personal bank statements and use Up To 100 percent of deposits!
Business Bank Statements: Qualify with 12 or 24 months of Business bank statements and count up to 90% percent of the deposits. A Florida self-employment business questionnaire is required to determine your income. For example, if you are a 1099 realtor with no money for rent, or cost you can use up to 90% of your income to qualify.
Use 1099s For Income: No Tax return Florida 1099 lenders will allow you to average 2 years of 1099s and 2 months of recent bank statements to verify continuance of income.
Use Lease Agreements: As long as the lease agreements are enough to cover the Florida mortgage payments lenders will lend up to 80% loan to value with no income verification needed.
Use Assets and Credit To Qualify: Our no-ratio Florida mortgage lenders allow no income verification using credit and reserves.
BANK STATEMENT MORTGAGE LENDER'S –  PROPERTY TYPES:
● SFRs, Condos, (Warrantable & Non-Warrantable), PUDs, 2-4 units, Townhomes
● No below-average properties
● Minimum $50,000 equity required
INELIGIBLE PROPERTIES FOR BANK STATEMENTS ONLY:
● Site>10 Acres, High-rise Condo in Dade/Broward Counties, Florida (8+ stories)
LOAN TERMS:
● 30-Year Fixed
● 10 Year/40 Year Term IO – CASE BY CASE.
● All loans require impounds for tax and insurance
LOAN AMOUNTS:
● $100,000—$3,000,000
HOUSING HISTORY/CREDIT EVENT SEASONING:
● Housing history—0x30. For housing delinquency, CONTACT US FOR PROGRAM UPDATES.
● Bankruptcy/Foreclosure—2-year seasoning. For less than 2 years, pricing adjustments apply.
● Short Sale/Deed-in-Lieu/Modification—2-year seasoning. For less than 2 years, see pricing adjustments.
● Forbearance <1 Year—See Loan Program Description
INCOME/DTI:
● Max of 50% DTI, 55% allowed with LTV up to 80%, $4,000 disposable and 0x30 mortgage
● Residual Income—$1,500 per household plus $500 1st child, $250 thereafter. Child maximum $1,500.
LISTED PROPERTIES:
● For Refinance transactions properties must be off the market for 6 months
PAYMENT SHOCK:
● Maximum 500% or TBD based on lender's criteria.
TAX LIENS AND JUDGMENTS:
● All tax liens and judgments must be paid at closing.
COLLECTION/CHARGE-OFF ACCOUNTS:
● Collections and charge-offs need to be paid off except:
– Medical Collections.
– Collection accounts older than 2 years.
CREDIT SCORE/TRADELINE REQUIREMENTS:
● 3 trade lines reporting for ≥ 12 months; or 2 trade lines reporting for ≥ 24 months with activity
in the past 12 months. For borrowers without a housing history, one of the tradelines must be at least $5000 high credit/limit .
● Credit Score: Minimum 600+ Credit Score. The middle score of the primary wage-earner is used for pricing and LTV
purposes.
INCOME DOCUMENTATION:
● Alt Doc – 12 or 24 months personal or business bank statements or 1099's, 12-month cash low.
3 months business bank statements, Profit and Loss (P&L) Only.
Min. 2 years history of self-employment required, except for the 12-month cash low option where
the min. is 1 year. Also available for gratuity earners
● AssetONLY Program—100% of the amount needed to amortize loan plus monthly debts for 60 months OR
125% of the new loan amount.
● Asset Assist—Assets divided by 60 is added to income.
● Lease agreements USED FOR INCOME as ALT Doc.
ASSETS / RESERVES:
● <75% LTV—None Required; >75% LTV—6 mos.; Loan Amount >$2M—12 Mos.
● Cash-out may be used to satisfy reserve requirements.
● Gift funds are allowed:
>80% LTV Borrower must contribute 5% own funds;
≤80% LTV 100% of down payment and closing costs may come from gift funds.
Note: Gift funds may not be used to satisfy reserves requirements
OCCUPANCY:
● Owner Occupied and 2nd Home
● First-time Homebuyers allowed, see program guidelines
LENDER CREDIT:
● Bank Statement Mortgage Lenders will allow the application of Lender Credit to be used for recurring and nonrecurring closing costs.
● Any overages will be applied to principal reduction.
● Lender Credit can be used on Lender Paid and Borrower Paid Loans
● Lender Credit cannot be used to pay broker compensation.
2ND APPRAISAL:
● Purchase and Rate & Term Rei: 2nd Appraisal Required for loan amounts >$2M
● Cash-out Rei: 2nd Appraisal Required for loan amounts > $1.5M
NPRA:
● NOTE: ALL INFORMATION IS SUBJECT TO CHANGE WITHOUT NOTICE- CONTACT US FOR UPDATED PROGRAMS! 
How Does a Florida Bank Statement Mortgage Work?
A Florida bank statement mortgage lender allows you to get qualified for a home loan by averaging your most recent 12 or 24 months of bank statements without the need for tax returns. These types of loans have amounts up to $3 million and can be used to purchase or refinance a primary residence, second home, or investment property.
Bank statement mortgage lenders will calculate your qualified income by adding up the total of your bank statements across 12 to 24 months, and then dividing that number to get an approximate amount for your monthly income. That figure can then be used to determine how much you may qualify for a Florida Mortgage.
Bank Statement Florida Mortgage Lenders Features
No tax returns required

Qualified based on Personal or business statements for the most recent 12 or 24 months

Add separate w2 income to increase purchasing power.

Loan amount up to $3 million

10% Down payment with NO mortgage insurance

Owner occupied, 2nd home, Investment Property

30-year fixed option available

Non-Perfect Credit OK

Gift Funds for Down Payment

Retirement income is usable with verification (1099, award letter, etc)
Bank Statement Lenders Requirements:
2 years of self-employment verified through CPA or business license

limited NSF or O/Ds OK

12 months of mortgage or rental history

4-6 month reserves
How Can Florida Mortgage Lenders Help?
At US Mortgage Lenders LLC we have years of experience helping self-employed Florida mortgage applicants get a great deal on their home loans. We work with a vast network of nationwide bank statement mortgage lenders who understand the unique needs of non-traditional borrowers such as the self-employed or those who have issues with their income documentation. To that end, we're prepared to do the research and legwork needed to help you get the best possible deal on your bank statement loan mortgage in Florida.
That means taking the time to understand your goals for homeownership as well as your budget and other unique circumstances. It also means answering all of your questions to the best of our abilities. Even if you've been turned down by traditional Florida mortgage lenders and other lending institutions, we invite you to contact us.  we may be able to help finance many borrowers that others could not.
Bank Statement Florida Mortgage Coverage Areas
Alachua Alachua Florida
Alford Jackson Florida
Altamonte Springs Seminole Florida
Altha Calhoun Florida
Anna Maria Manatee Florida
Apalachicola Franklin Florida
Apopka Orange Florida
Arcadia DeSoto Florida
Archer Alachua Florida
Astatula Lake Florida
Atlantic Beach Duval Florida
Atlantis Palm Beach Florida
Auburndale Polk Florida
Aventura Miami-Dade Florida
Avon Park Highlands Florida
Bal Harbour Miami-Dade Village
Baldwin Duval Florida
Bartow Polk Florida
Bascom Jackson Florida
Bay Harbor Islands Miami-Dade Florida
Bay Lake Orange Florida
Bell Gilchrist Florida
Belle Glade Palm Beach Florida
Belle Isle Orange Florida
Belleair Pinellas Florida
Belleair Beach Pinellas Florida
Belleair Bluffs Pinellas Florida
Belleair Shore Pinellas Florida
Belleview Marion Florida
Beverly Beach Flagler Florida
Biscayne Park Miami-Dade Village
BlountsFlorida Calhoun Florida
Boca Raton Palm Beach Florida
Bonifay Holmes Florida
Bonita Springs Lee Florida
Bowling Green Hardee Florida
Boynton Beach Palm Beach Florida
Bradenton Manatee Florida
Bradenton Beach Manatee Florida
Branford Suwannee Florida
Briny Breezes Palm Beach Florida
Bristol Liberty Florida
Bronson Levy Florida
Brooker Bradford Florida
Brooksville Hernando Florida
Bunnell Flagler Florida
Bushnell Sumter Florida
Callahan Nassau Florida
Callaway Bay Florida
Campbellton Jackson Florida
Cape Canaveral Brevard Florida
Cape Coral Lee Florida
Carrabelle Franklin Florida
Caryville Washington Florida
Casselberry Seminole Florida
Cedar Key Levy Florida
Center Hill Sumter Florida
Century Escambia Florida
Chattahoochee Gadsden Florida
Chiefland Levy Florida
Chipley Washington Florida
Cinco Bayou Okaloosa Florida
Clearwater Pinellas Florida
Clermont Lake Florida
Clewiston Hendry Florida
Cloud Lake Palm Beach Florida
Cocoa Brevard Florida
Cocoa Beach Brevard Florida
Coconut Creek Broward Florida
Coleman Sumter Florida
Cooper Florida Broward Florida
Coral Gables Miami-Dade Florida
Coral Springs Broward Florida
Cottondale Jackson Florida
Crescent Florida Putnam Florida
Crestview Okaloosa Florida
Cross Florida Dixie Florida
Crystal River Citrus Florida
Cutler Bay Miami-Dade Florida
Dade Florida Pasco Florida
Dania Beach Broward Florida
Davenport Polk Florida
Davie Broward Florida
Daytona Beach Volusia Florida
Daytona Beach Shores Volusia Florida
DeBary Volusia Florida
Deerfield Beach Broward Florida
DeFuniak Springs Walton Florida
DeLand Volusia Florida
Delray Beach Palm Beach Florida
Deltona Volusia Florida
Destin Okaloosa Florida
Doral Miami-Dade Florida
Dundee Polk Florida
Dunedin Pinellas Florida
Dunnellon Marion Florida
Eagle Lake Polk Florida
Eatonville Orange Florida
Ebro Washington Florida
Edgewater Volusia Florida
Edgewood Orange Florida
El Portal Miami-Dade Village
Estero Lee Village
Esto Holmes Florida
Eustis Lake Florida
Everglades Florida Collier Florida
Fanning Springs "Levy
Gilchrist" Florida
Fellsmere Indian River Florida
Fernandina Beach Nassau Florida
Flagler Beach Flagler Florida
Florida Florida Miami-Dade Florida
Fort Lauderdale Broward Florida
Fort Meade Polk Florida
Fort Myers Lee Florida
Fort Myers Beach Lee Florida
Fort Pierce St. Lucie Florida
Fort Walton Beach Okaloosa Florida
Fort White Columbia Florida
Freeport Walton Florida
Frostproof Polk Florida
Fruitland Park Lake Florida
Gainesville Alachua Florida
Glen Ridge Palm Beach Florida
Glen St. Mary Baker Florida
Golden Beach Miami-Dade Florida
Golf Palm Beach Village
Graceville Jackson Florida
Grand Ridge Jackson Florida
Grant-Valkaria Brevard Florida
Green Cove Springs Clay Florida
Greenacres Palm Beach Florida
Greensboro Gadsden Florida
Greenville Madison Florida
Greenwood Jackson Florida
Gretna Gadsden Florida
Groveland Lake Florida
Gulf Breeze Santa Rosa Florida
Gulf Stream Palm Beach Florida
Gulfport Pinellas Florida
Haines Florida Polk Florida
Hallandale Beach Broward Florida
Hampton Bradford Florida
Havana Gadsden Florida
Haverhill Palm Beach Florida
Hawthorne Alachua Florida
Hialeah Miami-Dade Florida
Hialeah Gardens Miami-Dade Florida
High Springs Alachua Florida
Highland Beach Palm Beach Florida
Highland Park Polk Village
Hillcrest Heights Polk Florida
Hilliard Nassau Florida
Hillsboro Beach Broward Florida
Holly Hill Volusia Florida
Hollywood Broward Florida
Holmes Beach Manatee Florida
Homestead Miami-Dade Florida
Horseshoe Beach Dixie Florida
Howey-in-the-Hills Lake Florida
Hypoluxo Palm Beach Florida
Indialantic Brevard Florida
Indian Creek Miami-Dade Village
Indian Harbour Beach Brevard Florida
Indian River Shores Indian River Florida
Indian Rocks Beach Pinellas Florida
Indian Shores Pinellas Florida
IndianFlorida Martin Village
Inglis Levy Florida
Interlachen Putnam Florida
Inverness Citrus Florida
Islamorada Monroe Village
Jacksonville Duval Florida
Jacksonville Beach Duval Florida
Jacob Florida Jackson Florida
Jasper Hamilton Florida
Jay Santa Rosa Florida
Jennings Hamilton Florida
Juno Beach Palm Beach Florida
Jupiter Palm Beach Florida
Jupiter Inlet Colony Palm Beach Florida
Jupiter Island Martin Florida
Kenneth Florida Pinellas Florida
Key Biscayne Miami-Dade Village
Key Colony Beach Monroe Florida
Key West Monroe Florida
Keystone Heights "Clay
Bradford" Florida
Kissimmee Osceola Florida
LaBelle Hendry Florida
LaCrosse Alachua Florida
Lady Lake Lake Florida
Lake Alfred Polk Florida
Lake Buena Vista Orange Florida
Lake Butler Union Florida
Lake Florida Columbia Florida
Lake Clarke Shores Palm Beach Florida
Lake Hamilton Polk Florida
Lake Helen Volusia Florida
Lake Mary Seminole Florida
Lake Park Palm Beach Florida
Lake Placid Highlands Florida
Lake Wales Polk Florida
Lake Worth Beach Palm Beach Florida
Lakeland Polk Florida
Lantana Palm Beach Florida
Largo Pinellas Florida
Lauderdale Lakes Broward Florida
Lauderdale-by-the-Sea Broward Florida
Lauderhill Broward Florida
Laurel Hill Okaloosa Florida
Lawtey Bradford Florida
Layton Monroe Florida
Lazy Lake Broward Village
Lee Madison Florida
Leesburg Lake Florida
Lighthouse Point Broward Florida
Live Oak Suwannee Florida
Longboat Key "Manatee
Sarasota" Florida
Longwood Seminole Florida
Loxahatchee Groves Palm Beach Florida
Lynn Haven Bay Florida
Macclenny Baker Florida
Madeira Beach Pinellas Florida
Madison Madison Florida
Maitland Orange Florida
Malabar Brevard Florida
Malone Jackson Florida
Manalapan Palm Beach Florida
Mangonia Park Palm Beach Florida
Marathon Monroe Florida
Marco Island Collier Florida
Margate Broward Florida
Marianna Jackson Florida
Marineland "Flagler
St. Johns" Florida
Mary Esther Okaloosa Florida
Mascotte Lake Florida
Mayo Lafayette Florida
McIntosh Marion Florida
Medley Miami-Dade Florida
Melbourne Brevard Florida
Melbourne Beach Brevard Florida
Melbourne Village Brevard Florida
Mexico Beach Bay Florida
Miami Miami-Dade Florida
Miami Beach Miami-Dade Florida
Miami Gardens Miami-Dade Florida
Miami Lakes Miami-Dade Florida
Miami Shores Miami-Dade Village
Miami Springs Miami-Dade Florida
Micanopy Alachua Florida
Midway Gadsden Florida
Milton Santa Rosa Florida
Minneola Lake Florida
Miramar Broward Florida
Monticello Jefferson Florida
Montverde Lake Florida
Moore Haven Glades Florida
Mount Dora Lake Florida
Mulberry Polk Florida
Naples Collier Florida
Neptune Beach Duval Florida
New Port Richey Pasco Florida
New Smyrna Beach Volusia Florida
Newberry Alachua Florida
Niceville Okaloosa Florida
Noma Holmes Florida
North Bay Village Miami-Dade Florida
North Lauderdale Broward Florida
North Miami Miami-Dade Florida
North Miami Beach Miami-Dade Florida
North Palm Beach Palm Beach Village
North Port Sarasota Florida
North Redington Beach Pinellas Florida
Oak Hill Volusia Florida
Oakland Orange Florida
Oakland Park Broward Florida
Ocala Marion Florida
Ocean Breeze Martin Florida
Ocean Ridge Palm Beach Florida
Ocoee Orange Florida
Okeechobee Okeechobee Florida
Oldsmar Pinellas Florida
Opa-locka Miami-Dade Florida
Orange Florida Volusia Florida
Orange Park Clay Florida
Orchid Indian River Florida
Orlando Orange Florida
Ormond Beach Volusia Florida
Otter Creek Levy Florida
Oviedo Seminole Florida
Pahokee Palm Beach Florida
Palatka Putnam Florida
Palm Bay Brevard Florida
Palm Beach Palm Beach Florida
Palm Beach Gardens Palm Beach Florida
Palm Beach Shores Palm Beach Florida
Palm Coast Flagler Florida
Palm Shores Brevard Florida
Palm Springs Palm Beach Village
Palmetto Manatee Florida
Palmetto Bay Miami-Dade Village
Panama Florida Bay Florida
Panama Florida Beach Bay Florida
Parker Bay Florida
Parkland Broward Florida
Paxton Walton Florida
Pembroke Park Broward Florida
Pembroke Pines Broward Florida
Penney Farms Clay Florida
Pensacola Escambia Florida
Perry Taylor Florida
Pierson Volusia Florida
Pinecrest Miami-Dade Village
Pinellas Park Pinellas Florida
Plant Florida Hillsborough Florida
Plantation Broward Florida
Polk Florida Polk Florida
Pomona Park Putnam Florida
Pompano Beach Broward Florida
Ponce de Leon Holmes Florida
Ponce Inlet Volusia Florida
Port Orange Volusia Florida
Port Richey Pasco Florida
Port St. Joe Gulf Florida
Port St. Lucie St. Lucie Florida
Punta Gorda Charlotte Florida
Quincy Gadsden Florida
Raiford Union Florida
Reddick Marion Florida
Redington Beach Pinellas Florida
Redington Shores Pinellas Florida
Riviera Beach Palm Beach Florida
Rockledge Brevard Florida
Royal Palm Beach Palm Beach Village
Safety Harbor Pinellas Florida
San Antonio Pasco Florida
Sanford Seminole Florida
Sanibel Lee Florida
Sarasota Sarasota Florida
Satellite Beach Brevard Florida
Sea Ranch Lakes Broward Village
Sebastian Indian River Florida
Sebring Highlands Florida
Seminole Pinellas Florida
Sewall's Point Martin Florida
Shalimar Okaloosa Florida
Sneads Jackson Florida
Sopchoppy Wakulla Florida
South Bay Palm Beach Florida
South Daytona Volusia Florida
South Miami Miami-Dade Florida
South Palm Beach Palm Beach Florida
South Pasadena Pinellas Florida
Southwest Ranches Broward Florida
Springfield Bay Florida
St. Augustine St. Johns Florida
St. Augustine Beach St. Johns Florida
St. Cloud Osceola Florida
St. Leo Pasco Florida
St. Lucie Village St. Lucie Florida
St. Marks Wakulla Florida
St. Pete Beach Pinellas Florida
St. Petersburg Pinellas Florida
Starke Bradford Florida
Stuart Martin Florida
Sunny Isles Beach Miami-Dade Florida
Sunrise Broward Florida
Surfside Miami-Dade Florida
Sweetwater Miami-Dade Florida
Tallahassee # Leon Florida
Tamarac Broward Florida
Tampa Hillsborough Florida
Tarpon Springs Pinellas Florida
Tavares Lake Florida
Temple Terrace Hillsborough Florida
Tequesta Palm Beach Village
Titusville Brevard Florida
Treasure Island Pinellas Florida
Trenton Gilchrist Florida
Umatilla Lake Florida
Valparaiso Okaloosa Florida
Venice Sarasota Florida
Vernon Washington Florida
Vero Beach Indian River Florida
Virginia Gardens Miami-Dade Village
Waldo Alachua Florida
Wauchula Hardee Florida
Wausau Washington Florida
Webster Sumter Florida
Welaka Putnam Florida
Wellington Palm Beach Village
Westlake Palm Beach Florida
West Melbourne Brevard Florida
West Miami Miami-Dade Florida
West Palm Beach Palm Beach Florida
West Park Broward Florida
Weston Broward Florida
Westville Holmes Florida
Wewahitchka Gulf Florida
White Springs Hamilton Florida
Wildwood Sumter Florida
Williston Levy Florida
Wilton Manors Broward Florida
Windermere Orange Florida
Winter Garden Orange Florida
Winter Haven Polk Florida
Winter Park Orange Florida
Winter Springs Seminole Florida
Worthington Springs Union Florida
YankeeFlorida Levy Florida
Zephyrhills Pasco Florida
Zolfo Springs Hardee Florida