Stop Foreclosure Florida Mortgage Refinance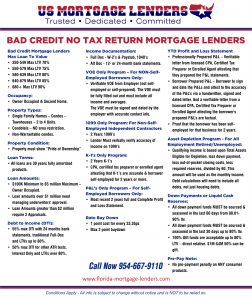 350+ Fico Florida Stop

Foreclosure

 

Bail

Outs 
•Business purpose subprime rate sheet for N/O/O properties only.
Property Types:
• Single Family Homes – Condos – Townhouses – 2 to 4 Units.
• Condotels – NO area restriction.
• Non-Warrantable condos – Max LTV 80%.
Property Condition:
• Property must show "Pride of Ownership".
•  Hard-Money products for properties that have deferred maintenance.
Loan Terms:
• All loans are 30-year fully amortized product.
Loan Amounts:
• $50,000 Minimum to $7,000,000 Maximum –
• Loan amounts over $1,000,000 need management approval.
• Loan Amounts greater than $2M require 2 Appraisals.
Debt to Income (DTI):
• 90.01-95% LTV: 43% max DTI
• 80.01-90% LTV: 50% max DTI
• Up to 80% LTV: 55% max DTI (No I/O allowed)
Interest Only Qualification: Must qualify fully indexed at 30 year amortized.
Interest Only Term: 40-year loan / 10 year I/O term.
Income Documentation:
Full Doc – W-2's & Paystub, 1040's
Alt Doc – 12- or 24-months bank statements.
VOE Only Program – For NON-Self-Employed Borrowers Only:
• Verifiable VOE from Employer (not self-employed or self-prepared). The VOE must be fully filled out and must include
all income and averages. The VOE must be signed and dated by the employer with accurate contact info.
1099 Only Program: For Non-Self-Employed Independent Contractors
• 2 Years 1099's
• Lender To verbally verify accuracy of income on 1099's
K-1's Only Program:
• 2 Years K-1's
• CPA, certified tax preparer or enrolled agent attesting that K-1's are accurate & borrower self-employed for 2 years or
more.
P&L's Only Program – For Self Employed Borrowers Only:
• Full year 2018 Complete Profit and Loss Statement and 2019 Complete YTD Profit and Loss Statement
• Professionally Prepared P&L's – Verifiable letter from licensed CPA, Certified Tax Preparer or Enrolled Agent attesting
that they prepared the P&L statements.
• Borrower Prepared P&L's – Borrower to sign and date the P&L's and attest to the accuracy of the P&L's via a hand
written, signed and dated letter. And a verifiable letter from a licensed CPA, Certified Tax Preparer or Enrolled Agent
attesting the borrower's prepared P&L's are factual.
• Proof that the borrower has been self-employed for that business for 2 years.
Asset Depletion Program – Available for All Employment Types including Retired/Unemployed:
• Qualifying income is based upon Total Assets Eligible for Depletion, less down payment, less out-of-pocket closing
costs, less required reserves, divided by 84. This amount will be used as the monthly income. Debt calculations will
need to include all debts, not just housing debts.
Down Payments or Liquid Cash Reserves:
• All down payment funds MUST be sourced & seasoned 60 days +6 mths PITI in liquid cash reserves from 90.01-95% ltv
• All down payment funds MUST be sourced in the last 30 days from 80.01-90% ltv.
• 100% Gift funds are acceptable up to 80% LTV – direct relative. $1M-$2M 50% can be gift – $2M+ no gift.
First! Always Contact your Florida mortgage servicer as soon as you receive a default notice.
Your Florida mortgage lenders will discuss your options with you to help you work through payments during difficult financial times. Servicers prefer you keep your home and most will work with you to seek a solution. Explain with your servicer about your financial circumstances so that you can have a realistic discussion regarding your options. You can find the number for your monthly mortgage statement
Understand your rights.
Learn all that you can about your mortgage rights and foreclosure laws in Florida. Review your loan documents to determine what your lender or servicer may do if you can't make your payments. Review Florida laws, particularly Florida Statutes Chapter 702 to learn about foreclosure proceedings.
Repayment Options To

Stopping Foreclosure in Florida
If you are working with your mortgage servicer or an approved housing counselor to keep your home, there are several options:
Repayment Plan: This is an agreement that gives you a fixed amount of time to repay the amount you are behind by combining a portion of what is past due with your regular monthly payment. At the end of the repayment period you have gradually paid back the amount of your mortgage that was delinquent.

Loan Modification: This is a written agreement between you and your mortgage servicer that permanently changes one or more of the original terms of your note to make the payments more affordable.

Reinstatement: Your servicer may agree to let you pay the total amount you are behind, in a lump sum payment and by a specific date. This is often combined with forbearance when you can show that funds from a bonus, tax refund or other source will become available at a specific time in the future. Be aware that there may be late fees and other costs associated with a reinstatement plan.

Forbearance: Your servicer may offer a temporary reduction or suspension of your mortgage payments while you get back on your feet. Forbearance is often combined with a reinstatement or a repayment plan to pay off the missed or reduced mortgage payments. Please be aware that some forbearance plans require that you immediately pay back the missed payments in a lump sum at the end of the plan.
If you and your servicer agree that you cannot keep your home, there may still be options to avoid foreclosure:
Assumption: An assumption permits a qualified buyer to take over your mortgage debt and make the mortgage payments, even if the mortgage is non-assumable. As a result, you may be able to sell your property and avoid foreclosure.
Refinancing: While refinancing is not necessarily a good option when facing foreclosure and can sometimes even be a predatory practice, there are instances where it may help. Talk to your servicer to see if refinancing is an option for you.
Short Payoff: If you can sell your house but the sale proceeds are less than the total amount you owe on your mortgage, your mortgage servicer may agree to a short payoff and write off the portion of your mortgage that exceeds the net proceeds from the sale.
Deed-in-Lieu of Foreclosure: A deed-in-lieu of foreclosure is a cancellation of your mortgage if you voluntarily transfer title of your property to your mortgage servicer. Usually you must try to sell your home for its fair market value for at least 90 days before a mortgage company will consider this option. A deed-in-lieu of foreclosure may not be an option if there are other liens on the property, such as second mortgages, judgments from creditors or tax liens.
Contact a Florida housing counselor.
Help and information are available to you free of cost. The HOPE NOW alliance provides a 24-hour hotline to provide mortgage counseling assistance in multiple languages. Reach this hotline by dialing, 1-888-995-HOPE. You may also obtain a list of U.S. Department of Housing and Urban Development (HUD) certified counselors in Florida here.
Research available Stop Foreclosure mortgage-assistance solutions.
Floridians age 60 or older may use the Florida Senior Legal Helpline, a free statewide telephone advice and referral service. Contact the Florida Senior Legal Helpline at 1-888-895-7873.
Veterans of the U.S. Armed Forces may also be able to obtain help from a U.S. Department of Veterans Affairs (VA) financial counselor. Veterans can call the VA toll-free at 1-877-827-3702. The VA offers a home loan guarantee program for veterans. For more information, click here. Veterans at risk of losing their homes should visit www.va.gov/homeless/housing.asp or call 1-877-4AID-VET to seek additional resources.
It is important that you continue to take any and all steps to protect your legal interests and your investment, which may include consultation with a private attorney. A private attorney can provide the legal advice which our office may not by law provide to individuals. You may find an attorney through the Florida Bar Association or by calling their Legal Referral Service toll-free at 1-800-342-8011. Verify your attorney is in good standing and has no disciplinary actions against them. If you cannot afford an attorney, you may be eligible for low-cost or pro bono assistance through a legal aid office in your area.
Seek additional information.
Information regarding mortgage and foreclosure issues from the below resources may prove helpful during this time: