Florida Mortgage Lenders – Our sole purpose is to fund loans. More specifically, we exist to fill the gap where Florida bank lending restraints have left many Florida qualified mortgage applicants without access to funding. Our custom Florida Mortgage Lenders underwriting approach allows us to not only focus on the numbers but on the entire applicant situation in order to provide an innovative financing structure that meets their needs. We get the job done!
CALL NOW  954-667-9110  ALL SITUATIONS WELCOME!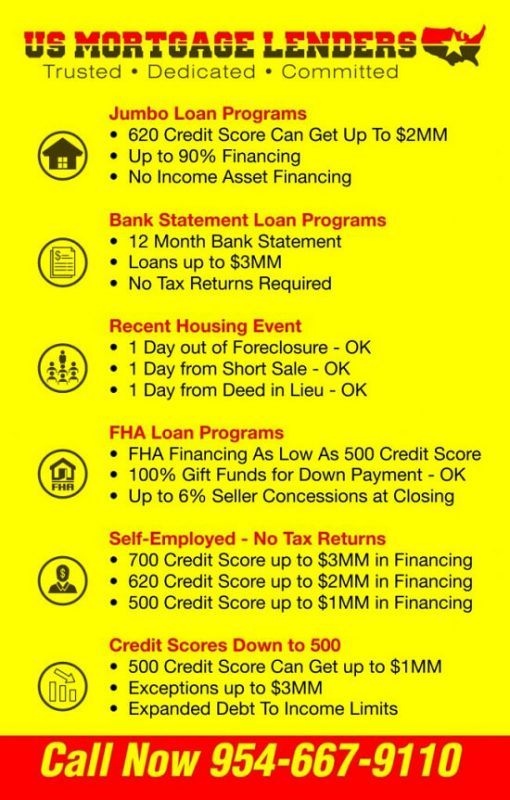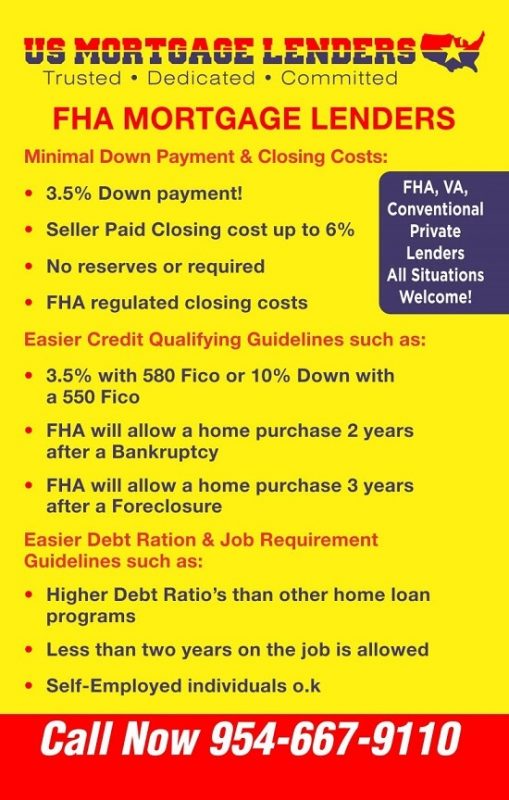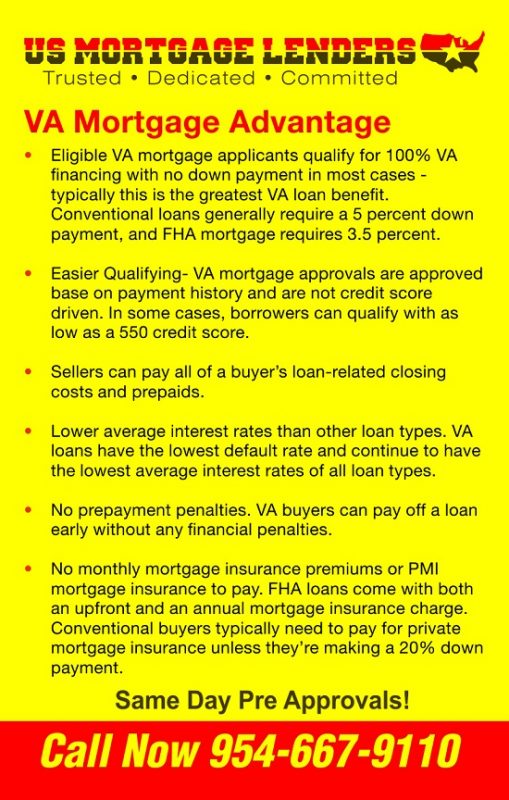 Florida NO Tax Return Mortgage Lenders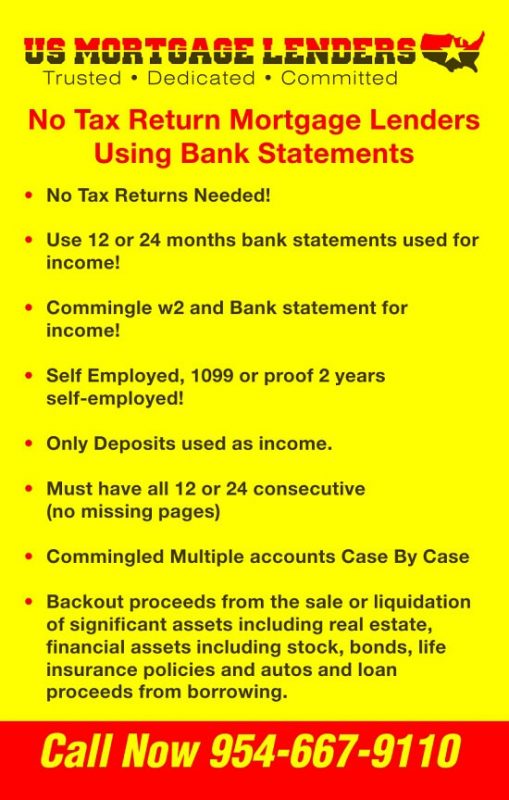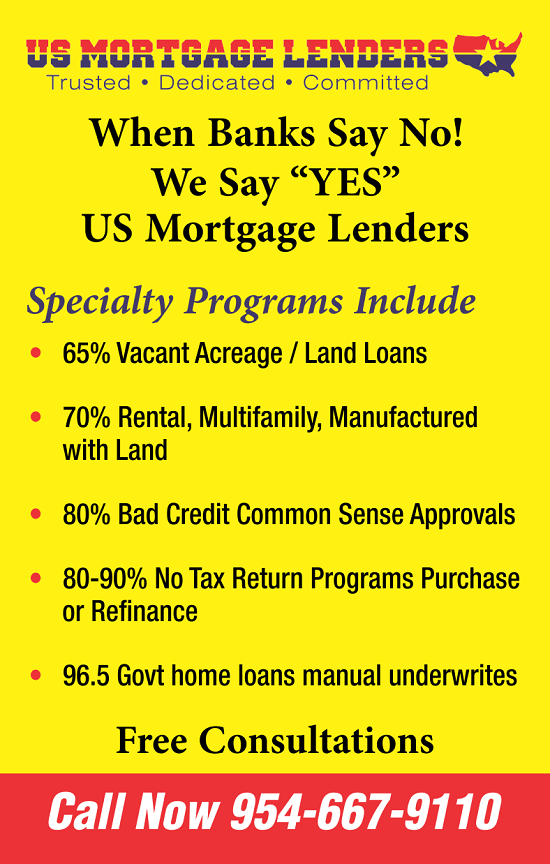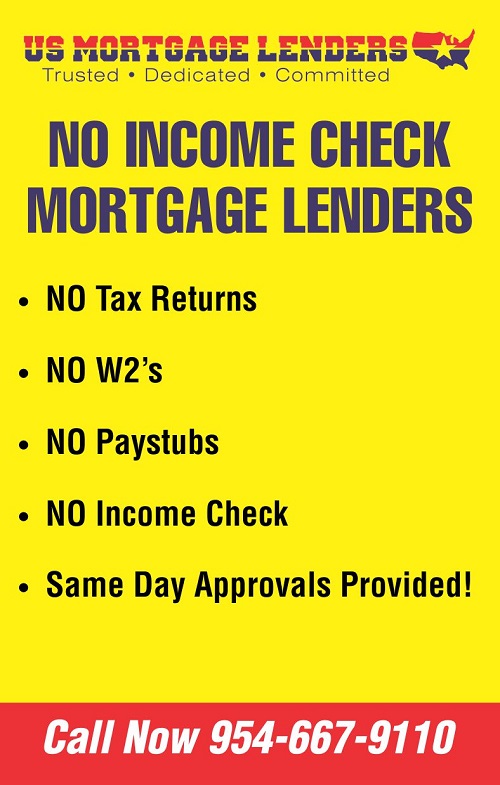 Florida Stated Income Mortgage Lenders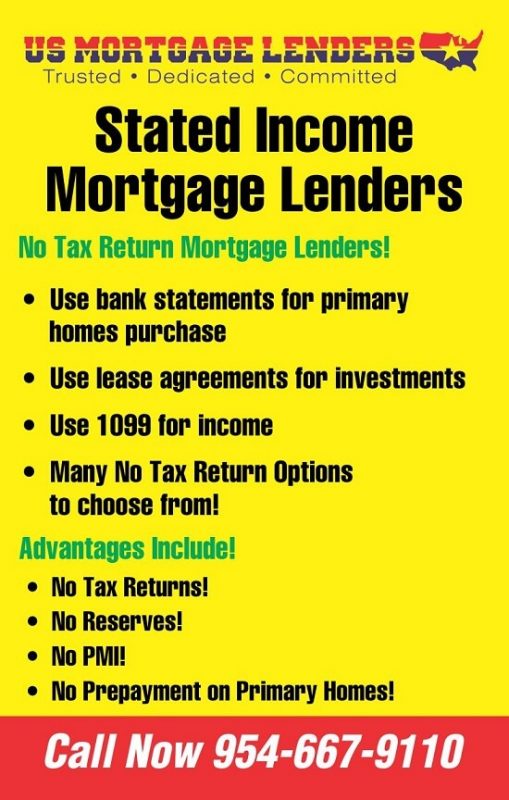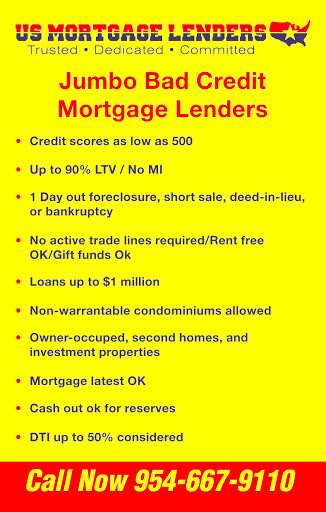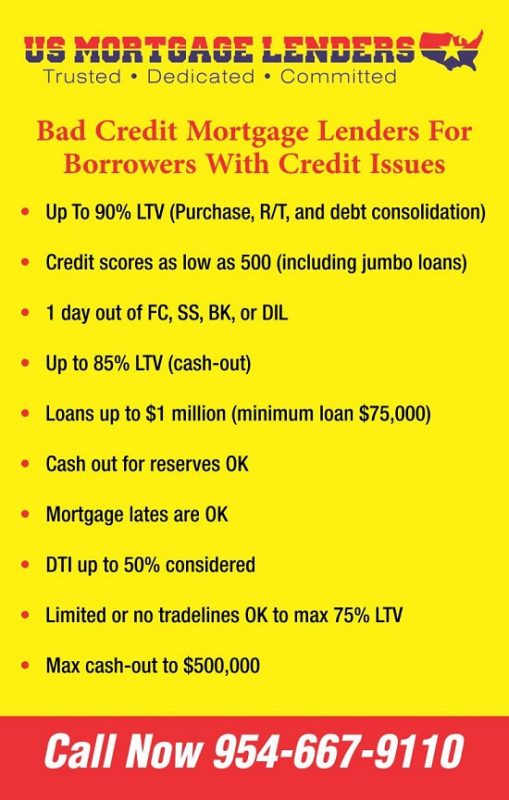 Florida CO-OP Mortgage Lenders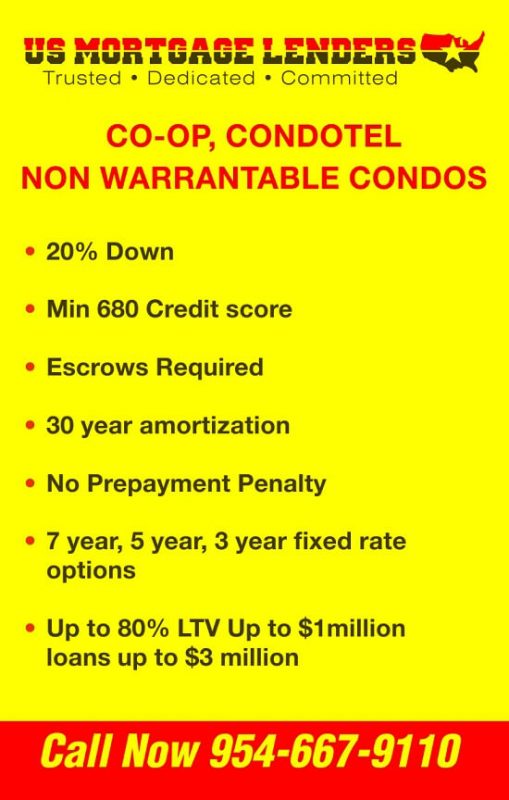 Florida Debt Consolidation Mortgage Lenders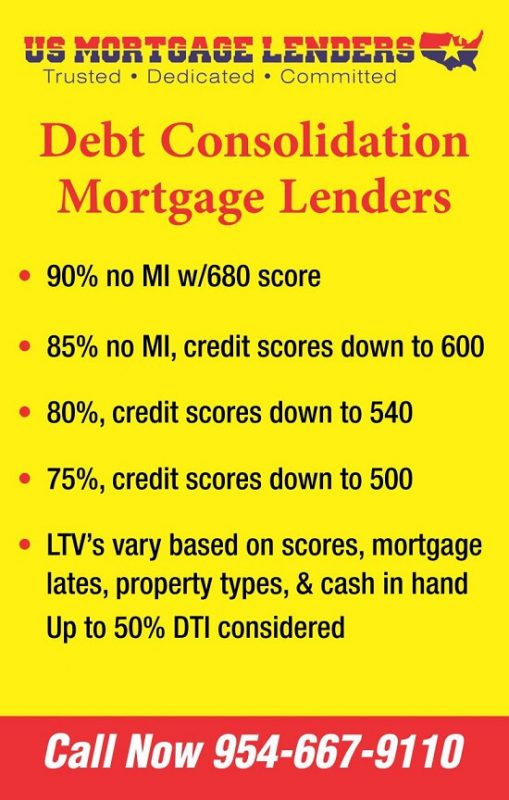 Florida Condo Mortgage Lenders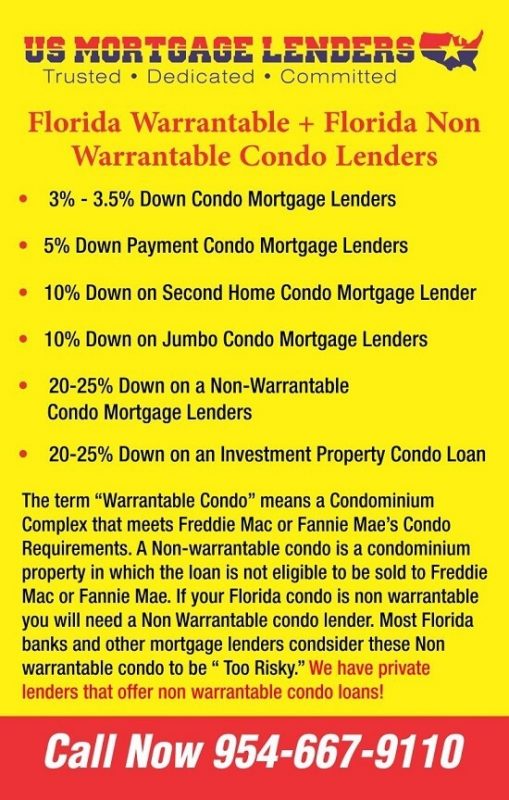 Florida Low Down Payment Jumbo Mortgage Lenders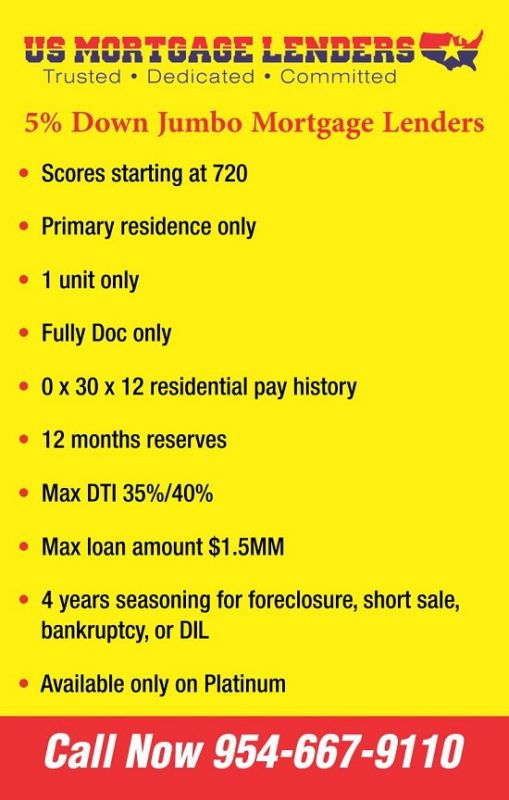 After Bankruptcy Foreclosure Florida Mortgage Lenders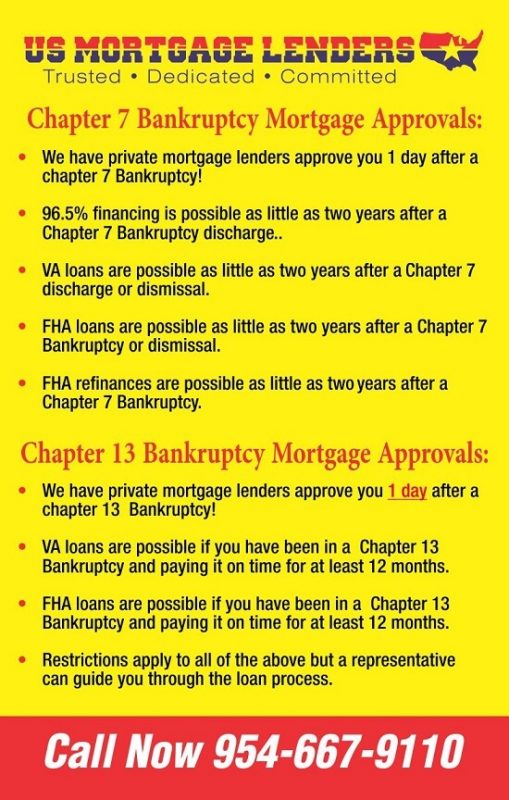 VA Cash Out Refinance Florida Mortgage Lenders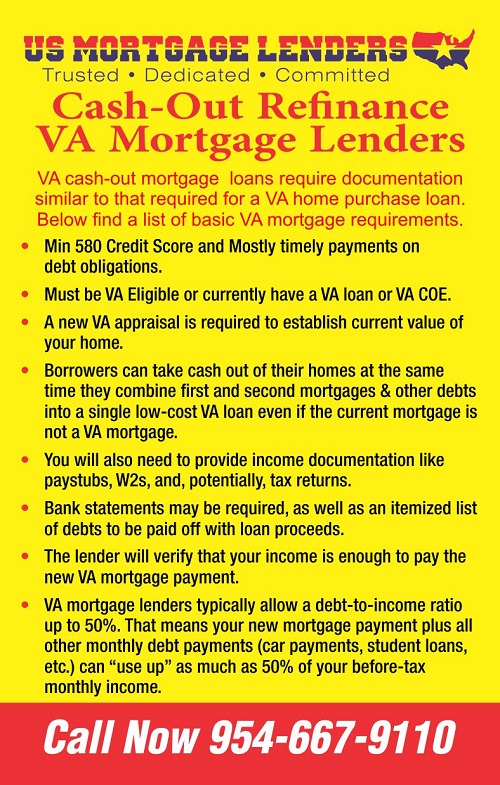 100% No Money Down Florida Mortgage Lenders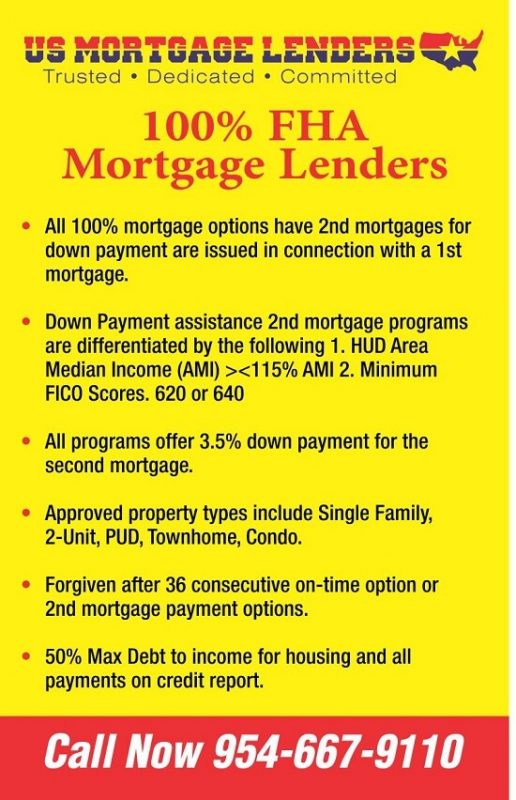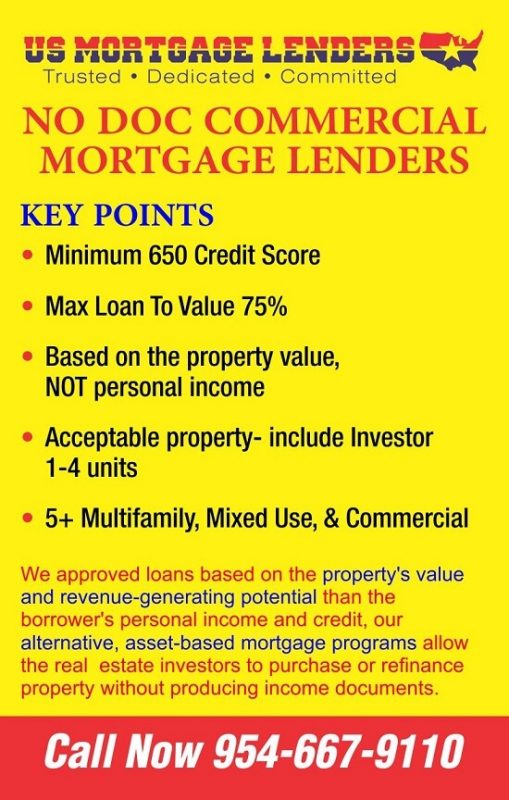 FLORIDA NO TAX RETURN CASHOUT MORTGAGE LENDERS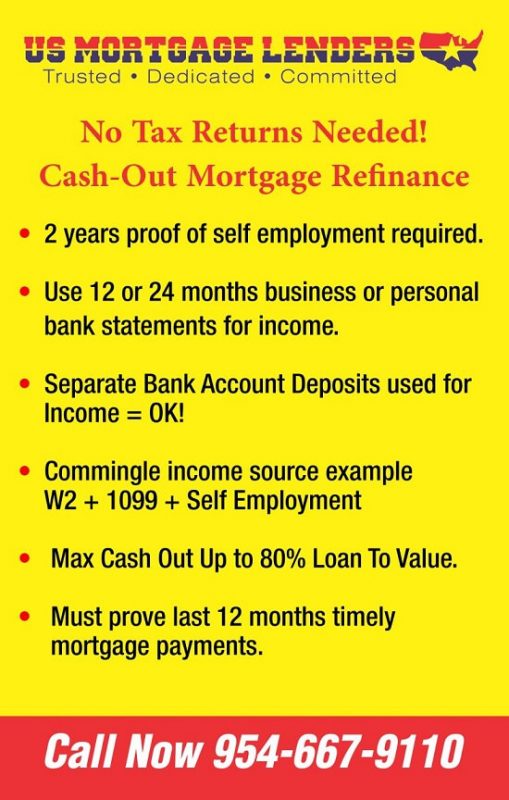 Fast Consultation – All Situations Welcome!
POPULAR FLORIDA MORTGAGE OPTIONS INCLUDE: 
• FHA MORTGAGE LENDERS– Min 3.5% down payment minimum 580 fico or 10% down with a 550 fico. Seller paid the closing cost up to 6%. Gift from family OK! Florida FHA mortgage lenders can approve you purchase a Florida home 3 years after a foreclosure, 2 years after a chapter 7 bankruptcy and 12 months after a chapter 13 bankruptcy. Please Note- The 3 year waiting period after a foreclosure starts when the title/deed is transferred out of your name. 
• VA MORTGAGE- 100% VA loan financing with a minimum 550 credit score. Seller paid closing cost up to 4%. Purchase a Florida home using VA certificate of eligibility or/and DD214 waiting only 2 years after a foreclosure or bankruptcy.
• PORTFOLIO LENDERS- Purchase 1 day our of Foreclosure, Short-Sale, Bankruptcy down to a 500 credit score. Loans up to 1 million with credit scores down to 500. Up to 80% Loan To Value. 30 year fixed no prepayment penalty.
• BANK STATEMENT ONLY FLORIDA MORTGAGE LENDERS-NO TAX RETURNS NEEDED! 10% down with a 660 credit score or 15% down with a 600 credit score. You must be self-employed or contractor for about  2 years. Must have trade lines on the credit report.  All persons listed on bank statements must be used on the loan application. No tax returns needed. Business or personal bank statements used to qualify. Up to 90% LTV up to 55% DTI.                                          
• JUMBO FLORIDA MORTGAGE- Your Florida mortgage amount exceeds the current conforming home loan limit (in most cases $417,000), a Jumbo loan is likely the best choice for you. Jumbo loans can be of the fixed or adjustable variety. 
• INTEREST ONLY FLORIDA MORTGAGE- An interest-only mortgage is great if you are interested in the lowest possible monthly payment for an initial period of time.
• FLORIDA REVERSE MORTGAGE LENDERS–  Homeowners over 62 that do not own much on their home can tap into their equity to spend how they wish. 
• ADJUSTABLE RATE MORTGAGE (ARM)- Savvy borrowers will want to take advantage of the lowest rate available with an adjustable rate mortgage! It's a great loan option if rates are on the decline or you're staying in your home for a short time. 
• BAD CREDIT FLORIDA MORTGAGE- We get borrowers approved every day to purchase a Florida home with a bad credit past. FHA mortgage and VA mortgage approvals are among the easiest loan programs for Florida bad credit mortgage applicants.
• NO CREDIT SCORE FLORIDA MORTGAGE LENDERS- Florida mortgage applicants with no credit score get approved every day to purchase a Florida home with no credit score or lack of credit using alternate trade lines.

• NO SEASONING FLORIDA MORTGAGE LENDERS- Florida mortgage applicants cash cashout refinance 1 day after they purchase a Florida home!
• 30 YEAR FIXED RATE FLORIDA MORTGAGE- The 30 year fixed rate Florida mortgage is one of the most popular and secure options available for Florida homebuyers and homeowners who want your monthly payments to be low and never change. 

• 15 YEAR FIXED RATE FLORIDA MORTGAGE- If you're looking to save thousands in interest expense and you want to own your home quicker versus a 30 year fixed rate mortgage, a 15 year fixed rate mortgage could be good for you. Plus, your payment and interest rate will never change during the term of this mortgage.
FLORIDA-MORTGAGE-LENDERS.COM Is pleased to offer disciplined credit alternatives for Florida bad credit and bank statement only mortgage loans for applicants who can demonstrate the ability to repay, but otherwise don't meet agency guidelines due to various reasons.
BANK STATEMENT AND ASSET BASED FLORIDA MORTGAGE PROGRAM
Self-Employed using Bank Statements with or without Asset Amortization
One borrower must be self-employed and may have a W-2 co-borrower
The self-employed borrower must have minimum 2 years self-employment in the same business
Self-employed borrowers qualified using personal and/or business bank statements for the most recent 12 month period
If business bank statements used, a Profit and Loss (P&L) statement may be required
Assets must be traditionally documented
Florida Bank Statement only Loan amounts up to $3 million
Debt to income ratios  up to 50%
Credit scores as low as 600
The borrower may use an asset amortization formula to derive additional qualifying income. Bank Statement Only Florida Mortgage Lenders.
Florida Mortgage Lenders Approval Philosophy- Florida Mortgage Lenders takes a common sense approach to underwriting a borrower's creditworthiness to determine the willingness and ability to repay the loan.  Each Florida mortgage applicant has a different situation and each loan is weighed on its own merits.  Our goal is to help good Florida mortgage applicants with their financing needs while mitigating risk for the company.  Our alternative document programs are high-risk loans. Florida Mortgage Lenders will only approve loans for which the company has a reasonable belief that the borrower has the ability to repay the subject loan. This reasonable belief is based upon information provided by or independently verified by an independent third party.  Any irregularity in Florida mortgage applicants profile, documentation provided, or property used to support the debt may be cause for denial of the loan.
Florida Mortgage Lenders Program Qualifications- This program is designed for borrowers who have significant verifiable assets or are self-employed and would benefit from alternative loan qualification methods. This program provides two alternate approaches to document the borrower's ability to repay. Asset statements alone (no debt to income ratio is required) may be used by high net worth individuals for qualification.  Bank statements (personal and/or business) may be used as an alternative to tax returns to document a self-employed borrower's income.  In addition, a self-employed borrower may supplement bank statement income with additional income derived from an asset amortization formula.
FLORIDA FHA MORTGAGE LIMITS BY COUNTY
| | | |
| --- | --- | --- |
| COUNTY | LIMITS | PROVIDING FHA LOANS IN EVERY CITY IN FLORIDA |
| ALACHUA | $271,050 | Alachua, Archer, Gainesville, Hawthorne, High Springs, LaCrosse, Micanopy, Newberry, Waldo, Campville |
| BAKER | $316,250 | Macclenny, Glen St. Mary, Baxter, Eddy, Olustee, Sanderson, Taylor |
| BAY | $271,050 | Callaway, Lynn Haven, Mexico Beach, Panama City, Panama City Beach, Parker, Springfield, Cedar Grove, Laguna Beach, Lower Grand Lagoon |
| BRADFORD | $271,050 | Hampton, Lawtey, Starke, Brooker |
| BREVARD | $271,050 | Cape Canaveral, Cocoa, Cocoa Beach, Indian Harbour Beach, Melbourne, Palm Bay, Rockledge, Satellite Beach, Titusville, West Melbourne |
| BROWARD | $345,000 | Coconut City, Cooper City, Coral Springs, Dania Beach, Davie, Deerfield Beach, Fort Lauderdale, Hallandale Beach, Hillsboro Beach, Hollywood |
| CALHOUN | $271,050 | Blountstown, Altha, Abe Springs, Broad Branch, Carr Community, Chipola, Chipola Park, Clarksville, Cox, Eufala |
| CHARLOTTE | $271,050 | Punta Gorda, Babcock Ranch, Boca Grande, Cape Haze, Adrian Town, Charlotte Harbor, Charlotte Park, Cleveland, Deep Creek, Englewood |
| CITRUS | $271,050 | Crystal River, Inverness, Beverly Hills, Black Diamond, Chassahowitzka, Citrus Hills, Citrus Springs, Floral City, Hernando, Holder |
| CLAY | $316,250 | Green Cove Springs, Keystone Heights, Orange Park, Penney Farms, Lake Asbury, Bellair-Meadowbrook Terrace, Belmore, Clay Hill, Doctors Inlet, Fleming Island |
| COLLIER | $448,500 | Everglades City, Marco Island, Naples, Ave Maria, Chokoloskee, East Naples, Golden Gate, Goodland, Immokalee, Island Walk |
| COLUMBIA | $271,050 | Lake City, Fort White, Columbia City, Five Points, Lulu, Mikesville, Newco, Watertown |
| DE SOTO | $271,050 | Arcadia, Southeast Arcadia, Brownville, Fort Ogden, Hull, Lake Suzy, Nocatee, Hidden Acres |
| DIXIE | $271,050 | Cross City, Horseshoe Beach, Old Town, Steinhatchee, Clara, Eugene, Hines, Jena, Jonesboro, Old Town |
| DUVAL | $316,250 | Jacksonville, Jacksonville Beach, Atlantic Beach, Neptune Beach, Baldwin |
| ESCAMBIA | $271,050 | Pensacola, Century, Barrineau Park, Barth, Bellview, Beulah, Bluff Springs, Bogia, Bratt, Brent |
| FLAGLER | $218,500 | Bunnell, Flagler Beach, Palm Coast, Marineland, Beverly Beach, Flagler Estates, Hammock, Painters Hill, Espanola, Bimini |
| FRANKLIN | $271,050 | Apalachicola, Carrabelle, Eastpoint, Alligator Point, Bald Point, Lanark Village, St. Teresa |
| GADSDEN | $271,050 | Chattahoochee, Gretna, Midway, Quincy, Greensboro, Havana |
| GILCHRIST | $271,050 | Bell, Fanning Springs, Trenton |
| GLADES | $271,050 | Brighton Seminole Indian Reservation, Buckhead Ridge, Lakeport, Moore Haven, Muse, Palmdale |
| GULF | $271,050 | Port St. Joe, Wewahitchka, Cape San Blas, Dalkeith, Highland View, Honeyville, Indian Pass, Overstreet, White City |
| HAMILTON | $271,050 | Jasper, White Springs, Jennings, Avoca, Bakers Mill, Blue Springs, Crossroads, Cypress Creek, Hillcoat, Marion |
| HARDEE | $271,050 | Bowling Green, Wauchula, Zolfo Springs, Crewsville, Fort Green, Ona, Popash, Sweetwater, Limestone, Village of Charlie Creek |
| HENDRY | $271,050 | Clewiston, LaBelle, Fort Denaud, Harlem, Port LaBelle, Felda, Pioneer Plantation, Montura Ranch Estates, Flaghole, Ladeca Acres |
| HERNANDO | $271,050 | Spring Hill, Brooksville, Weeki Wachee, Aripeka, Bayport, Brookridge, Garden Grove, Hernando Beach, High Point, Hill 'n Dale |
| HIGHLANDS | $271,050 | Avon Park, Sebring, Lake Placid, Avon Park Lakes, Brighton, Cornwell, DeSoto City, Fort Basinger, Fort Kissimmee, Hicoria |
| HILLSBOROUGH | $271,050 | Plant City, Tampa, Temple Terrace, Apollo Beach, Balm, Bloomingdale, Boyette, Brandon, Carrollwood, Carrollwood Village |
| HOLMES | $271,050 | Bonifay, Ponce De Leon, Westville, Esto, Noma, Bethlehem, Prosperity, Gritney, Cerrogordo, Pittman |
| INDIAN RIVER | $271,050 | Fellsmere, Sebastian, Vero Beach, Indian River Shores, Orchid, Blue Cypress Village, Cummings, Florida Ridge, Gifford, Nevins |
| JACKSON | $271,050 | Graceville, Jacob City, Marianna, Alford, Bascom, Campbellton, Cottondale, Grand Ridge, Greenwood, Malone |
| JEFFERSON | $271,050 | Monticello, Alma, Ashville, Aucilla, Capps, Casa Blanco, Cody, Dills, Drifton, Fanlew |
| LAFAYETTE | $271,050 | Mayo, Airline, Alton, Cooks Hammock, Day, Hatchbend, Midway |
| LAKE | $268,850 | Clermont, Eustis, Fruitland Park, Groveland, Leesburg, Mascotte, Minneola, Mount Dora, Tavares, Umatilla |
| LEE | $270,750 | Bonita Springs, Cape Coral, Estero, Fort Myers, Fort Myers Beach, Sanibel, Alva, Boca Grande, Bokeelia, Buckingham |
| LEON | $271,050 | Tallahassee, Black Creek, Baum, Bloxham, Bradfordville, Capitola, Centerville, Chaires, Chaires Crossroads, Gardner |
| LEVY | $271,050 | Cedar Key, Chiefland, Fanning Springs, Otter Creek, Williston, Yankeetown, Bronson, Inglis, Andrews, East Bronson |
| LIBERTY | $271,050 | Bristol, Estiffanulga, Hosford, Orange, Rock Bluff, Sumatra, Telogia, White Springs, Wilma, Woods |
| MADISON | $271,050 | Madison, Greenville, Lee, Cherry Lake, Hamburg, Hanson, Hopewell, Lamont, Lee, Lovett |
| MANATEE | $336,100 | Anna Maria, Bradenton, Bradenton Beach, Holmes Beach, Palmetto, Longboat Key, Bayshore Gardens, Cortez, Ellenton, Memphis |
| MARION | $200,160 | Belleview, Dunnellon, Ocala, McIntosh, Reddick, Anthony, Citra, Early Bird, Fort McCoy, Marion Oaks |
| MARTIN | $276,640 | Stuart, Jupiter, Ocean Breeze, Sewall's Point, Hobe Sound, Hutchinson, Indiantown, Jensen Beach, North River Shores, Palm City |
| MIAMI-DADE | $345,000 | Aventura, Bal Harbour, Bay Harbor Islands, Biscayne Park, Coral Gables, Cutler Bay, Doral, El Portal, Florida City, Golden Beach |
| MONROE | $529,000 | Key West, Marathon, Key Colony Beach, Layton, Islamorada, Stock Island, Big Coppitt Key, Cudjoe Key, Big Pine Key, Duck Key |
| NASSAU | $316,250 | Fernandina Beach, Callahan, Hilliard, Amelia City, American Beach, Andrews, Becker, Boulogne, Bryceville, Chester |
| OKALOOSA | $327,750 | Crestview, Destin, Fort Walton Beach, Laurel Hill, Mary Esther, Niceville, Valparaiso, Cinco Bayou, Shalimar, Baker |
| OKEECHOBEE | $271,050 | Okeechobee, Ancient Oaks, Barber Quarters, Basinger, Basswood Estates, Country Hills Estates, Cypress Quarters, Deans Court, Dixie Ranch Acres, Duberry Gardens |
| ORANGE | $274,850 | Apopka, Bay Lake, Belle Isle, Edgewood, Lake Buena Vista, Maitland, Ocoee, Orlando, Winter Garden, Winter Park |
| OSCEOLA | $274,850 | Kissimmee, St. Cloud, Buenaventura Lakes, Bull Creek, Campbell, Celebration, Deer Park, Harmony, Holopaw, Kenansville |
| PALM BEACH | $345,000 | Atlantis, Belle Glade, Boca Raton, Boynton Beach, Briny Breezes, Cloud Lake, Delray Beach, Glen Ridge, Golf, Greenacres |
| PASCO | $271,050 | Dade City, New Port Richey, Port Richey, San Antonio, Zephyrhills, St. Leo, Aripeka, Bayonet Point, Beacon Square, Connerton |
| PINELLAS | $271,050 | Belleair Beach, Belleair Bluffs, Clearwater, Dunedin, Gulfport, Indian Rocks Beach, Largo, Madeira Beach, Oldsmar, Pinellas Park |
| POLK | $271,050 | Auburndale, Bartow, Davenport, Eagle Lake, Fort Meade, Frostproof, Haines City, Lake Alfred, Lakeland, Lake Wales |
| PUTNAM | $271,050 | Crescent City, Palatka, Interlachen, Pomona Park, Welaka, Bardin, Bostwick, Carraway, East Palatka, Edgar |
| SANTA ROSA | $271,050 | Gulf Breeze, Milton, Jay, Allentown, Avalon, Bagdad, Berrydale, Chumuckla, East Milton, Holley |
| SARASOTA | $285,200 | Sarasota, North Port, Venice, Longboat Key, Bee Ridge, Desoto Lakes, Englewood, Fruitville, Gulf Gate Estates, Kensington Park |
| SEMINOLE | $274,850 | Sanford, Oviedo, Altamonte Springs, Winter Springs, Casselberry, Lake Mary, Longwood, Chuluota, Fern Park, Forest City |
| ST. JOHNS | $316,250 | St. Augustine, St. Augustine Beach, Hastings, Marineland, Butler Beach, Bakersville, Crescent Beach, Elkton, Flagler Estates, Fruit Cove |
| ST. LUCIE | $316,250 | Fort Pierce, Port St. Lucie, St. Lucie Village, Tradition, Fort Pierce North, Fort Pierce South, South Hutchinson Island, Indian River Estates, Lakewood Park, River Park |
| SUMTER | $287,500 | Bushnell, Center Hill, Coleman, Webster, Wildwood, Lake Panasoffkee, Linden, Mabel, Orange Home, Oxford |
| SUWANNEE | $271,050 | Live Oak, Branford, Beachville, Dickert, Dowling Park, Ellaville, Falmouth, Fort Union, Hildreth, Houston |
| TAYLOR | $271,050 | City of Perry, Athena, Bucell Junction, Clara, Dekle Beach, Eridu, Fenholloway, Fish Creek, Foley, Hampton Springs |
| UNION | $271,050 | Lake Butler, Raiford, Worthington Springs |
| VOLUSIA | $271,050 | Daytona Beach, Daytona Beach Shores, DeBary, DeLand, Deltona, Edgewater, Holly Hill, Lake Helen, New Smyrna Beach, Oak Hill |
| WAKULLA | $271,050 | Sopchoppy, St. Marks, Arran, Buckhorn, Crawfordville, Curtis Mills, Hyde Park, Medart, Panacea, Port Leon |
| WALTON | $327,750 | DeFuniak Springs, Freeport, Paxton, Argyle, Bruce, Eucheanna (Euchee Valley), Glendale, Grayton Beach, Miramar Beach, Mossy Head |
| WASHINGTON | $271,050 | Chipley, Vernon, Caryville, Ebro, Wausau, Crow, Five Points, Gilberts Mill, Greenhead, Hinson's Crossroads |
Our Florida loan originators will work with you one-on-one to tailor a financial solution that is specifically suited to meet your financing needs. 
www.florida-mortgage-lenders.com Accessibility Statement
Updated: December 2019.
General
www.florida-mortgage-lenders.com strives to ensure that its services are accessible to people with disabilities. www.florida-mortgage-lenders.com has invested a significant amount of resources to help ensure that its website is made easier to use and more accessible for people with disabilities, with the strong belief that every person has the right to live with dignity, equality, comfort and independence.
Accessibility on www.florida-mortgage-lenders.com
www.florida-mortgage-lenders.com makes available the UserWay Website Accessibility Widget that is powered by a dedicated accessibility server. The software allows www.florida-mortgage-lenders.com to improve its compliance with the Web Content Accessibility Guidelines (WCAG 2.1).
Enabling the Accessibility Menu
The www.florida-mortgage-lenders.com accessibility menu can be enabled by clicking the accessibility menu icon that appears on the corner of the page. After triggering the accessibility menu, please wait a moment for the accessibility menu to load in its entirety.
Disclaimer
www.florida-mortgage-lenders.com continues its efforts to constantly improve the accessibility of its site and services in the belief that it is our collective moral obligation to allow seamless, accessible and unhindered use also for those of us with disabilities.
Despite our efforts to make all pages and content on www.florida-mortgage-lenders.com fully accessible, some content may not have yet been fully adapted to the strictest accessibility standards. This may be a result of not having found or identified the most appropriate technological solution.
Here For You
If you are experiencing difficulty with any content on www.florida-mortgage-lenders.com or require assistance with any part of our site, please contact us during normal business hours as detailed below and we will be happy to assist.
Contact Us
If you wish to report an accessibility issue, have any questions or need assistance, please contact www.florida-mortgage-lenders.com Customer Support as follows:
Email: 911Loan@gmail.com
www.florida-mortgage-lenders.com/accessibility