Florida Bank Statement Mortgage Lenders




Bank Statement Mortgage Loans in Florida
What if you could get a Florida mortgage just by using the average deposits in your bank statement account? That alone would save you tons of time and paperwork. For personal accounts, you can use 100% of the deposits. For business bank accounts, the lender will request a questionnaire to understand your business. Then they will apply an expense ratio to your business depending on the type of business that you are in. With a bank statement loan, you can also add w2 income or a co-borrower with w2 income.
Bank Statement Florida Mortgage Lenders How Do I get a Mortgage In Florida With No Tax Returns? Self-Employed Mortgage Using Bank Statements For Income Self-employed Read More »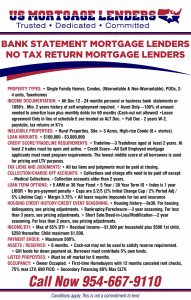 What Does The Application Process Look Like for a Bank Statement Only Mortgage?
Bank statement mortgage loans are processed through a manual underwriting process. This means the income is calculated by a person so the process can take 24 -48 hours. We will also need a full bank statement questionnaire to understand your business expenses. For a bank statement loan, the lender only backs out your bare-bone minimum business expenses. You can use the rest of your income to qualify for a mortgage!