No Tax return Florida mortgage lenders to refinance or purchase a Florida primary, second home, or investment property. We have many ALT DOC Florida mortgage options for a variety of Florida self-employed mortgage applicants.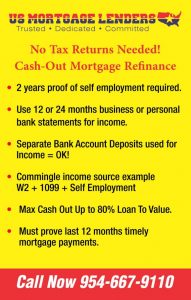 No Income Verification Florida Mortgage Lenders
There are many reasons why a borrower may not be able to document their income. A perfect example with being a business owner who just sold their business and now has no income or a person whose income is based on cash Examples include Coffee Shops, Bakery, Bars, Restaurants, Nail Salons, Vending Machines, Laundromats, and Auto Servies, and they do not deposit the cash into their personal bank account.
What Is A No Income Verification Cash Out Florida Mortgage Lender?
A no-tax return cash-out mortgage refinance replaces your existing Florida mortgage with a new mortgage loan for more than you currently owe on your house. The difference goes to you in no tax return cash-out refinance you can use bank statements, 1099, or even stated income or No Income verification to cash out the equity to down debt, make home upgrades or repairs, debt consolidation, or to spend how you wish. Lenders usually will not extend must more than 80% of the value of your home so you need a lot of equity built up in your house to accomplish a cash-out refinance.
How Does A  Income Verification Cash Out Florida Mortgage Lender Work?

 
A no-income verification Florida mortgage lender provides mortgage loans to self-employed borrowers who want to cash out refinance but cannot document enough income through traditional means by the way of tax returns, W2s, 1099, or bank statements. Our No income verification mortgage lenders use Assets, Credit, and payment history to qualify your cashout mortgage to refinance!
Category: NO Tax Return Florida Cashout Florida Mortgage Lenders
Self-Employed Bank Statement Florida Mortgage Lenders When calculating the qualifying income for a self-employed borrower, it is important to note that business income reported on