FHA mortgage loans are designed to help creditworthy individuals and families to buy a Florida home. These loans are beneficial to those borrowers that wish to put a minimum 3.5% down payment on the home. FHA mortgage loans have more flexibility in terms of borrower qualifications.
 FHA MORTGAGE- FLORIDA HOME BUYER ADVANTAGES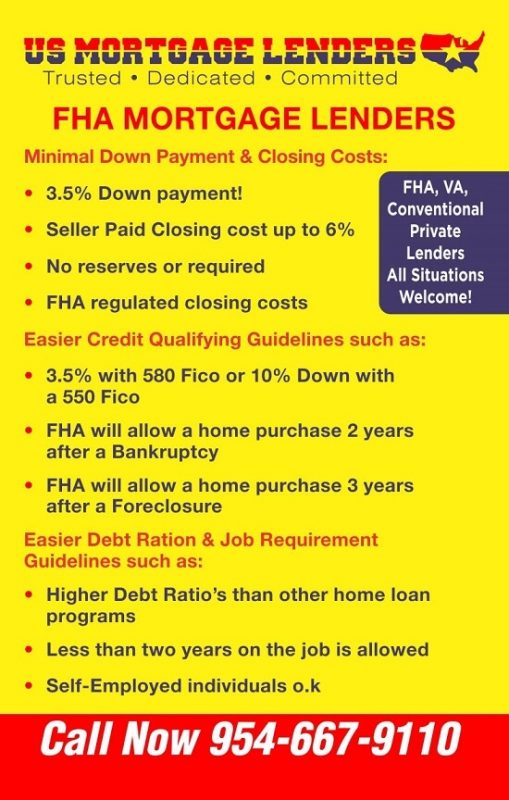 FHA Loans for Buying a Florida Home or FHA Refinance Mortgages 
www.Florida-Mortgage-Lenders.com
Some of the advantages of the FHA loan are:
Low down payment (only 3.5% may be required)
Seller contributions are allowed
More flexible underwriting (approval)
Closing costs that lenders can charge are restricted
FHA loans are "assumable" to other qualified buyers
FHA Refinances can be streamlined (less documentation required for approval)
Down payment may also be in the form of a qualified Down Payment Assistance program or bona fide gift
Some closing costs may be financed (less out of pocket expenses)
Some FHA loans allow for Energy Efficiency credits
Some FHA loans can allocate costs for repair/upgrade within the loan
The FHA loan is covered by a government loan insurance program which makes it more desirable for lenders and other institutions
The amount of money you can borrow (which typically determines the cost of the home you can afford), is set by the US Government. Contact Us Now for more information on FHA loans.
The Federal Housing Administration (FHA) is a division of Housing and Urban Development (HUD).
Serving FHA Mortgage Loans in every city and county in Florida.