KEY POINTS TO THIS MORTGAGE PROGRAM
FHA MORTGAGE LOANS HAVE MINIMAL DOWNPAYMENT AND CLOSING FEES:
FHA MORTGAGE LOANS ARE EASY TO QUALIFY FOR:
FHA ALLOW'S HIGHER DEBT TO INCOME & EASIER JOB QUALIFYING
FLORIDA HOME BUYERS ASK EVERY DAY,
If the Minimum FHA Mortgage Credit Score is at or above 580+ the FHA mortgage applicant is eligible for 96.5% Financing. Our Minimum Credit Score for an FHA mortgage is 500. If the Minimum FHA Mortgage Credit Score is between 500 and 579, the FHA mortgage applicant is limited to a maximum loan-to-value (LTV) of 90 percent of the loan amount..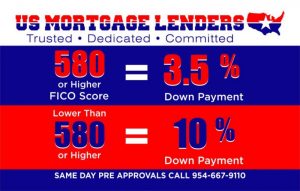 4 C'S LENDER REQUIRMENTS CHECKLIST
1-Collateral/FHA Approved Property Types Include- Single family homes, Townhomes, villas, 1-4 family multi Unit Homes, and  FHA Approved Condos!
2-FHA Minimum Cash/Down payment Or Equity- FHA 3.5% Down Payment Cash or 20% Equity/ 80% LTV for cash out or 96.75% Rate term Refinance- Verity the borrower has the down payment from acceptable source on a purchase or enough equity to cover payoffs and closing cost to include taxes insurance on a refinance.
3-FHA Minimum Credit 500+ Credit Score – Does the borrower have the minimum credit score to meet the loan program? Does the borrower have collections that have to be paid off that will reflect the cash needed to close? Do student loans that are deferred need to be added to the monthly obligations? Does the lender require %1 cumulative student loans or 5% of the cumulative collections accounts over +$2000 added back to the debt to income ratios.
4-Capacity-56.9% FHA Maximum-  Does the FHA mortgage applicants debt to income ratio meet the loan program requirements or no more debt than 56.9% of the total housing + all monthly payments reflected on the FHA mortgage applicants credit report. 
CATEGORY: FHA MORTGAGE GUIDELINES
FHA mortgage lenders will not insure more than one Property as a Principal Residence for any FHA mortgage applicants, except as noted below. FHA mortgage lenders will not insure a Mortgage if it is determined that the transaction was designed to use FHA mortgage insurance as a vehicle for obtaining Investment Properties, even if the…
Name
License/
Expiration Date
Address
GEORGE O GOWER
FLRD1232               
(Certified Residential) 
11-30-2016
GOWER GOHEEN REALTY, INC.
2331 4TH STREET N
SAINT PETERSBURG,  FL  337040000
FRANCOIS K GREGOIRE
FLRD142                
(Certified Residential) 
11-30-2016
GREGOIRE & GREGOIRE, INC.
6285 25TH AVENUE NORTH
SAINT PETERSBURG,  FL  337100000
TERRENCE OWEN
FLRD1642               
(Certified Residential) 
11-30-2016
1276 37TH AVENUE NE
SAINT PETERSBURG,  FL  337040000
MICHAEL J GRACE
FLRD1830               
(Certified Residential) 
11-30-2016
GRACE APPRAISAL GROUP, INC.
8047 33RD AVE NO
SAINT PETERSBURG,  FL  337100000
ALBERT M THUT II
FLRD1833               
(Certified Residential) 
11-30-2016
AMT APPRAISAL SERVICES, INC.
4560 53RD AVENUE NORTH
SAINT PETERSBURG,  FL  337140000
BRUCE R BJORKLUND
FLRD2573               
(Certified Residential) 
11-30-2016
RECA OF CENTRAL FLORIDA
6965 21ST STREET N
SAINT PETERSBURG,  FL  337020000
MARSH L BILBY
FLRD2608               
(Certified Residential) 
11-30-2016
MARSH BILBY APPRAISERS & CONSU
4165 13TH LANE NE
SAINT PETERSBURG,  FL  337030000
RALPH C NUGENT
FLRD2787               
(Certified Residential) 
11-30-2016
RALPH C NUGENT
4157 14TH WAY NE
SAINT PETERSBURG,  FL  337030000
MICHAEL C BURKETT
FLRD3258               
(Certified Residential) 
11-30-2016
8221 28TH AVENUE NORTH
SAINT PETERSBURG,  FL  337100000
RHONDA R LEVINE
FLRD3260               
(Certified Residential) 
11-30-2016
BAY WEST APPRAISAL SVCS, INC.
441 21ST AVENUE NORTH
SAINT PETERSBURG,  FL  337040000
ROBERT J CARULLO
FLRD3651               
(Certified Residential) 
11-30-2016
1036 7TH ST NORTH
SAINT PETERSBURG,  FL  337010000
MARTEN W DAVIS
FLRD3691               
(Certified Residential) 
11-30-2016
GULF BAY APPRAISALS
6291 BAHIA DEL MARL CL #104
SAINT PETERSBURG,  FL  337150000
THOMAS A CUSHMAN
FLRD3932               
(Certified Residential) 
11-30-2016
THOMAS CUSHMAN
PO BOX 40697
SAINT PETERSBURG,  FL  337430000
BRIAN A MILLER
FLRD3961               
(Certified Residential) 
11-30-2016
ENTREKEN ASSOCIATES, INC.
1100 16TH ST N
SAINT PETERSBURG,  FL  337050000
MICHAEL C SANTELLA
FLRD4041               
(Certified Residential) 
11-30-2016
FLORIDA STATE APPRAISALS
PO BOX 13781
SAINT PETERSBURG,  FL  337330000
TIMOTHY J JABLONSKI
FLRD4064               
(Certified Residential) 
11-30-2016
ADVANTAGE APPRAISAL GROUP
6410 3RD PALM POINT
SAINT PETERSBURG,  FL  337060000
KIMBERLY A BJURMARK
FLRD4118               
(Certified Residential) 
11-30-2016
1137 EDEN ISLE DRIVE NE
SAINT PETERSBURG,  FL  337040000
JULIE F ROAHRIG
FLRD4307               
(Certified Residential) 
11-30-2016
ENTREKEN ASSOCIATES
1100 16TH STREET N
SAINT PETERSBURG,  FL  337050000
VINCENT ROSS
FLRD4496               
(Certified Residential) 
11-30-2016
BAYQUEST REALTY LLC
1077 54TH AVE S
SAINT PETERSBURG,  FL  337050000
RICHARD E CLARK
FLRD4754               
(Certified Residential) 
11-30-2016
RICK CLARK APPRAISAL SERVICES
413 49TH STREET NORTH
SAINT PETERSBURG,  FL  337100000
ANTHONY B D'ORAZIO
FLRD5352               
(Certified Residential) 
11-30-2016
ANTHONY D
470 3RD ST ST #415
SAINT PETERSBURG,  FL  337010000
STACY B ROGERS
FLRD5393               
(Certified Residential) 
11-30-2016
SUN COAST APPRAISAL SERVICES
740 13TH AVE N
SAINT PETERSBURG,  FL  337010000
JOHN B HUSTON
FLRD6006               
(Certified Residential) 
11-30-2016
LAS PALMS APPRAISAL
1005 25TH AVENUE N
SAINT PETERSBURG,  FL  337040000
KARL A TERRAZAS
FLRD6025               
(Certified Residential) 
11-30-2016
ARC APPRAISALS
1743 22ND AVE N
SAINT PETERSBURG,  FL  337130000
JAMES T MARSTON
FLRD6044               
(Certified Residential) 
11-30-2016
RICK CLARK APPRAISAL SERVICES
413 49TH STREET NORTH
SAINT PETERSBURG,  FL  337100000
JAMES T EARLE II
FLRD624                
(Certified Residential) 
11-30-2016
EARLE & ASSOCIATES
4130 16TH ST. NO., SUITE A
SAINT PETERSBURG,  FL  337030000
MICHAEL T MOLITERNO
FLRD6315               
(Certified Residential) 
11-30-2016
MICHAEL THOMAS GROUP, INC.
11745 7TH WAY N. #3
SAINT PETERSBURG,  FL  337160000
LEIGH E LOHWASSER
FLRD6364               
(Certified Residential) 
11-30-2016
101 87TH AVE. N.
SAINT PETERSBURG,  FL  337020000
STACIA L LUKE
FLRD6394               
(Certified Residential) 
11-30-2016
ENTREKEN ASSOCIATES, INC.
1100 16TH ST. N.
SAINT PETERSBURG,  FL  337050000
STEPHEN C LARSON
FLRD6410               
(Certified Residential) 
11-30-2016
APPRAISAL ASSET GROUP, LLC
POST OFFICE BOX 21415
SAINT PETERSBURG,  FL  337420000
ERNEST A FERRO JR
FLRD7586               
(Certified Residential) 
11-30-2016
APPRAISAL EXCHANGE LLC
PO BOX 22963
SAINT PETERSBURG,  FL  337420000
BRIAN N MCMAHON
FLRD7610               
(Certified Residential) 
11-30-2016
BNM APPRAISAL, INC
5029 29TH AVE N
SAINT PETERSBURG,  FL  33710000

Providing St. Petersburg Florida and all Florida areas including : 

Belleair Beach

, 

Belleair Bluffs

, 

Clearwater

, 

Dunedin

, 

Curlew

,

Bear Creek

, 

East Lake

, 

Feather Sound

,

Gandy

, 

Greenbriar

, 

Harbor Bluffs

, 

Highpoint

, 

Innisbrook

, 

Lealman

, 

Oakhurst

, 

Ozona

, 

Palm Harbor

, 

Ridgecrest

, 

St. George

, 

Seminole Park

, 

South Highpoint

, 

Tierra Verde

, 

Wall Springs

, 

Walsingham

, 

West Lealman

, 

Gulfport

, 

Indian Rocks Beach

, 

Largo

,  

Madeira Beach

,  

Oldsmar

,  

Pinellas Park

,  

Safety Harbor

,  

Seminole

,  

South Pasadena

,  

St. Pete Beach

, 

St. Petersburg

,

  

Tarpon Springs

,  

Treasure Island

, 

Belleair

, 

Belleair Shore

, 

Indian Shores

, 

Kenneth City

, 

North Redington Beach

, 

Redington Beach

, 

Redington Shores

, 

Bardmoor

 ,

Baskin

,

Bay Pines

, 

Crystal Beach

,