HOLLYWOOD FLORIDA MORTGAGE LENDERS PROGRAMS INCLUDE: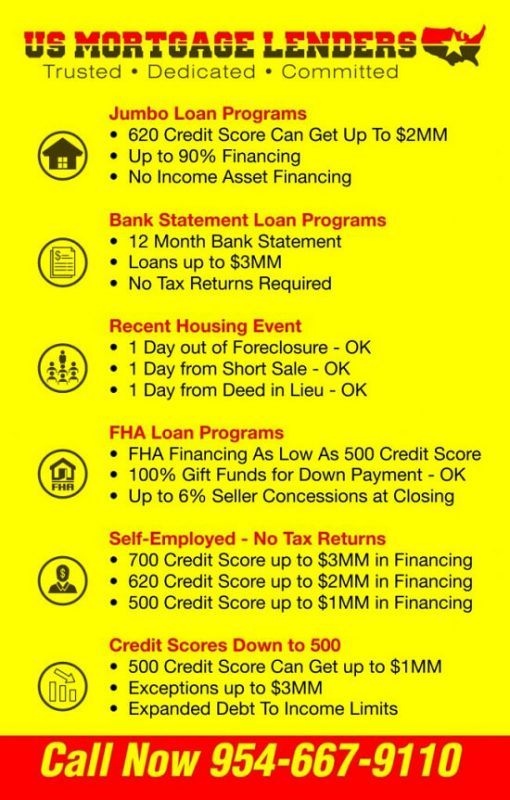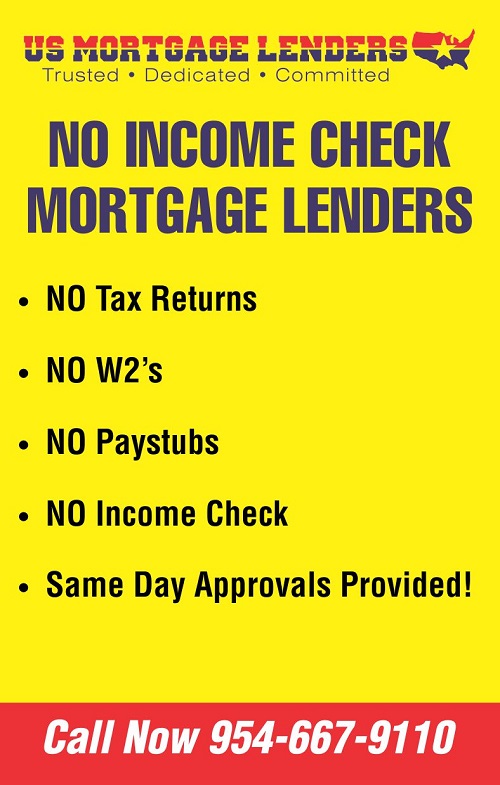 Hard Money Broward Florida HARD MONEY LOAN OPTIONS INCLUDE: 
BUY 1 DA AFTERR A FORECLOSURE OR BANKRUPTCY!
Hollywood FL FHA Mortgage Lenders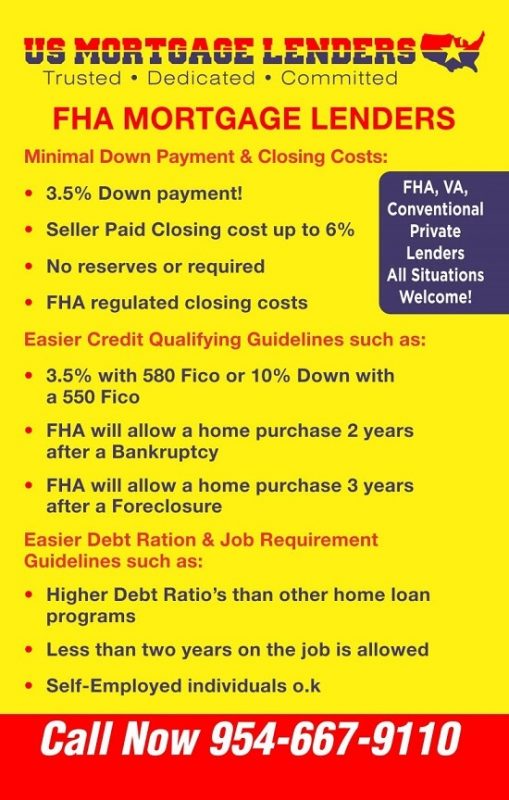 Hollywood FL VA Mortgage Lenders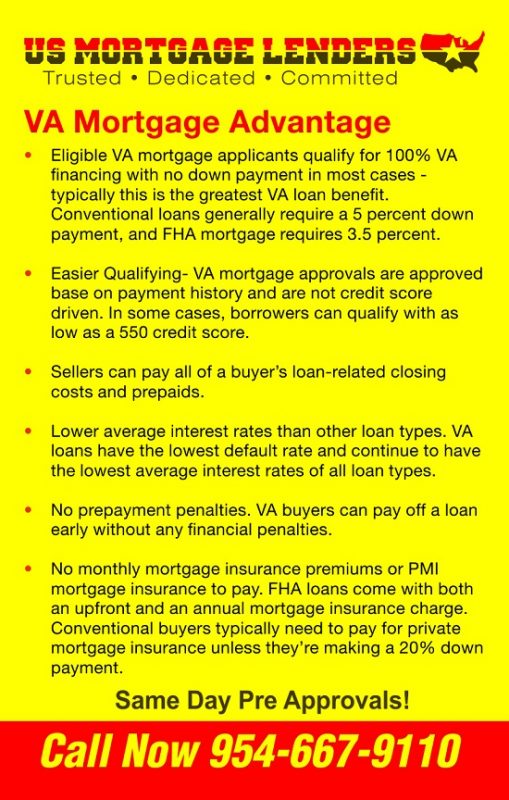 Hollywood FL NO Tax Return Mortgage Lenders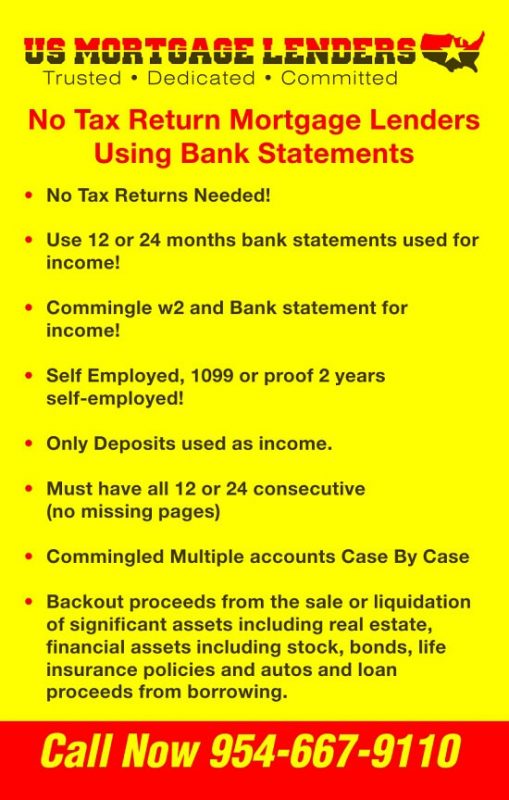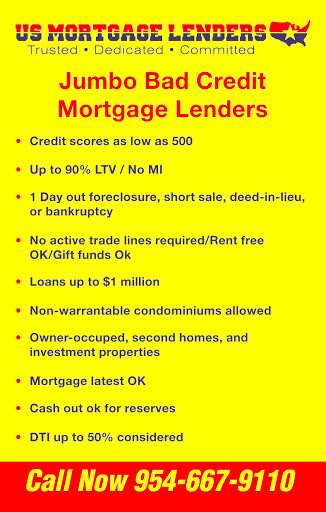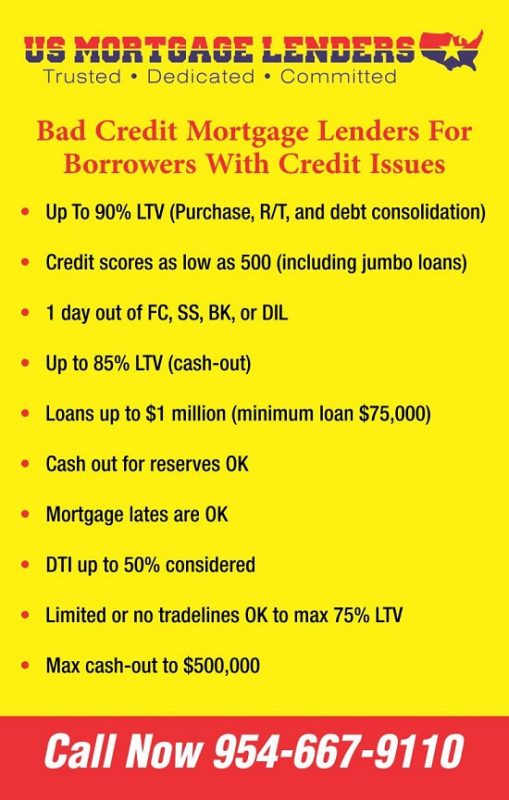 Hollywood FL CO-OP Mortgage Lenders 
Hollywood FL Debt Consolidation Mortgage Lenders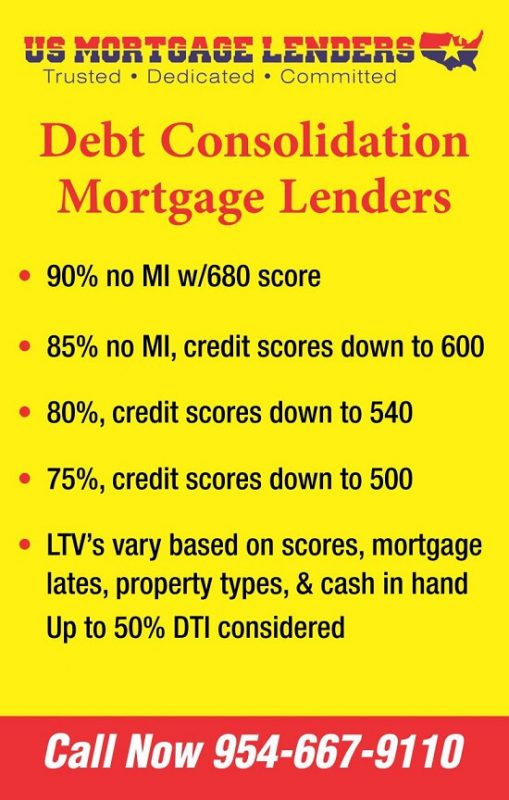 Hollywood FL Condo Mortgage Lenders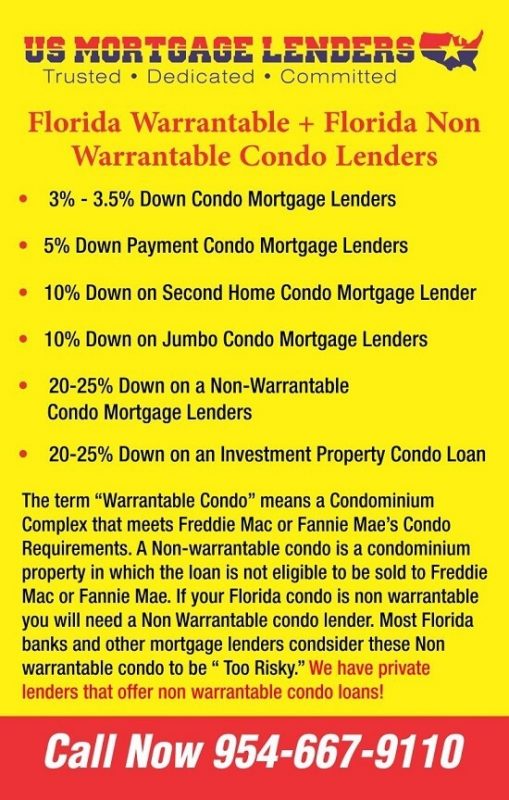 Hollywood FL Low Down Payment Jumbo Mortgage Lenders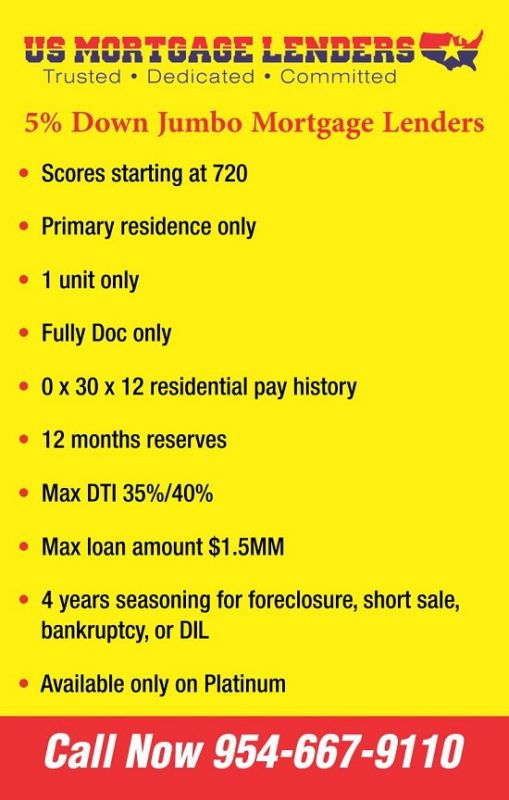 After Bankruptcy Foreclosure Hollywood FL Mortgage Lenders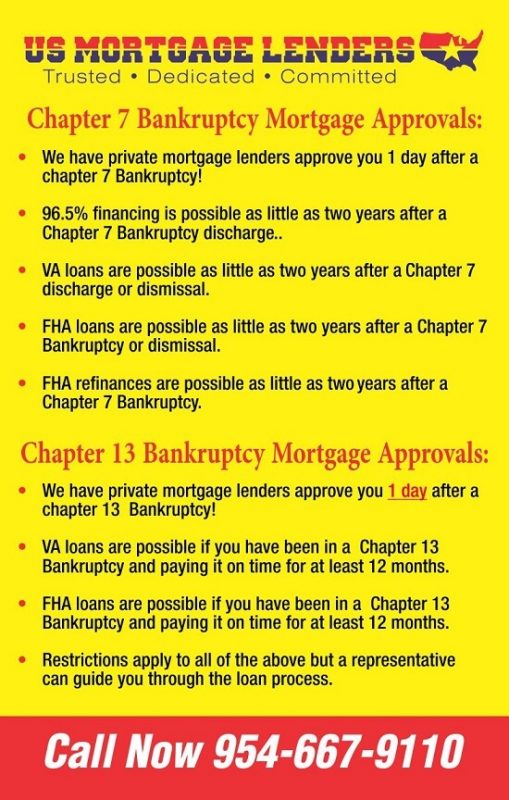 VA Cash Out Refinance Hollywood FL Mortgage Lenders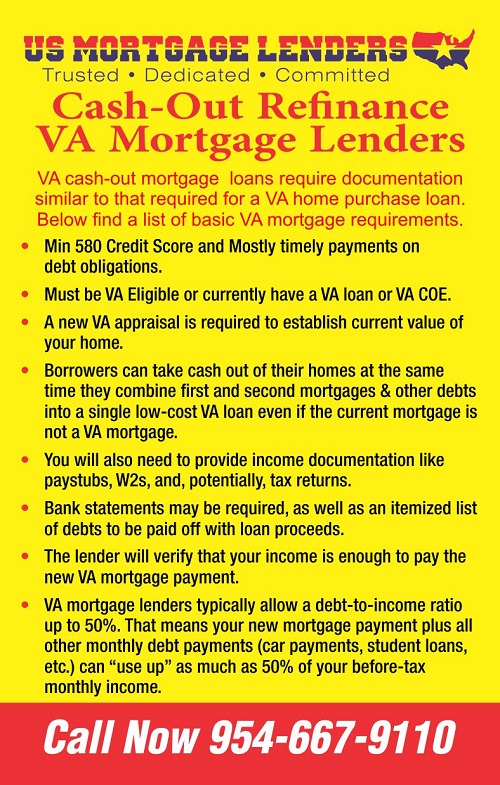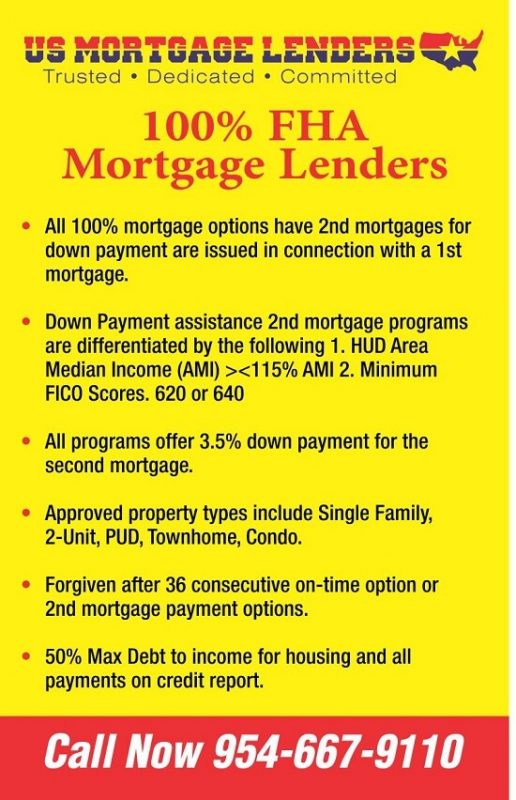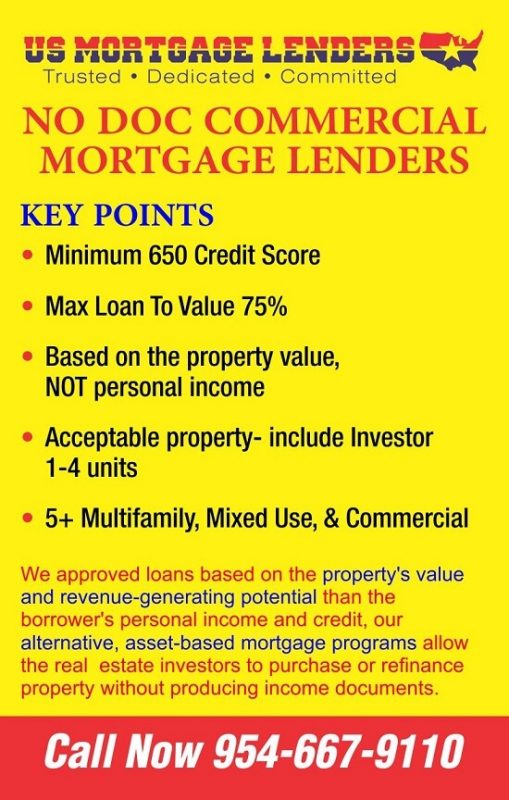 HOLLYWOOD FL NO TAX RETURN CASHOUT MORTGAGE LENDERS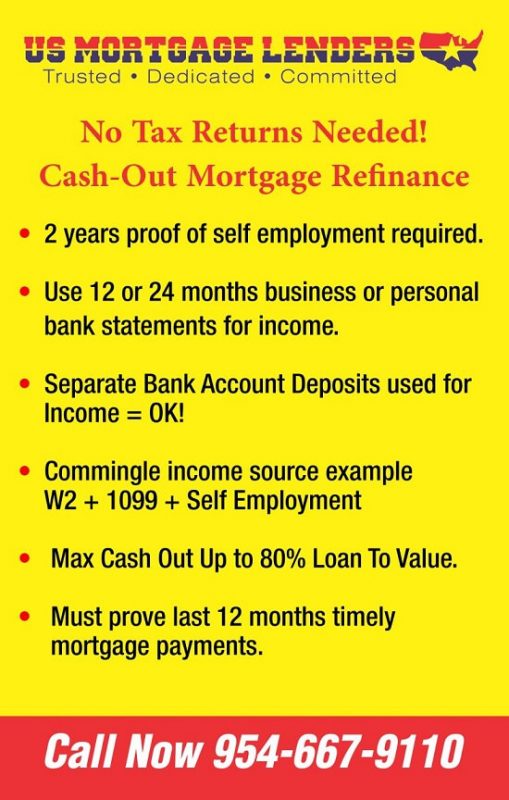 Fast Consultation – All Situations Welcome!
POPULAR FLORIDA MORTGAGE OPTIONS INCLUDE: 
• FHA MORTGAGE LENDERS– Min 3.5% down payment minimum 580 fico or 10% down with a 550 fico. Seller paid the closing cost up to 6%. Gift from family OK! Florida FHA mortgage lenders can approve you purchase a Florida home 3 years after a foreclosure, 2 years after a chapter 7 bankruptcy and 12 months after a chapter 13 bankruptcy. Please Note- The 3 year waiting period after a foreclosure starts when the title/deed is transferred out of your name. 
• VA MORTGAGE- 100% VA loan financing with a minimum 550 credit score. Seller paid closing cost up to 4%. Purchase a Florida home using VA certificate of eligibility or/and DD214 waiting only 2 years after a foreclosure or bankruptcy.
• PORTFOLIO LENDERS- Purchase 1 day our of Foreclosure, Short-Sale, Bankruptcy down to a 500 credit score. Loans up to 1 million with credit scores down to 500. Up to 80% Loan To Value. 30 year fixed no prepayment penalty.
• BANK STATEMENT ONLY FLORIDA MORTGAGE LENDERS-NO TAX RETURNS NEEDED! 10% down with a 660 credit score or 15% down with a 600 credit score. You must be self-employed or contractor for about  2 years. Must have trade lines on the credit report.  All persons listed on bank statements must be used on the loan application. No tax returns needed. Business or personal bank statements used to qualify. Up to 90% LTV up to 55% DTI.                                          
• JUMBO FLORIDA MORTGAGE- Your Florida mortgage amount exceeds the current conforming home loan limit (in most cases $417,000), a Jumbo loan is likely the best choice for you. Jumbo loans can be of the fixed or adjustable variety. 
• INTEREST ONLY FLORIDA MORTGAGE- An interest-only mortgage is great if you are interested in the lowest possible monthly payment for an initial period of time.
• FLORIDA REVERSE MORTGAGE LENDERS–  Homeowners over 62 that do not own much on their home can tap into their equity to spend how they wish. 
• ADJUSTABLE RATE MORTGAGE (ARM)- Savvy borrowers will want to take advantage of the lowest rate available with an adjustable rate mortgage! It's a great loan option if rates are on the decline or you're staying in your home for a short time. 
• BAD CREDIT FLORIDA MORTGAGE- We get borrowers approved every day to purchase a Florida home with a bad credit past. FHA mortgage and VA mortgage approvals are among the easiest loan programs for Florida bad credit mortgage applicants.
• NO CREDIT SCORE FLORIDA MORTGAGE LENDERS- Florida mortgage applicants with no credit score get approved every day to purchase a Florida home with no credit score or lack of credit using alternate trade lines. 

• NO SEASONING FLORIDA MORTGAGE LENDERS- Florida mortgage applicants cash cashout refinance 1 day after they purchase a Florida home! 
• 30 YEAR FIXED RATE FLORIDA MORTGAGE- The 30 year fixed rate Florida mortgage is one of the most popular and secure options available for Florida homebuyers and homeowners who want your monthly payments to be low and never change. 

• 15 YEAR FIXED RATE FLORIDA MORTGAGE- If you're looking to save thousands in interest expense and you want to own your home quicker versus a 30 year fixed rate mortgage, a 15 year fixed rate mortgage could be good for you. Plus, your payment and interest rate will never change during the term of this mortgage.
FLORIDA-MORTGAGE-LENDERS.COM Is pleased to offer disciplined credit alternatives for Florida bad credit and bank statement only mortgage loans for applicants who can demonstrate the ability to repay, but otherwise don't meet agency guidelines due to various reasons.
HOLLYWOOD FL BANK STATEMENT AND ASSET BASED FLORIDA MORTGAGE PROGRAM
Hollywood FL Self-Employed using Bank Statements with or without Asset Amortization
One borrower must be self-employed and may have a W-2 co-borrower
The self-employed borrower must have minimum 2 years self-employment in the same business
Self-employed borrowers qualified using personal and/or business bank statements for the most recent 12 month period
If business bank statements used, a Profit and Loss (P&L) statement may be required
Assets must be traditionally documented
Florida Bank Statement only Loan amounts up to $3 million
Debt to income ratios  up to 50%
Credit scores as low as 600
The borrower may use an asset amortization formula to derive additional qualifying income. Bank Statement Only Florida Mortgage Lenders.
Florida Mortgage Lenders Approval Philosophy- Florida Mortgage Lenders takes a common sense approach to underwriting a borrower's creditworthiness to determine the willingness and ability to repay the loan.  Each Florida mortgage applicant has a different situation and each loan is weighed on its own merits.  Our goal is to help good Florida mortgage applicants with their financing needs while mitigating risk for the company.  Our alternative document programs are high-risk loans. Florida Mortgage Lenders will only approve loans for which the company has a reasonable belief that the borrower has the ability to repay the subject loan. This reasonable belief is based upon information provided by or independently verified by an independent third party.  Any irregularity in Florida mortgage applicants profile, documentation provided, or property used to support the debt may be cause for denial of the loan.
Florida Mortgage Lenders Program Qualifications- This program is designed for borrowers who have significant verifiable assets or are self-employed and would benefit from alternative loan qualification methods. This program provides two alternate approaches to document the borrower's ability to repay. Asset statements alone (no debt to income ratio is required) may be used by high net worth individuals for qualification.  Bank statements (personal and/or business) may be used as an alternative to tax returns to document a self-employed borrower's income.  In addition, a self-employed borrower may supplement bank statement income with additional income derived from an asset amortization formula.
Serving every city and a county in Florida
HOLLYWOOD FL Mortgage Lenders Providing:  New Home Loans, Mortgage Refinance, FHA, VA & Bad Credit Mortgage Lenders 
Whether you're a first-time Hollywood Florida homebuyer or looking to refinance your existing mortgage in Hollywood, our competitive rates and flexible financing options can help you make the right mortgage decision.

Our goal is to provide our customers with exceptional service and best Mortgage Rates in Hollywood Florida while keeping them informed and educated throughout the process. 
Our Hollywood Florida Mortgage Lenders Programs Include
HOLLYWOOD FLORIDA LOAN PROGRAMS
HOLLYWOOD FLORIDA FHA MORTGAGE LENDERS:
1st Time Florida Home Buyers
Low down payments
Lower Interest Rates
Seller paid FHA mortgage closing cost up to 6%
Easier credit qualifying min 550 Fico!
HOLLYWOOD FLORIDA VA MORTGAGE LENDERS:
$0 Down 100% financing Options
Seller paid closing cost up to 4%
Low Rates
Up to $417,000 Loan Value
No Down Payment Options
Easier credit qualifying min 550 Fico!
HOLLYWOOD FLORIDA BAD CREDIT MORTGAGE LENDERS:
Bad Credit Florida Mortgage Options:
No Origination Fee Options
30 Year Fixed
20 and 15 Year Fixed
ARM Options
HOLLYWOOD FLORIDA REFINANCE MORTGAGE LENDERS
Is it time to refinance?
Refinance up to 97.75%
Lower your home loan payment
Less than perfect credit
Cash for any reason
SAME DAY HOLLYWOOD FLORIDA MORTGAGE APPROVALS!
SERVING ALL HOLLYWOOD FLORIDA
www.Florida-Mortgage-Lenders.com
HOLLYWOOD FLORIDA MORTGAGE LENDERS CITY DATA
Population in 2013: 146,526 (100% urban, 0% rural). Population change since 2000: +5.1%
Males: 73,162     (49.9%)
Females: 73,364                (50.1%)
Median resident age:     42.5 years
Florida median age:        41.5 years
Zip codes: 33020, 33021, 33023.
Hollywood Zip Code Map
Estimated median household income in 2013: $44,582 (it was $36,714 in 2000)
Hollywood:        $44,582
FL:          $46,036
Estimated per capita income in 2013: $25,535 (it was $22,097 in 2000)
Hollywood city income, earnings, and wages data
Estimated median house or condo value in 2013: $181,300 (it was $98,300 in 2000)
Hollywood:        $181,300
FL:          $153,300
Mean prices in 2013: All housing units: $243,666; Detached houses: $279,797; Townhouses or other attached units: $178,790; In 2-unit structures: $67,531; In 3-to-4-unit structures: $157,048; In 5-or-more-unit structures: $164,559; Mobile homes: $23,159
Median gross rent in 2013: $1,040.
Recent home sales, real estate maps, and home value estimator for zip codes: 33004, 33019, 33020, 33021.
Hollywood, FL residents, houses, and apartments details
POPULAR BROWARD COUNTY FLORIDA FHA MORTGAGE LENDERS SEARCH RESULTS