Jacksonville Florida FHA mortgage lenders provide a great option for Florida FHA mortgage applicants and homeowners with bad credit. The primary reason for FHA popularity is that is only requires 3.5% down payment and allows credit scores as low as 500+. With an FHA mortgage lenders Jacksonville Florida mortgage applicants find that they can get approved from a more common sense driven approach rather than the traditional credit score approval process of conventional loans.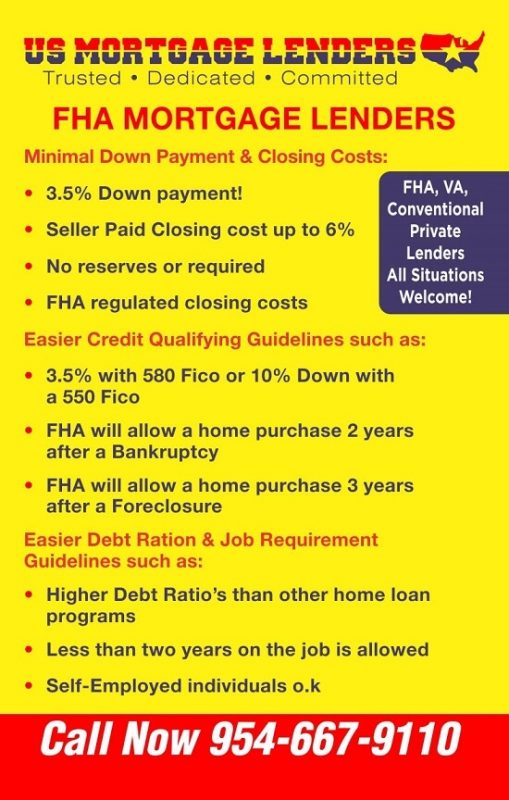 KEY POINTS TO THIS MORTGAGE PROGRAM
JACKSONVILLE  FLORIDA FHA MORTGAGE LOANS HAVE MINIMAL DOWNPAYMENT AND CLOSING FEES:
Down payment only 3.5%of the purchase price. 
Gifts from family or Grants for down payment assistance and closing costs OK! 
Seller can credit buyers up to 6% of sales price towards buyers costs. 

No reserves or future payments in account required.

FHA regulated closing costs. 
JACKSONVILLE  FLORIDA FHA MORTGAGE LOANS ARE EASY TO QUALIFY FOR BECAUSE YOU CAN:
JACKSONVILLE  FLORIDA FHA MORTGAGE LOANS ALLOW HIGHER DEBT TO INCOME & EASIER JOB QUALIFYING
FHA allows higher debt ratio's than any other Florida home loan programs. 

Less than 2 two years on the same job is OK! 

Self-employed buyers can also qualify for FHA. 
Why Are Jacksonville FL FHA Mortgage Lenders So Popular With Jacksonville Florida Homebuyers and Homeowners?
• LOWERS DOWN PAYMENT OPTION 
The Federal government insures FHA mortgage lenders against losses, therefore the FHA mortgage applicants has very minimal down payment and closing cost. FHA mortgages require a minimum 3.5% financial commitment from the applicant. The loan does allow for the home seller to pay for all closing costs, up to 6% which is frequently enough to take care of almost any property sale.
• EASIER TO QUALIFY 
Prequalifying with FHA mortgage lenders is very transparent because FHA guarantees the mortgage creditors and lending institutions make it feasible for anybody to qualify when they meet the base requirements. The primary components of qualifying are history of credit, debt to income and employment history.
• FIXED 30 YEAR RATES WITH NO PREPAYMENT PENALTIES 
One of the big advantages of using a  Florida FHA mortgage lenders  is the benefit of having a fixed 30 year interest rate. In comparison to other regular loans in which the loan interest rates change, the rate remains the same for the total length of the loan. This timeframe is typically for 30 years. 
• NO RESERVES ARE REQUIRED
 In contrast to most conventional home loan programs, Florida FHA mortgage lenders have NO minimum reserve requirements. Jacksonville Florida First Time buyers should find out what to expect before starting the FHA mortgage loan application process. Being prepared will always boost your opportunities in successfully getting your FHA mortgage loan approved. 
What Is The Minimum Credit Score For An FHA Mortgage? 
The FHA mortgage applicant is NOT eligible for FHA-insured financing if the Minimum Credit Score is less than 500. If the Minimum FHA Mortgage Credit Score is between 500 and 579, the FHA mortgage applicant is limited to a maximum loan-to-value (LTV) of 90 percent.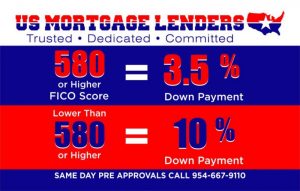 4 C'S JACKSONVILLE FLORIDA FHA MORTGAGE LENDER REQUIRMENTS
Cash/ Equity -FHA 3.5% Down Payment Cash or 20% Equity- Verity the borrower has the down payment from acceptable source on a purchase or enough equity to cover payoffs and closing cost to include taxes insurance on a refinance.

Min Credit 500+ Credit Score – Does the borrower have the minimum credit score to meet the loan program? Does the borrower have collections that have to be paid off that will reflect the cash needed to close? Do student loans that are deferred need to be added to the monthly obligations? Does the lender require %1 or 5%.

Capacity-55% FHA Maximum-  Does the borrowers debt to income ratio meet the loan program requirements. We just explained this in credit.

Collateral- Single family homes, townhomes, villas, FHA Approved Condos!
Jacksonville FL first-time homebuyers are prime candidates for FHA mortgage lenders but existing homeowners with any mortgage can benefit from FHA refinance. First-time homebuyers may be able to qualify for a FHA loan with a down payment of only 3.5% and a credit score as low as 500. Family members are even able to offer the down payment as a gift if the applicant does not have this on hand. Those currently utilizing an FHA mortgage have the ability to both cash-out refinance and FHA mortgage streamline. Jacksonville FL FHA mortgage applicants interested in financing a rehabilitation project can take advantage of an FHA 203k loan to combine the purchase of a home and the cost of repairs in a single home loan. Low credit requirements and low down payment options are two of the primary reasons why so many Jacksonville Florida mortgage applicants are drawn to the FHA mortgage. 
CATEGORY: JACKSONVILLE FLORIDA FHA MORTGAGE LENDERS GUIDELINES
The main advantage with FHA mortgage lenders  is that the credit qualifying criteria for a borrower are not as strict as conventional financing.  FHA mortgage lenders may consider a bad credit mortgage applicant to have an acceptable payment history if the bad credit mortgage applicant has made all housing and installment debt payments on time…